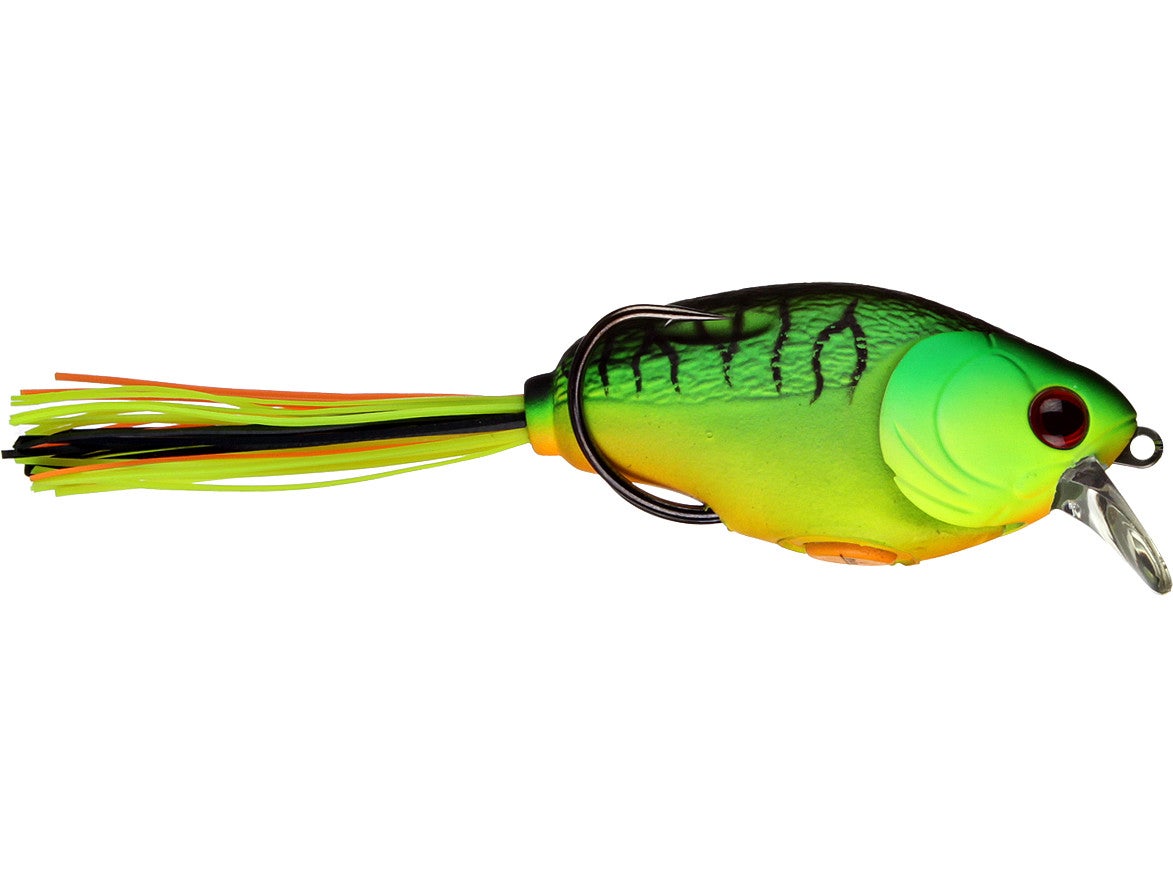 The Molix Supernato is a hybrid crankbait offering a whole new level of versatility. The idea was to have a crankbait that you can use inside heavy cover and thick vegetation as well as open water, and that also works at a variety of depths (depending on retrieve speed). Created with the best materials and assembled by hand, piece-by-piece by selected craftsmen, it is built with two different sections - one hard and one soft. Available in several colors, the Molix Superato was developed by Molix, an cutting-edge lure company from Italy, which boasts a pro staff including the likes of Bassmaster Elite Series veterans, Michael Iaconelli and Randy Howell.
| | | |
| --- | --- | --- |
| Molix | Length | Weight |
| Supernato Baby | 1-3/4" | 3/8oz |
| Supernato | 2-3/4" | 3/4oz |
12 Colors
More From Molix Topwater Baits
Customer Reviews
Comments: I'm not upset about it filling with water. I'm upset about the poor hook sets. I had fish run with it, just spit the bait back at me. I like the idea of this bait, but I have no confidence in being able to land the big one. I tried different rods and still can't set the hook.
From: Tommie: Lafayette, LA 9/17/16

Comments: Hard to believe people are upset about it filling with water when you are supposed to fill up with water yourself first for it to work properly! Talk about not reading the directions! This is more of a really slow presentation shallow crank to be used in conjunction with a dying-fish jerkbait sort of pause, jerk, jerk, pause, jerk, retrieve action mixed in, not a traditional crank bait in the least! I think it's a great product, as I fish a ton in really heavy cover and appreciate the ability to add in another look to my topwater/heavy cover game. Very cool product and very well made IMO but you need to know how to work it properly- tying it on and cranking will leave you immensely dissatisfied.
From: Matt: Western, MA 3/24/14
Comments: Molix Supernato. This is the one of the best frogs I have used. Fill it with water to get an action at about 5 feet down. I took it out to a local pond basin to test it's durability. Not a single scratch. Run it over rocks, trees, and sand. No Problem. Work it as a square billed crank bait. The top water action only works if you fish it very slow. Five Stars.

From: Jack: MN, USA

Comments: I think you guys are using it wrong! Watch this video and adjust
http://www.youtube.com/watch?v=8fFZRC1Z0Gk

Comments: Great bait! Hook sets just great! Anyone having trouble setting the hook, should use a lake fork frog trailer hook, or learn how to fish a frog! Personally I can't wait for the smaller model to come out!

From: Jerry: Blue Island, IL

Comments: this thing is awesome. of course it fills with water after a few casts if it didn't how would it collapse for a hookset. some of you can't seem to comprehend this concept. works great. does exactly what it is supposed to do.

From: Rob: Miffco

Comments: The guys at molix at iCast told me you actually fill this bit up with water then use it. Seriously.

From: Trey: NoAL

Comments: they took this concept from the mans weasel.... not impressed at all. it just fills up with water and cant get a good hookset no matter how i try. its a cool concept but a garbage bait. i havent been impressed with molix baits at all yet.

Comments: man I was pumped when I found this bait, I thought to myself its about time someone made a weedless cranl so i picked one up last year used it a few times in different conditions and didnt catch a thing, the action is good the first 2-3 casts then it fills with water. the rubber body is a harder plastic then I thought it would be (not happy about that) . over all not a good bait, save the cash, maybe they will fix this thing up so it workbetter. glad I tryed one before I bought the 3 that iI wanted.

From: Dirtybird: Toronto

Comments: not the magic bait i thought it would be... j/k j/k. but im really not impressed at all. i bought it to fish around shallow weed beds but after a couple of cast it just fills up with water and loses its action, also when it fill with water its not just a couple squeezes to get the water out, its to much work to fish it effectively.

Comments: Bot the Tiger Ardente. This lure is so versatile and has crazy swimming action!

From: Sonny: East Wareham, MA

Comments: Definitely not as weedless as i though it would be. if you wanna crank use a crankbait, if you want a wake bait use a wake bait. i would rather use a lure that does one thing good rather than one that can do a couple things mediocre. it is a good subsurface crankbait in open water or above weedbeds, although so is a lipless crankbait. i like them but not worth $16, maybe half that.

From: Jim: Toledo Bend, LA

Comments: I had been looking at this bait when it first came out. Finally bought one to try out. When I took the bait out of the package I saw one of the eyes were glued half on. Had to to re-glue it back on properly. The other eye had a small gap in it also like it's ready to fall off after a fight or two. Maybe I got a bad one but not what I expected from a $16 bait either. Lastly, this bait is not weedless!!!! You will hang up just like any other crankbait from the bill. After more casts, the bait started filling up with water. Had to drain water out after every 7 to 8 casts. In my opinion, not worth $16. Glad I didn't buy more than 1.

From: Paul: Akron, OH

Comments: I'm Italian, and i used this lure for 3 months, in heavy cover with Power Tackle frog rod and 50 lbs Sufix braid. Works as a cranck but with the features of a frog. Good lures.

From: Diego: Italy