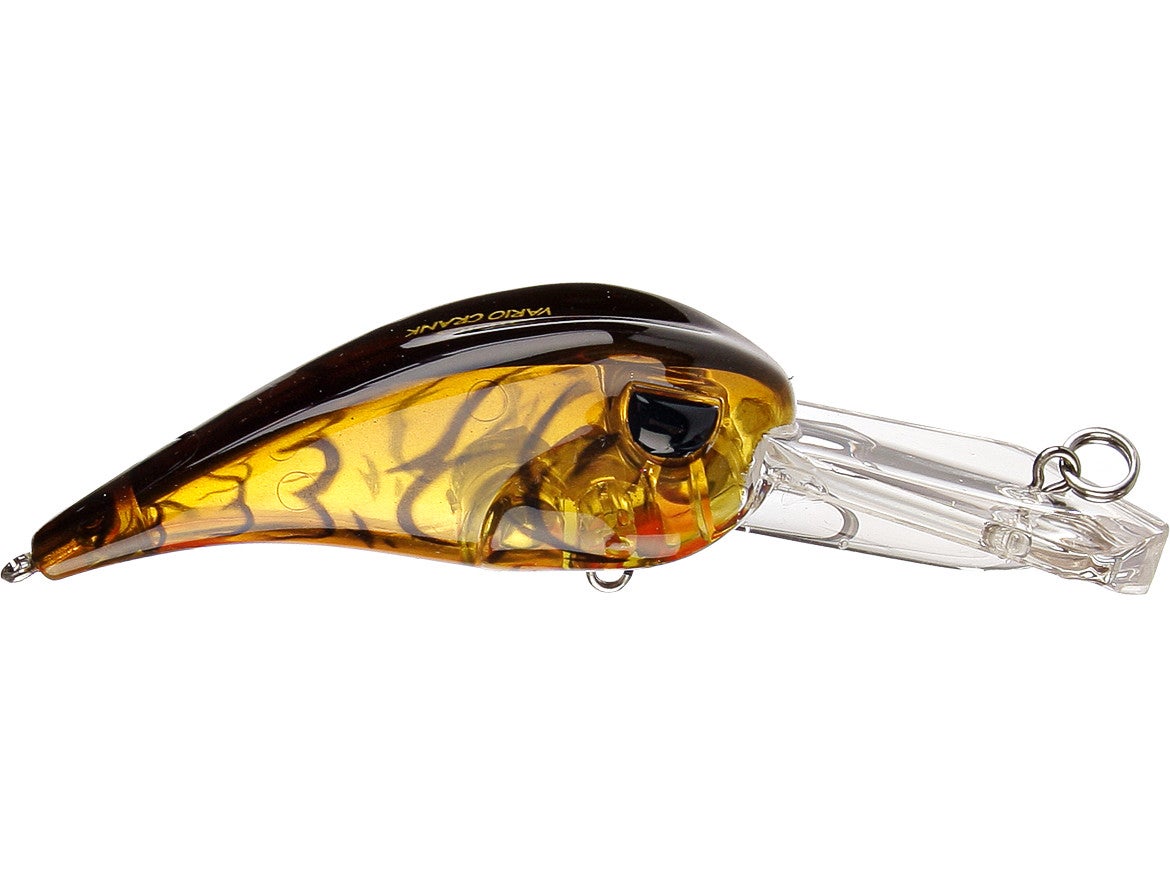 Constructed with only the highest quality resins and components, the Molix Vario Crankbait is the result of years of research and experimentation conducted in Italy. Its form and profile were designed following the lines and aerodynamic factors of the automotive industry to create a lure that takes advantage of water resistance to enhance its action at any retrieve speed. Its "mutant variable swimming" action has proven deadly on bass and other game fish around the world. Available in several colors, the Molix Vario Crankbait was created by Molix, an Italian lure company, known for its quality craftsmanship and innovative designs.
| | | | |
| --- | --- | --- | --- |
| Molix | Length | Weight | Depth |
| Vario | 2.35" | 1/2oz | 5-7ft |
4 Colors
More From Molix Hardbaits
Customer Reviews
Comments: These truly are remarkable baits! These baits are more of a finesse type bait; you can over power this bait very easily. The trick is to use an actual crank-en reel 5.4-1 or a little slower. When fishing this bait make extremely slow turns until you feel the bait move at the end of your line. It dives quickly, quicker than any other bait out there! So, dont worry about powering it down it will get down there believe me! Its hard to resist the temptation of just winding these hard baits in but DON'T. With the slightest change in the reel speed it will cause this bait to zig and zag across the water column or bounce erratically off bottom and structure. It flees better than the real thing its amazing. Pay attention to your bait as it is coming back to the boat. If you see your bait doing loops you have to slow your reeling down even more. Like I said think of this as a finesse bait patients is where it's at! You might be thinking now man this bait is to slow to catch fish but, its not! It's the perfect search bait. What this bait lacks in forward speed it makes up for in left and right darting action (Evasive maneuvering). Don't forget to pop your rod tip genitally every now and again to really get it to dart! Just like a fish with quick spurt of energy trying to flee from its predator.
From: William: Austin, TX 5/4/15

Comments: I bought 2 of these when they first came out and tried to fish then real slow but they would still roll completely over. I never could get them to run right no matter how slow I reeled them. Of course, I haven't been able to catch anything on them either as a result.
From: Cliff: Canton, KS 3/13/15

Comments: really good baits. i use the charmin shad & have caught alot of fish on it, its become 1 of 2 of my best csankbaits, the other is the vagabond lippless crank, both r my go 2. if anyone says these bait dont work they r full of it. biggest to date on it is a 10.4 blackbass

From: Weeman: fresno ca usa

Comments: Don't over fish this bait!!! If you retrieve it too fast it will not preform. If you slow roll it the action will make you want to eat it!! Unbelievable!! Wont be long before Rapala and Strike King copy this!

Comments: If your not impressed with this bait then your not fishing it right! This lure is not to be fished like a normal crank bait. This bait is designed to be fished SLOW! Once you see its built in action you can play with retrieve speeds and rod movement to acheive different actions! I caught fish everytime i threw it if i could post pictures here i can prove it! Great bait!

From: Casey: Palatine, IL

Comments: I just laughed at the guy who threw his $13 crank away. I have not caught any fish on it, like the some of the other comments I was not sure what was going on. This lure is beautiful and original. It is DESIGNED to swim left and right as well as wobble. It is hard to have confidence in it as it swims SO different then anything else. This summer I will tie one on and work it for an hour or so and see what it turns up. The action is weird, but it appears to cover more surface area. My understanding is that their spinner-baits do the same thing. Give it a try and see if you like the action. If nothing else you can put it up on your wall as art.

Comments: So as it wobbles like a normal crank, it also swims from left to right...seems like a good search bait. I did not know what was going on when I first threw it...as it did not seem to be running true...then I figured it out...kind of weird, kind of cool... Beautiful lure, a piece of art. Go ahead, toss one, give it a try. I did not catch any fish on it but at this point I have only thrown it a little bit...to be continued.

From: Pskirner: Cleveland, OH

Comments: $13 for a crankbait and it was so out of tune it wouldn't even stay in the water, ended up throwing it away..Italian Engineering..

From: Mark: Sarasota, FL

Comments: I have seen a wobble like that only in lipless swimbaits. Amazing

From: Callisto
Comments: Amazing Erratic Action. Never seen a crank like this before.

From: Ugo: Florence, Italy