Molix Venator Double Willow Spinnerbait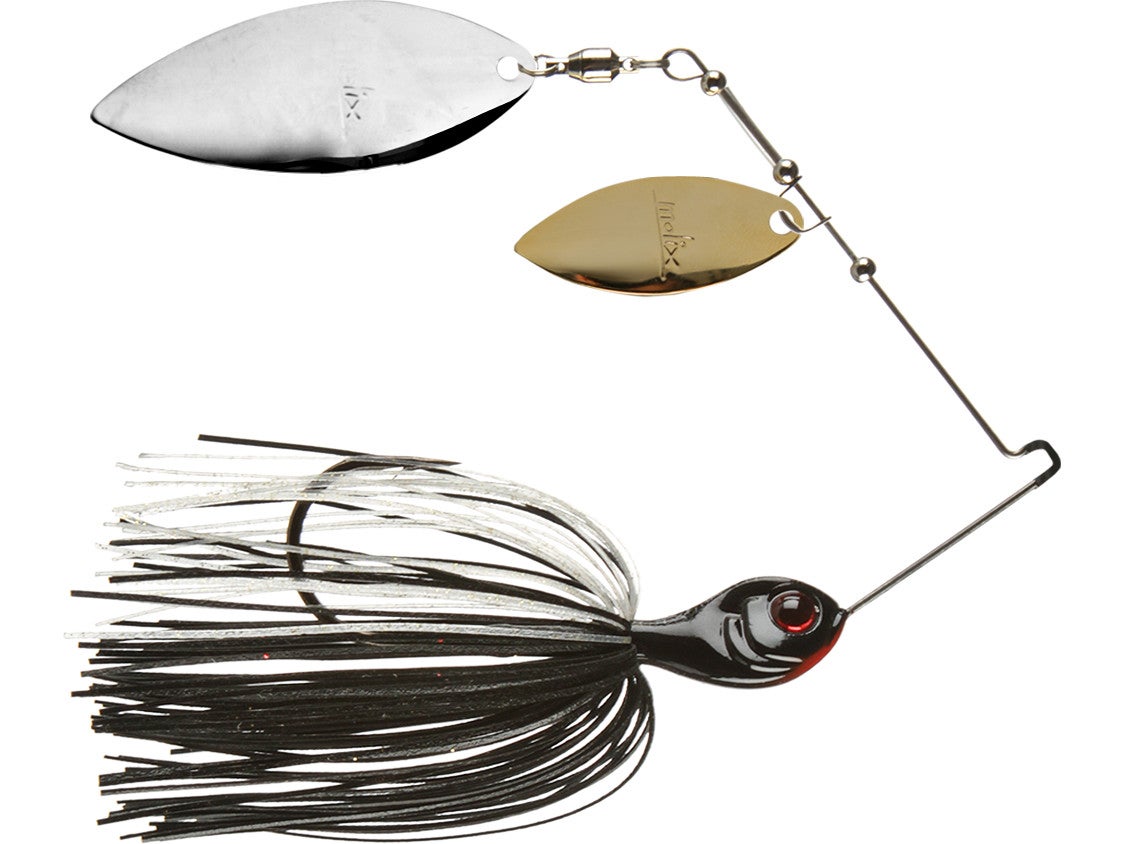 See below for Ike's description of his signature colors.
The Molix Venator is built with a double density stainless steel wire with a thin flexible upper arm, resulting in stronger blade vibrations. The Venator's flat head also offers precision balance during any retrieve, and each fine-cut skirt is hand tied, providing a more natural profile. Available in several colors, the Molix Sligone is used by their US pro staffers, Bassmaster Elite Series veterans, Michael Iaconelli and Randy Howell.
Check out what Michael "Ike" Iaconelli has to say about his signature colors:
Bogolu Dace - "This color was modeled from the small minnow, chub, and dace forage species that bass love to eat! This is a really versatile color that really shines in clearer water and stream and river situations!"
Pummel Fish - "The toned down black blades make this one really special! It is perfect for low light conditions and for fishing at night! It's also a sleeper when fishing in extremely clear water!"
Purple Sinsay - "This color was taken from the fact that most baitfish forage species have a white and purple sheen to their coloration, including Shad, Alewife, Herring, White Perch, Crappie, White Bass. This color is also an amazing color in rivers and tidal water!"
Mud Vein - "Great for extremely muddy or stained water, the orange/copper blade combination allows bass to find it more easily. Also, it is a perfect match when fishing tannic-colored water where forage species like golden shiners and roach are present."
Neon Charmer - "This loud color spinnerbaits has been one of my favorite colors for many years! It has several applications. Great for smallmouth or spotted bass, the bright Chartreuse blades act as an aggravator to trigger impulse strikes - especially when retrieved very fast! The skirt color and flat mat finish head, make it a perfect match for many perch and panfish forage species that have a lot of Chartreuse and pale orange coloration. Finally, like Mud Vein, it's also an amazing dirty water color that helps bass track down the bait."
Blue Gill - "This color was created to match some of the primary forage species that bass eat: panfish, bluegill, sunfish, shell crackers and war mouths. The combination of blues, greens, and yellows in addition to the bar patterned head make this a perfect match for all water conditions. This is a super versatile color that I love to fish any time I'm fishing around these panfish species."
11 Colors
More From Molix Spinnerbaits
Customer Reviews
Comments: I think that this is the best spinnerbait around but the wire bends after a couple 3 pounders and you have to bend it back. My best day of fishing was on the 3/8 ayu if you would ask me i would say getch you some
From: Tucker: Paso Robles 12/24/16
Comments: The best spinnerbaits on the market bar none! Not only are they extremely durable, but they are big bass magnets!
From: Rick: Chicago, IL 7/6/15

Comments: These things catch BIG Fish! So Big a 6 lbers broke a blade off. I contacted Molix and they sent me a whole new bait free of charge. Great bait! Great Customer Service!!!
From: Jay: AL 5/23/14

Comments: The best spinnerbait in the market. No one catch big fish like these

From: Martens: AL

Comments: Extremely well made...vibration with willow blades feels like big double colorado and it's moves side to side on retrieve. I like it. I'm talking venator bait.

From: David: TX