Molix Vindex Craw 8pk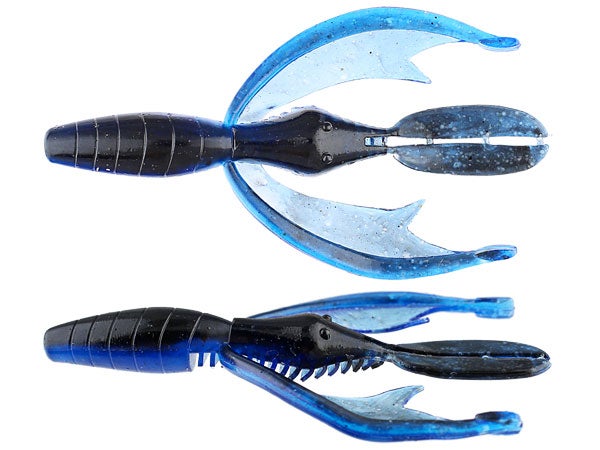 Designed by Italian lure company Molix to be the ideal jig trailer, the Molix Vindex Craw offers an excellent crawfish imitation. Its dual density plastic formulation provides it with a thicker, tougher body ideal for rigging, and also allows its claws to rise up in a defensive position when at rest. A perfect trailer for the Molix Tenax and Kento Jigs, it's loaded with Molix's exclusive amino acid shrimp flavor-aroma for added fish attraction. Molix is a relative new comer to the United States, but their baits have already been used with great success by veteran Bassmaster Elite Series anglers, Michael Iaconelli and Randy Howell.
5 Colors
More From Molix Softbaits
Customer Reviews
Comments: To Tom from GA, A "crayfish" is a "crawfish" I'm from Pennsylvania. people here call them "crayfish". people in the south call them "crawfish". they are one in the same.

From: Rob: Miffco

Comments: The advertisement states clearly/precisely and I paraphrase: "When at rest, the claws rise up in a defensive position". I have tested this in my bathtub and on the boat ramp. This does not happen! This bait was purchased with intentions to present in a rested position. The lure may be ideal for other presentations, but is marketed falsely. If you have ever seen a Crawfish in a defensive posture, the entire body is raised on the legs and the back is bowed with claws up. Maybe Molix is referencing a "Crayfish" - a label I have heard but with I am unfamiliar. Maybe Molix needs to consult one of us Rednecks to be introduced to the Crawfish.

From: Tom: GA

Comments: Good bait you can work it fast or slow. Only bad thing is the blue gill will take the wings off, if the reach it before the bass. I think the wings are a little to long.

From: G. Bray: Ohio