Molix Water Slash Double Willow Spinnerbait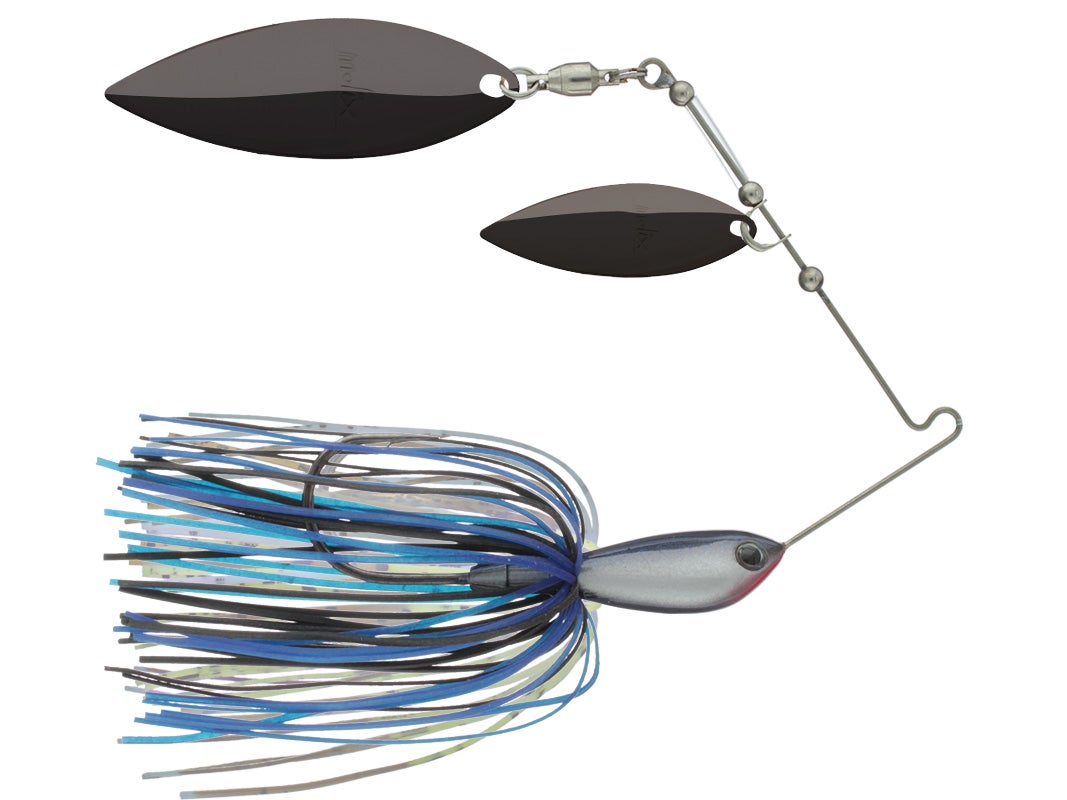 See below for Ike's description of his signature colors.
Developed in Japan and rigorously tested by some of the best professional anglers in the world, the Molix Water Slash Double Willow Spinnerbait features top quality Japanese components. Offering a compact, finesse presentation, the blade weights are specifically set to not overload the bait, and start moving as soon as they hit the water. The head is also designed to keep the bait perfectly balanced at any retrieve speed, and the stainless steel wire increases vibration and retains its shape even when worked through heavy cover. Available in a variety of colors, the Molix Water Slash Double Willow Spinnerbait also features a hand-tied silicone skirt for additional lifelike action, as well as a super sharp Jananese hook for faster penetration and fewer missed fish.
Check out what Michael "Ike" Iaconelli has to say about his signature colors:
Bogolu Dace - "This color was modeled from the small minnow, chub, and dace forage species that bass love to eat! This is a really versatile color that really shines in clearer water and stream and river situations!"
Pummel Fish - "The toned down black blades make this one really special! It is perfect for low light conditions and for fishing at night! It's also a sleeper when fishing in extremely clear water!"
Purple Sinsay - "This color was taken from the fact that most baitfish forage species have a white and purple sheen to their coloration, including Shad, Alewife, Herring, White Perch, Crappie, White Bass. This color is also an amazing color in rivers and tidal water!"
Mud Vein - "Great for extremely muddy or stained water, the orange/copper blade combination allows bass to find it more easily. Also, it is a perfect match when fishing tannic-colored water where forage species like golden shiners and roach are present."
Neon Charmer - "This loud color spinnerbaits has been one of my favorite colors for many years! It has several applications. Great for smallmouth or spotted bass, the bright Chartreuse blades act as an aggravator to trigger impulse strikes - especially when retrieved very fast! The skirt color and flat mat finish head, make it a perfect match for many perch and panfish forage species that have a lot of Chartreuse and pale orange coloration. Finally, like Mud Vein, it's also an amazing dirty water color that helps bass track down the bait."
Blue Gill - "This color was created to match some of the primary forage species that bass eat: panfish, bluegill, sunfish, shell crackers and war mouths. The combination of blues, greens, and yellows in addition to the bar patterned head make this a perfect match for all water conditions. This is a super versatile color that I love to fish any time I'm fishing around these panfish species."
11 Colors
More From Molix Spinnerbaits
Customer Reviews
Comments: Best Spinnerbait ever designed! It has a very subtial side to side motion that drives bass crazy! The Ike colors are the real deal and match the hatch perfect! Throw all of your Stike King spinnerbaits away & pick these up!
From: Bob: Vindland, NJ 11/11/15
Comments: These are the only spinnerbaits I've found that consistently catch quality bass in my area I especially like the purple sensei and neon charmer i think some of what makes this bait so effective is its compact size I highly recommend!
From: Jason: Central Valley, CA 6/4/14

Comments: On a positive note, this spinnerbait has some of the best paint jobs on the market, especially Ike's colors. They are amazing, detailed, and life like. On a negative note, these baits are SMALL!! they appear bigger on the site but these baits are some of the smallest spinnerbaits i've ever seen. I consider them more for of a finesse use than standard uses. over-all, a good product at a decent price but I wish they were bigger.
From: Tom: Charleston, SC 5/12/14

Comments: This little bait in Killer Ayu became my go to spinnerbait this year. I'd bet I caught at least 100 bass on this one bait this year. I'll be getting more of these before spring.

From: Greg: Utah

Comments: great spinner bug catches fish when no other spinner bug does, feels like ur runnin a lipless cranck, thats what the blades feel like when they r spinning

From: Weeman: fresno ca usa

Comments: Why hasnt anyone else came up with the design yet? Wow the side to side wobble is sick!! Molix=Great innovators!!

Comments: awsome little spinnerbait when times get tough!! Its help me limit out several times! Ive had to buy a new spinner bait box becouse of Molix...all of them are great!

From: Patrick: Millington, TN