Moreau Baits 5" Topwater Rat - $49.99

The biggest bass in most lakes and waterways can eat pretty much anything they want - rats, birds, snakes - they all offer a nice calorie rich meal for big bass. Rat baits in particular have been used for quite some time by trophy bass anglers because rats are so pervasive around the country that it isn't that uncommon for one to fall in the water and have to make that mad swim to safety. Big bass don't get big by passing up an easy meal, and the Moreau Baits Topwater Rat delivers the ultra realistic profile, detail and action necessary to fool them.
Kevin Moreau, owner and creator of Moreau Baits, is a full-time award-winning taxidermist, who has been fishing and hunting his whole life. He has also been making and fishing his own lures with success for most of his life, and with pressure from local fisherman began to refine his baits and make them available to the public. Available in several realistic colors, the Moreau Baits Topwater Rat features a durable, molded body, two super sharp belly trebles, and a realistic soft plastic tail - all of which combine to form a killer rat presentation that has already accounted for some big bass.
| | | |
| --- | --- | --- |
| Moreau Baits | Length | Weight |
| Topwater Rat | 5" | 2-oz |
View Large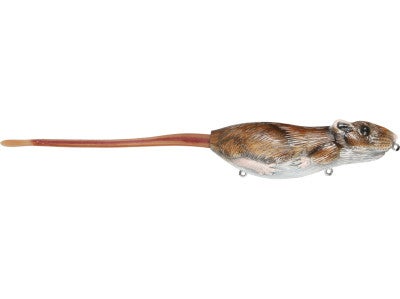 More Moreau Baits Topwater Baits
Comments: By far the best rat on the market. Amazing work of art. Walks true right out of the package.
From: Brandon: USA 2/11/15

Comments: THE MOREAU RAT IS THE BEST TOPWATERBAIT ON THE MARKET.IT CONTINUES TO LOAD MY BOAT WITH BIG BASS. IVE CAUGHT WELL OVER 100 BASS OVER FIVE POUNDS ON IT.IT TAKES AN EXPERT TAXIDERMIST TO PAINT IT IN SUCH DETAIL.ITS VERY LIVELY IN THE WATER AND DRIVES THE BIG GIRLS CRAZY. I USE IT IN TOURNAMENT SITUATIONS TO GET THAT KICKER.GIVE THEM A TRY. YOU WONT BE DISAPPOINTED. THROW THE BLACK ONE AT NIGHT. THE BROWN ONE DURING THE DAY. AND I LIKE THE WHITE ONE IN MUDDY WATER...

From: JASON: SAN DIEGO, CALIF.,USA

Comments: If you want a top water rat that actually looks like a rat, this is it! Speaking from personal experience, I've had multiple bass over 5 pounds on a brown Moreau 5" Topwater Rat. It's one thing to look like a rat, but it's another to actually perform well in the water. I can honestly say that this bait is top notch when it comes to the action. The way this bait walks is amazing, you can walk this thing so good it will stay in the strike zone longer. Also looks amazing as a wake bait with the tail wagging behind it on a steady retrieve. The paint on all the Moreau baits will stand the test of time, I've thrown all their baits in the worst of areas. I have yet to see any major damage and I've had some of the baits for years! Support these guys, they hardly make any money on these. This is their passion and it shows!

From: Brett: Orange County

Comments: sickest bait ever , just got 3 more

From: Brian: Media, PA

Comments: got me the gray rat,was in florida fishing and first cast i caught me a 5lb. Snakehead,YES A SNAKEHEAD...next few cast juat blowups,7th cast (lucky #7 right lol) the rat got bit and disappeared under the water,rod bent over,fight was on,i thought for sure another snakehead with the violent fight.get the fish close to boat and up she came...my biggest FL bass ever.a 9lb 3oz largie with this rat down her throat.....thank u moreau for the memories.

From: Steveo: IL

Comments: a dealer had these at a local fishing expo,if u ask me nodda thing special to these for the price tag...ragos are cheaper and are still THE KING of rat baits.plus they have more action.skip this n get a rago or a mini ms slammer.

From: Sam: Chicago, IL

Comments: what's up people one of the baddest top water rats out there they walk great and throw a mean wake on a straight retreve. So get them while you can and smack them up I know ihave already

From: Mieger: Castaic, CA

***Note: If you have questions about this product or need assistance with an order please email your questions to info@tacklewarehouse.com