Moto Hook Weedless Wacky Hook 4pk - $3.99
Never be afraid to throw wacky rigged baits into heavy cover again - the Moto Hook Weedless Wacky Hook features a 50lb mono weedguard hand tied onto a super sharp Gamakatsu Shiner Hook. The mono weedguard holds up much longer than traditional wire guards, which constantly bend out of shape, and it won't inhibit hooksets like a wire guard can. You can also easily split the mono guard and create a "V" if that is your preference. The Moto Hook Weedless Wacky Hook - "the one you want, the one you need."
Comments: These are nice for throwing in more dense cover...come thru better than circle with light wire guards I think the hookup ratio may be a tiny bit lower than the Gammy/Owners...after about 10 fish the thread started to unravel off the weed guard.

From: Rob: Eastern PA

Comments: I started out using the more rounded wacky hooks made by another company; however,I'm sold on these almost strictly based on the motos 50lb mono weed guard which holds up better than any type of wire weed guard out there. Even after a number of fish, you can get the guard back to reasonable shape.

From: Matt
***Note: If you have questions about this product or need assistance with an order please email your questions to info@tacklewarehouse.com
View Large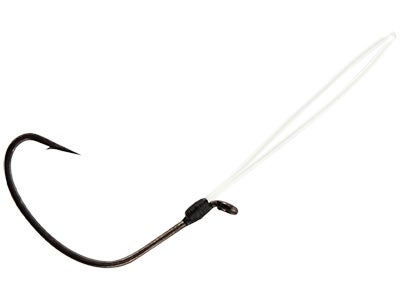 Place Your Order
More Moto Hook Hooks