MotorGuide Safari Weedless Prop 3.5" Diameter - $33.99
Designed to deliver exceptional weed-free performance, as well as, pure open-water power, the MotorGuide Safari 3.5" Weedless Prop fits all 3.5-inch diameter trolling motors - from 35 pounds-of-thrust models all the way up to the most powerful 36-volt motors found on today's high-performance bass boats. An efficient two-blade prop built on a tapered-hub design, the MotorGuide Safari Weedless Prop leaves no gap between the prop and housing. This design keeps weeds moving toward the business end of the lower unit where the blades provide a cutting function, while generating the thrust to throw them clear.
"You know what I like about the new Safari prop? Everything. It's quiet. It's smooth. And best of all, the special new blade design won't let a single stalk of vegetation stick to it. Which means I spend more time fishing, and no time pulling my trolling motor out of the water to pull the weeds off of it." - Terry "Big Show" Scroggins, Bassmaster Elite Series Pro.
*Fits all 3.5-inch diameter trolling motors
*Improves power, thrust and efficiency in a weedless design
*Runs virtually weed-free
*Incredibly durable in light-cover situations
Please Note: This item is not available for order outside of the United States.
View Large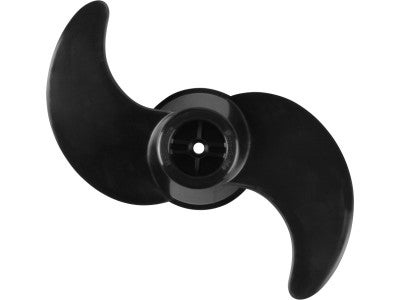 Place Your Order
More MotorGuide Accessories
Comments: This prop eats lily pads like candy. Goes thru weeds way better than the standard prop. Didn't the high pitch noise that Dave described. Only heard noise when it was devouring very thick weeds.
From: Earl: Pittsburgh, PA 3/25/14
Comments: wow!!this prop is amazing,i fished all day on lake o.(perhaps the #1 grass lake in the country)and only had 2 clear the prop twice all day.it is a little noisier than the machete and seems i may have lost a little bit of power but well worth the trade off...buy it now!!!

From: Brandon: Okeechobee, FL

Comments:My friend and I both bought one of these props and both make a high pitch noise!!! motor guide said some can make that noise. We have 82 pound thrust motors, motor guide offered no help. Beware!!!!
From:Dave: Three Rivers, MI
***Note: If you have questions about this product or need assistance with an order please email your questions to info@tacklewarehouse.com