MotorGuide Xi5 Wireless Trolling Motor - $1489.99 to $1699.99
Delivering precise motor and steering control from anywhere in the boat, the MotorGuide Xi5 Wireless Trolling Motor offers wireless capability right-out-of-the-box. Stealthy quiet and silky smooth, the Xi5 is also loaded with a host of thoughtful details that the most discriminating anglers will appreciate.
The advanced wireless foot pedal delivers complete control and the sophisticated steering transmission and fully-protected electronics deliver dependable, quiet precision, as well as, serious protection from water and dust. A new composite shaft can also take on any obstructions that get in a way, and it's backed with a lifetime warranty.
LED lights in the controller allow anglers to quickly check the status of four key functions at a glance; Power ON/System Ready, Propeller ON, Pinpoint GPS System Active, and three-level Battery Power indication. Featuring advanced wireless performance, the MotorGuide Xi5 Wireless Trolling Motor is engineered to be reliable every day - and durable over the long haul.
Features:
-Sophisticated Steering Transmission - From its ball bearings that reduce friction and wear, to custom seals that keep water and dust out, to an extra-rigid shaft support tube - the Xi5 steering transmission delivers dependable, quiet, precise performance.
-Fully-Protected Electronics - The high-efficiency electronics are fully encapsulated in a high-tech coating, making them impervious to water and dust. There's also a protection circuit that prevents lower unit damage if the prop is stalled.
-New Composite Shaft - The new composite shaft can take on any and all obstructions that get in its way. It'll bend, but won't break. That's why it's backed with a lifetime warranty.
-Comes equipped with a 2 blade propeller for maximum power and weedlessness.
Please Note: This item is not available for order outside of the United States.
View Large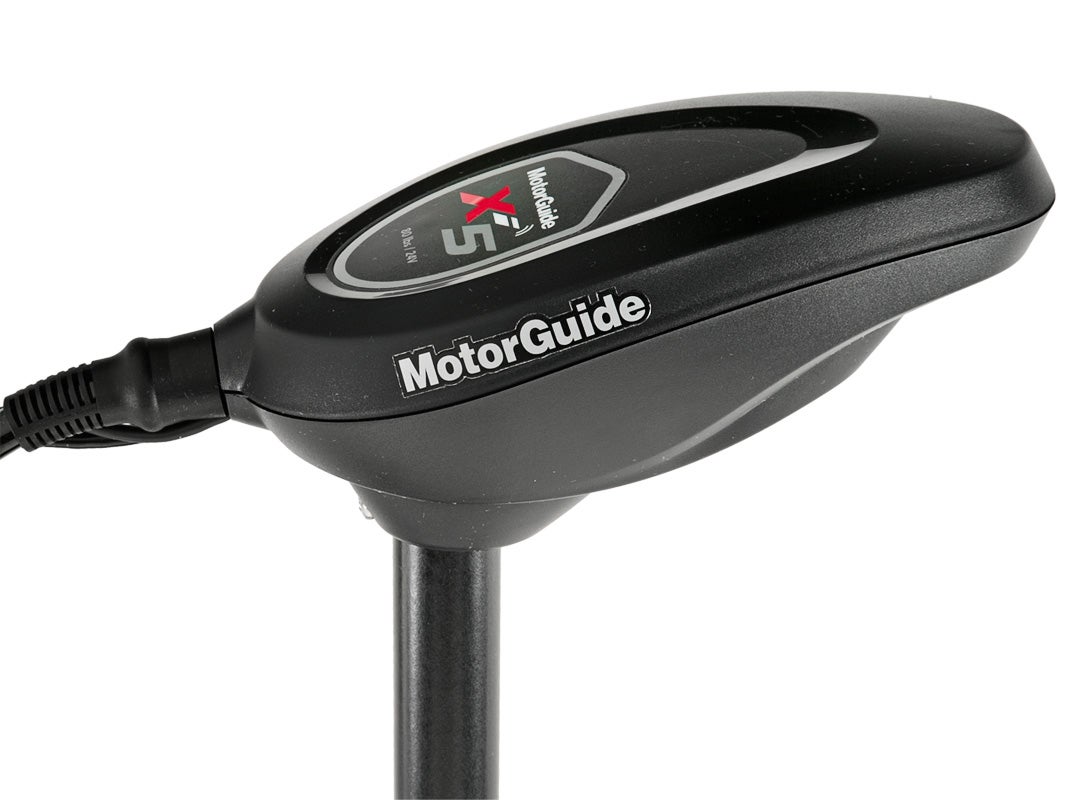 Place Your Order
More MotorGuide Trolling Motors
Comments: Thus far I very much enjoy the Xi5 MotorGuide wireless trolling motor. I am impressed by almost everything about the performance and wish that I would have purchased it much sooner. On the TW website it does not mention that the motor has GPS installed. The unit I purchased (36V, 105 lb., 54") did indeed have the GPS which is what makes this such a great product. The anchor mode works exceptionally well but the thing I like most is the ability to point the unit in a particular direction and it will pretty much take you in that direction without having to touch the trolling motor until you want to change direction; this allows you to fish long stretches of shoreline or ledges without having to do anything but fish. This came with both a wireless handheld unit and a wireless foot pedal. I use the handheld remote almost 100% of the time since it allows you to fish from anywhere on the boat and is so simple to use my 12-year old daughter can maneuver my boat with no issues; try that with a standard foot pedal motor. I was a bit taken back by the small area in which the unit is installed on the bow of my boat. It seems like it is attached very well but seems a bit shorter in length than I had expected. It is about the same size as the Minn Kota Terrova for those who are familiar with that product. I would like to also thank the TW Customer Service Rep who helped me by answering the many questions I had when deciding between the Motorguide Xi5 and Minn Kota. Awesome Job TW!!!
From: Chuck: Elizabethtown, KY 6/16/15

Comments: awesome item extreamley recommended is what most people would say about this item but what i have to say may be asto ishing to others ears but i did not like the item i couldnt set up the remote so ther for i did not have the wireless experience that i was supposed to have when i bought this item.
From: Patrick: USA 7/14/14

***Note: If you have questions about this product or need assistance with an order please email your questions to info@tacklewarehouse.com