Motormate Locking Systems Yamaha - $119.99

Your outboard motor is a major investment, and protecting it while transporting it to the water should be a top priority. The Motormate Yamaha Locking System locks most Yamaha outboard motors in place, preventing costly damage to your steering system and excess torque on your transom. The Motormate Locking System also releases pressure off your hydraulic system.
Guy Eakers, Ott Defoe, Bryan Thrift, Randall Tharp, Aaron Martens, Stephen Browning, Timmy Horton and Jason Christies are just a few of the Elite Series and FLW pro's who rely on Motormate Locking Systems to protect their motors and transoms when traveling across the Country.
Yamaha 2-Stroke Model #301 - Fits 115hp to 175hp 2-Stroke Motors.
Yamaha 2-Stroke Model #302 - Fits 200hp to 250hp 2-Stroke Motors.
Yamaha 2-Stroke Model #303 - Fits 200hp to 250hp SHO 4-Stroke Motors Only. (Comes with 2 stainless steel brackets).
Please Note: Some older models may have different measurements than guidelines above. Please measure the lower unit of your motor before purchase.

View Large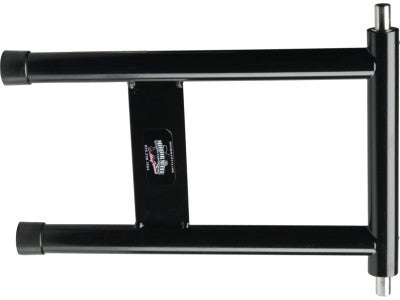 6 Available Colors
More Motormate Locking Systems
Comments: I am impressed with it. Works as advertised with no movement. Much better than the one that came with my SHO and definitely a better concept then the trailer bar.
From: Richard: Virginia Beach, VA 4/10/15

Comments: When I first got it and tried to instill would clear engine mount. With little to no help from Motormate I decided if I wanted this to work. I would have to do a bit of grinding-3/16 each side for clearance. I did and it works great after doing this
From: Jerry: Oceanside, CA 2/4/15

Comments: This thing is awesome. It took me 20 minutes to install and it locks the motor down. I have the 250 SHO 4 stroke. I would recommend it to anyone.
From: AC: TX 1/19/15

Comments: Motormate has a new re-designed, stronger bracket that is all stainless steel. Just call customer service and they will help you out any way they can.
From: CB: USA 6/5/14

Comments: This thing works great Motor has no bounch or shake holds it rock solid(you try shake the motor the whole boat and trailer move). So much easier then climbing under boat to line up and put motor sticks on. Also doesn't leave marks all over your lower unit. Easy to store when you take it off. First one of this style I have found that fits a Yamaha.

From: Sully: MA 5/8/14

Comments: Great product but the brackets are a little on the weak side. Have to keep an eye on them every time I use it and bend them back in a little after a few trips but nothing more than an 1/8th.
From: Allen: USA 3/16/14
Comments: Great concept, brackets are to weak for bigger motors. Need to beef up the brackets. Learned from experience.
From: QR: AZ 3/10/14
Comments: Great Item! Easy install, looks great and holds motor in place without movement....

From: Ron: Universal City, Texas

***Note: If you have questions about this product or need assistance with an order please email your questions to info@tacklewarehouse.com