Mustad Power Lock Plus EWG Hook 5pk - $4.99
The Mustad Ultra Point represents the culmination of over a century of hook making experience by one of the world's oldest hook manufacturers. The Ultra Point incorporates the three-stage Opti-Angle sharpening technology which creates a true needle point that is stronger and resists bending better than conventional points while still providing a sticky-sharp hook. Mustad uses premium high-carbon steel that has been specially Nor-Tempered to increase strength as much as 30% over conventional tempering methods while still avoiding brittleness. The red finish resists corrosion and helps keep your hook needle sharp, fish after fish and that extra flash of red will often trigger a strike from aggressive bass.
The Power Lock Plus EWG is a great hook for weedlessly rigging soft plastics, like sinking stick baits, soft jerkbaits, and toads.
Comments: One of my favorite hooks. Probably not the best for gin clear water because the are stainless Steel. One of the best things about these hooks is the fact that I rarely deep hook bass on these. Something that happens to me quite often with other hooks. Just put a dab of super glue on the pin to help keep your soft plastic secure. The pin works ok by itself but the superglue keeps it in place in the thickest stuff

From: Patrick: Inwood, WV

Comments: got some of the 4/0 I like them they do pretty good to be honest they are probably my favorite hook for soft swimbaits like cane thumpers and skinny dippers but they do tear easily it seems like because of the pin instead of the spring......One thing though to be careful about is that when you are rigging a swimbait be careful not press too hard because the little hook that attaches the pin to the eye of the hook can shoot into your thumb and get stuck.....not fun at all lol

From: Billy
***Note: If you have questions about this product or need assistance with an order please email your questions to info@tacklewarehouse.com
View Large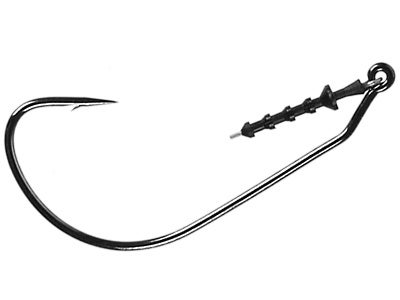 Place Your Order
More Mustad Swimbait Hooks
More Mustad Worm Hooks