NetBait Paca Craw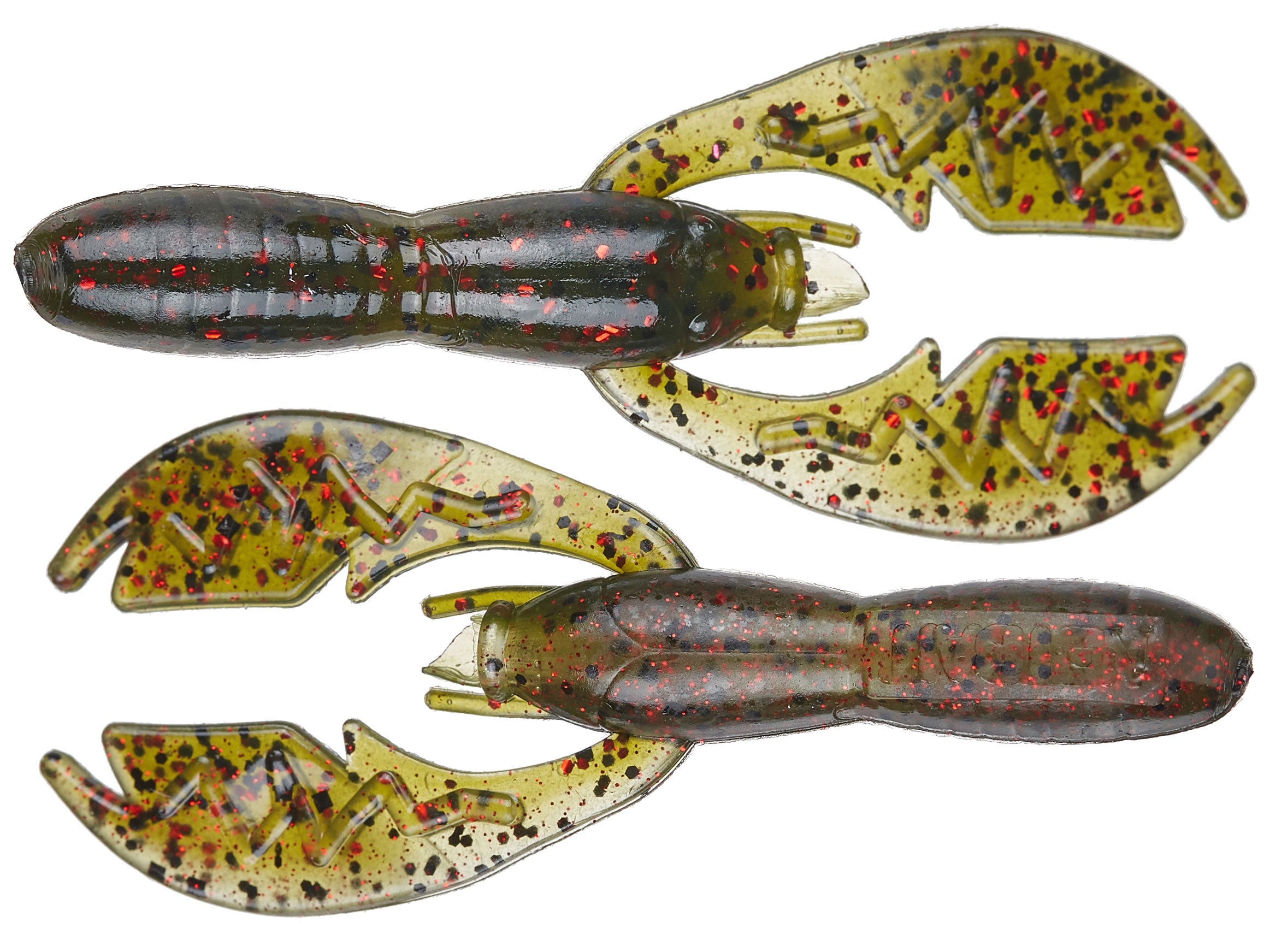 With the patented NetBait claws and hollow body design the Paca Craw is an extremely versatile bait. When flipped or pitched the claws of the Paca Craw have a helicopter effect which slows the decent of this bait. The hollow body can accommodate a large rattle or can be used as a reservoir for scent. The first half inch of the butt end is solid plastic which will help the from sliding down the hook. The NetBait Paca Craw is by far one of the most versatile soft plastic baits on the market.
| | | |
| --- | --- | --- |
| NetBait | Length | Quantity |
| Tiny Paca | 3" | 10pk |
| Baby Paca | 3-3/4" | 9pk |
| Regular Paca | 5" | 8pk |
43 Colors
More From NetBait Chunks and Craws
Customer Reviews
Comments: The NetBait Paca Craw is my go to bait, not only for soft plastics, but for any lure! This bait is very cheap, it has great movement, the color is fantastic, and it has amazing durability! You can Texas rig this bait regular, upside down, sideways, and even with one claw missing it will get the job done! This bait is the ultimate fish catching machine! I have never used the Paca Craw as a trailer, but I have used the Paca Chunk on jigs and it works great. This bait definitely gets a 5 out of 5 and I hoghly recommend buying it! (My favorite color is Black Neon)
From: Unknown: Illinois 1/12/17
Comments: This bait has been a well kept secret, but now it's getting out. Best action there is on a craw bait no matter which size you choose. Flip/pitch with the Paca craw Texas rigged. (favorite color-Alabama craw) If bite is tough go to Baby Paca Craw. I love to jig fish and the Paca chunk is the best trailer I've come across. So much action and so many color choices! And Net Bait is durable so you don't go through so many baits. Great product and great price!
From: Randy: Texas 1/29/17
Comments: Do you flip or pitch? then buy bags of these craws because you will love them . sun perch is a great color to start with but get a few different colors to experiment with. i used to buy zoom and yum and even gander mountain baits . I feel like these hold up longer,have more color options, and depending on your weight choice ,have a very nice action falling. best size is probably the baby paca . I've caught from1 to 8 pound largemouths with these consistently . only craw for me
From: Brad: Northern, IL 11/16/16
Comments: Wonderful bait. I love these as trailers for swimjig although they are excellent for any use. Only one problem. Where did the gold color go. You add that to a sexy shad jig & you have a North Country monster swim jig.
From: Dean: Apple Valley, MN 8/15/16

Comments: I love using the 3" Paca Craw when fishing for river smallies. I pair it up with a strike king finesse football jig and it only catches the big ones. Great bait & I highly recommend
From: Caleb: WI 7/10/16

Comments: Works great tossed in deep sections of Rivers all over Virginia. Take a 3/8 slip sinker run in the middle of it. Red 4/0 extra wide gap hook, watermelon color. The smallmouth love it.
4/21/16

Comments: Couldn't ask for a better bait to put big fish in the boat, also check out the Paca Slims an the Contour Worms. Great bait to catch fish. Should defiantly try them out, won't be disappointed.
From: Jonathan: Ray, OH 4/7/16

Comments: I have been fishing the paca craw for probably 6 or 7 years and they have always been a great fish catcher for me. I have caught some of my biggest bass ever Texas rigging a paca craw. My favorite is the baby paca because it is so versatile. You can flip it, swim it, or use it as a jig trailer! When the bite gets tough and I'm struggling to put fish in the boat this is the bait I reach for and it never lets me down. Do yourself a favor and pick up a few packs. You won't be disappointed!
From: Chris: AL 4/7/16

Comments: This is My favorite craw style bait. I love to fish it on a texas rig. I rig the baby paca craw on a light texas rig and drag it around points in the winter and pre-spawn. The paca craw is surprisingly durable given its hollow body and is very easy to rig weedlessly with a round bend worm hook.
From: Ty: Broomfield, CO 4/7/16

Comments: I have been fishing these baits for a long time now, and these are by far the best Texas rig baits on the market. The claws have great action and they are also pretty durable.
From: Alex: USA 3/12/16

Comments: This is another bait I have been fishing for 6 years now. The action this bait has is better & more reliable than any other bait like it in its class. Its reliable action happens on the fall, when drug on the bottom or just hopped & swam along. You cant beat that salty, porky smell or taste either,those fattys cant resist them.
From: William: Austin, TX 10/14/15

Comments: I absolutely love the. Any paca craw it has phenomenal claw swimming action when you drag, hop, or swim it around structure like blowdowns stumps etc. my favorite way to rig it is on a 3/8 oz. screw lock shaky head. When you let the bait sit the claws stand up towards the surface at a 45 degree angle exactly like a crawdad/crawfish/ crayfish whatever you call them in a defensive posture due to predators a.k.a. Bass and it makes the bass go ballistic over the bait. I have had great success bed fishing with the bait and pitching in the middle of fry balls and caught numerous fish over 5 lbs on the bait. My favorite color is Alabama craw. Buy the bait, you will not be disappointed
From: Logan: Gainesville, GA 5/6/15

Comments: I like to stuff these with pipe insulation it makes them float,you can also use scent on the insulation. You can then fish them Texas rig or carolina rig them in deeper water, try it and win your nxt tourney.
From: John: Dracut, MA 3/22/15

Comments: Started using the Baby Craw this year. put it on a Biffle Hardhead Swing Jig. Fishing rip rap on the Mississippi River, and it was outstanding. Bass love it, and Walleye and Sauger will jump on it too. Had one Walleye near 8 1/2#, while Bass fishing.
From: Old 63: Sterling, IL 11/12/14

Comments: This is my favorite craw style bait I have used so far. It's durable and rigs very easily. My favorite color so far is sun perch but I'm sure there are some other good ones. The scent doesn't wear off and it does a good job at avoiding weeds due to its shape. I use a 1/8 oz worm weight texas rigged and do great! Good jig trailer but I would go with the paca chunk. It's the same thing but smaller so you don't have to trim the head to fit it on the jig.
From: Pat: Worcester, MA 11/2/14

Comments: the regular paca is a phenomenal craw! This bait had been what we call "the producer" this year for us fishing for smallies. Casting this on a 3/8 ounce Texas rig over rock bars and sandy flats had boated us many smallies in the 4 and 5 pound range and is a durable craw!
From: Wisconsin Angling Outdoors: WI 9/29/14

Comments: I can get fish to take these craws when the bite is slow. The tube body must feel natural to fish. The baby Paca Craw in bull frog works well, but all of Net Baits colors seem to work for different conditions. The licorice cover scent really helps mask human odor.

From: John: Lexington, KY, USA

Comments: awesome bait i use it for smallmouth on a t rig and they crush it all the time great action swimming dragging or hopping it

From: Evan: PA

Comments: Sensational craw bait! Whether you use it as a trailer, or rig it by itself, the flapping claws and hollow body sure get the job done. Plain and simple, it catches fish for me. And 47 colors to choose from!

From: Adam: Orange County, CA

Comments: Best craw bait ever. My go to whenever I'm fishing new water or things are slow. Never fails to catch fish of all sizes.

From: Jason: Chicago, IL

Comments: this is my go to bait when chasing smallies in my local crik and river they crush this thing green pumpkin with the tips colored a little orange big smallies love it great product very durable

From: Evan: Mechanicsburg, PA

Comments: Great bait! Alabama craw, summer craw, and watermelon red are the best colors for any size. I highly recommend this bait!

From: Austin: MI

Comments: all i ever get to fish is a small little public pond (the lake is always crowded) and as soon as i put out a paca craw in the water, the bass in their couldnt stay off it. i was using watermelon red flake, go ahead and buy plenty of packs!

From: Keegan: Austin, TX

Comments: Great jig or chatterbait trailer. It is my go-to trailer for swimming a chatterbait or popping a jig. I have tons of confidence in this bait and it has won me a lunker prizes on Lake Champlain.

From: Greg: Bristol, VT

Comments: i used this at okeechobee (long point) and was realing it in and saw huge swirl and cought a 8.6 oz bass

From: Bobby: Clewiston, FL

Comments: Picked up the the regular paca craw in the Magic Craw color and took them to my "dead pond". Haven't caught anything back there in probably 2 months. Pulled a 3.5 and a 2 pounder out today in a matter of 15 minutes. Grab you a pack, you won't be sorry!

From: Cody: Kingsland, GA

Comments: Excellent bait, very durable - unmatched action. The claws are also slightly bouyant so as it sits on the bottom it resembles a defensive craw. All Netbaits come with a nice garlic scent that draws the biggins in. I like to rig the paca craws when throwing grass lines, chunk rock - but when I'm skipping docks I prefer the smaller offering of the mini paca craw. I'm a lifer for Netbait products after watching my jigs get eaten when others just arent.

From: Bud: Swan Lake, NY

Comments: Fish catching machine, nonstop action even in heavily pressured ponds, pounders to 8 pounders. Topwater, swam, on a jig, spinner, buzzbait, dropshot. Very versatile. Watermellon candy/ Junebug favorite colors. Great bait Netbait!

From: Geoffrey: Spring Hill, FL

Comments: one of the best craws ive useed! great scent and very durable! catches lots of fish!

From: Matt: Carbondale, IL

Comments: awesome bait to use for bass fishing. I fish this bait and i caught alot of fish with it. Then i caught a 4.5lb and the color was Okeechobee Craw nice bait!!!

From: Chauncey: VA
Comments: awesome bait especially if u put tube rattles in it with the bullet weight.Biggest one so far off of it was 5lbs,Wat jelly and junebug have been good for me.

From: Hunter: LA

Comments: Today I put 2 1/16 ounce split shots in it and a 1/2 ounce bullet weight, and it punched through any cover and sat sraight up on the bottom,caught 4 nice bass off of 1 baby in 30 or so minutes.

From: Bill: Davenport, IA
Comments: best craw ever! ive caught 2 to 8 pounders on this flipped texas style over hydrilla, netbait has really outdone themselves on this one!!

From: Lake Oroville, CA
Comments: This bait is amazing when it comes to texas rigging or jig trailers its the best all-around bait you can buy. The best colors are black, black/blue and okeechobee craw.

From: Lake Texoma, TX