Netbait B Bug - $3.99
A versatile bait, the NetBait B-Bug serves primarily as a great flip bait, but it can also be effective when Texas-rigged and dragged along the bottom, tied onto a Carolina-rig or used as a jig trailer. The protruding ribs increase the bait's profile and generate additional water disturbance, while the beaver-like tail kicks up quite a commotion and can be easily split for additional action. Available in a variety of proven colors and loaded with scent, salt and pork fat for added fish attraction, the NetBait B-Bug has quickly become a popular choice for anglers across the country.
NetBait B Bug

Length

Quantity

Mini

3.5"
12pk

Standard

4.3"
10pk

Comments: A friend and I recently did a camping trip on the Alabama River. This bait put 65 bass in the boat in 1 1/2 days of fishing. I immediately ordered more when I got back home. Awsome bait !

From: Steve: Titus, Al, USA

Comments: Superb bait. You'll find many other brands making essentially this same bait, but you can't beat this for the price/quantity. This has become my #1 Texas-rigged bait. And there's a large selection of colors to please pretty much every angler.

From: Adam: Orange County, CA

Comments: This is a fantastic bait for the price definately plan on owning all colors one day.

From: Big Matt: Indianapolis, IN

Comments: B Bug basically stands for SWEET BEAVER! I have used everything and for 5.99 you know your fishing the very best! Buy Reaction Innovations. You will thank me!

From: Matt: Alexandria, TN

Comments: this is basically a sweet beaver

From: Charlie: NC

Comments: These baits are amazing the fish just cant say no to these things. I definitely recommend these bait to anyone looking for a bait that will catch fish during the spawn and post spawn.

From: Chad: SC

Comments: Love these little baits caught a lot of fish on them and lost a nice one

From: Tristan: Hoover, AL

Comments: I love to use this bait as a jig trailer. Green pump/wtrmln. caught 2 2 lb + Fish when nothing else was working.

From: Mitch: Sherwood, WI

Comments: Awesome bait!!!

From: Brian: Pittsburgh, PA

Comments: i fish the river for smallmouth in kingsport,tennessee. they are great for flippin when the fish are right on the bank on any color. cath a lot of pigs too.

From: Adam: Bluff City, TN

Comments: Great bait rigged on a straight shank keeper hook. Good flipping and texas rigged. I was just pounding them at the local lake 9 fish in 45 minutes including a 6 lb,3.5 and 3.

From: Ed: Grayslake, IL

Comments: One of the best creature baits there is. I fished the black and blue next to a black and blue Sweet Beaver and out fished it 3 to 1. The Sweet Beaver is an awsome bait, this bait willl give it a run for it's money. As far as Dean goes I fish it on a 4/0 straight shank Trokar hook and have no problem with it at all.

From: Brett: IL

Comments: I bought a pack of the Minis and I cannot get this bait to stay on the hook. I tried both a regular extra wide gap hook and an Owner Twistlock. The back of the bait consistently slides up toward the point creating a crooked presentation. I have rigged similar baits (3" Beast & Smallie Beaver) with no problem. I am sure I will figure some way to rig this so it is fishable, but at the moment I am not impressed.

From: Dean: British Columbia
Comments: I Love this bait picked up a pack before a tournament one day and cought plant of bass on the green pumpkin watermelon mix. This Beaver will be a go to bait in the feature

***Note: If you have questions about this product or need assistance with an order please email your questions to info@tacklewarehouse.com
View Large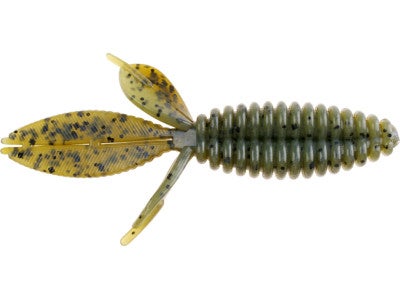 19 Available Colors
More Net Bait Craws