Never Slip Bait Tape 3/16" X 2" 5 pk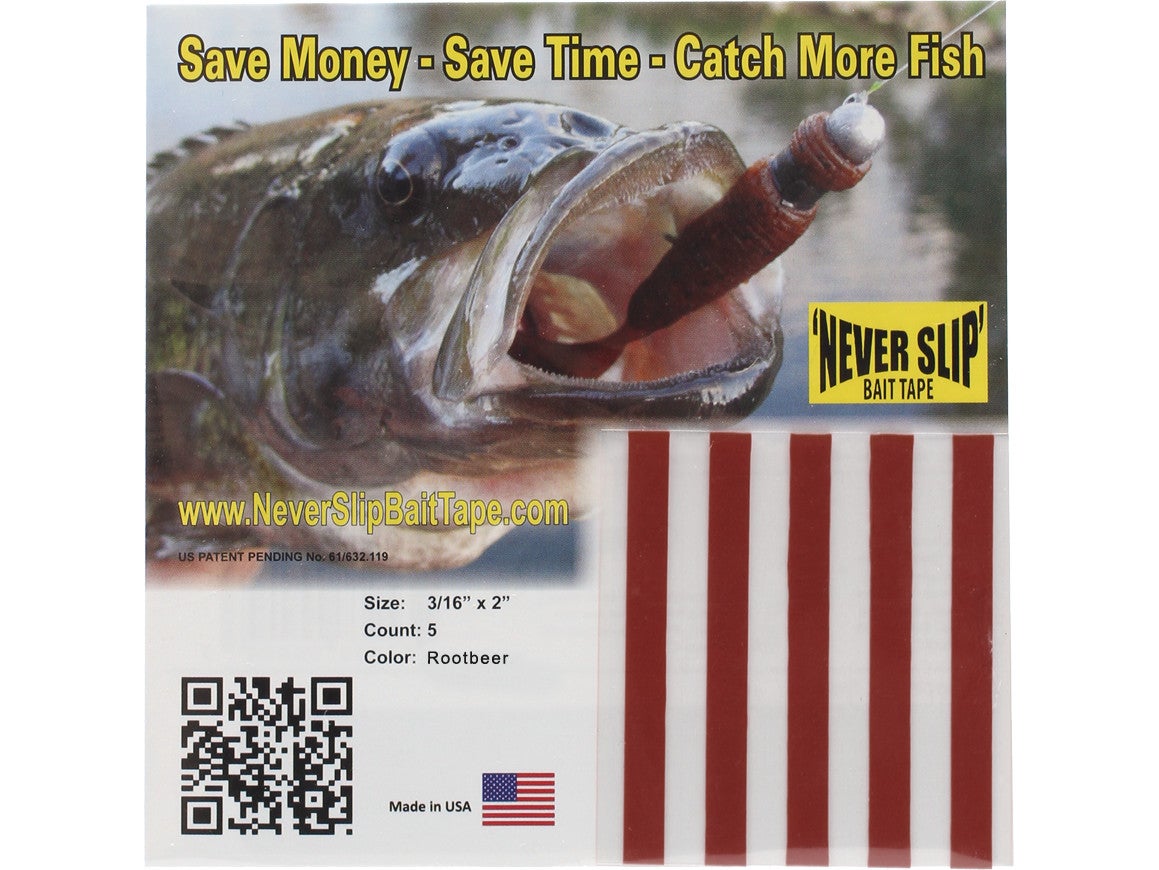 "Never Slip" Bait Tape dramatically increases the useful life and reuse of individual soft baits. A big challenge in fishing is maintaining a life-like presentation, specifically keeping your bait positioned on the jig head after repeated casts/retrieves, snags, short bites, etc. Barbs, springs, retainer devices, adhesives, o-rings all have their limitations. After years of testing Never Slip Bait Tape was born. Soft baits secured with 'Never Slip' Bait Tape will not need to be replaced due to a loose fit between the jig/hook and bait. (Manufacturers sell 50 to 65% of their soft baits inventories due to product failures and loss of life-like presentations associated with a loose fit between the jig and bait). You'll save substantial money on reduced soft bait purchases when using 'Never Slip' Bait Tape. Simple and easy to apply on any soft bait and bass fishing application, Never Slip Bait Tape really excels for wacky rigged presentations.
-Retains life-like presentation of soft bait after strikes and snags
-Dramatically increases life of bait – substantial savings
-Improved hook-ups into jaw due to hook orientation on wacky rigging
-Reduced underwater snags due to hook being in-line with length of soft bait on wacky rigging
-Reduced line twist during retrieve due to hook orientation on wacky rigging
-Low profile without increase in soft bait density, softness or action
-Catch more fish due to maintaining life-like presentation
6 Colors
More From Never Slip Bait Tape
Customer Reviews
Comments: Buddy of mine purchased some of these tapes to set him over the $50 mark for the free shipping. He gave them to me to try. I used them for Texas rigging with big 10 worms and found them to be successful. I also wasted a few strips by accident cause I didnt tighten them up well. Helps hold the bait realy good while pitchen through the junk.

From: Kenny: Leesburg, FL

Comments: Nice product! Works as described, will buy again. Thanks TW.

From: Bob: Alabaster, AL

Comments: Bring out the 5" and all other companies are going out of business.

From: striper team: CA

Comments: I tried the tape and it looks like a good strong fit. Unfortunately, I think the price point and/or quantity is off if this is positioned to save on 'plastic'. you only get a few strips (5 I believe) and if this is going to save money, it might be about break even just using a new bait after the break gets worn. If there were more of these per pack, or the price point was lower it would make more sense. Not sure I will buy more. Very costly.

From: Bill: Windham, NH

Comments: This tape is great. Easy to put on and certainly saves expensive bait as they say it would. Tried the crystal clear color and black as I believe these are their best colors. Really like the jig head option cause it holds the bait on well. Make sure and wrap it tight. Any plans on making this tape for saltwater applications? Cool demo video as well

From: Jon: Queen Creek, AZ