NuTech CrazyJig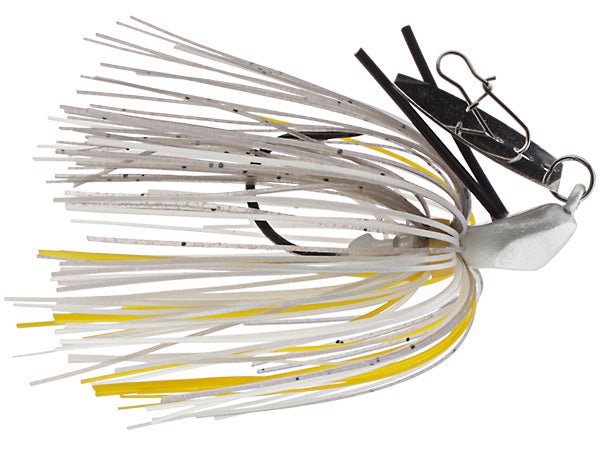 The NuTech Crazy Jig combines NuTech's signature head design with a premium vibrating blade to create a lure that outperforms all the rest. The NuTech Crazy Jig incorporates a precisely shaped cam-head that, unlike other jigs, rolls off of cover and remains upright at all times.
For enhanced attraction and performance, the NuTech Crazy Jig is fitted with a blade that delivers a strong underwater disturbance and also works to deflect cover. In addition, the NuTech Crazy Jig features two solid rubber weedguards that help it move through thick cover and collapse around the hook point instead of directly on top of it, like fiber weedguards. Combine all of these highly-developed design features together and the NuTech Crazy Jig equates to one "insanely" attractive jig.
8 Colors
More From NuTech Jigs
Customer Reviews
Comments: Wow, this bait puts off a lot of vibration. Fish-catching machine. Very weedless, and does well in timber. Hooks them in the top of the mouth just about every time. Don't be afraid to slam the hook home either, to help penetrate that bone.
From: Daniel: Monroe, LA 2/14/16

Comments: This is an amazing chatterbait. IMO better than the Z-man because it has an extra split ring which, when retrieving at a faster speed, makes the bait dart off into different directions like an escaping baitfish. It is also super weedless and tracks very well. The hook is smaller than the Z-man which allows for easier hook removals. The two weedguards allows for the hook to penetrate into the roof of the fishes mouth 99% of the time, right where you want it to be. I have landed numerous amounts of fish on this, including a 4lb 10oz bass which crushed it while I was burning it, and the bait is holding up perfectly, not to mention the hook is perfect. Great buy
From: Kevin: CA 7/20/15

Comments: Great vibrating jig, comes through cover nicely. Can hop and stop and work bottom unlike others, very versatile. Well made and great jig head design.
From: Mike: FL 6/26/15

Comments: Amazing action! This crazy jig/ chatter bait does a extremely good job at catching big bass and a lot of them. When tipped with a trailer it is deadly. This is a must in your tacklebox.
From: David: MI 2/24/14