NuTech Pro Series NuJig Skirted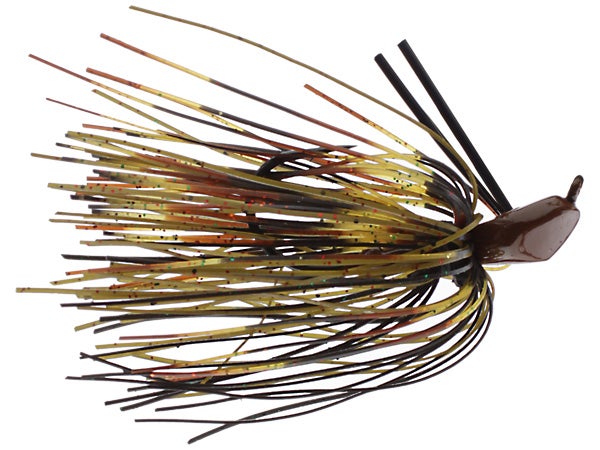 Most jigs are made to look appealing, but lack what really matters – results. The NuTech NuJig Pro Series Skirted Jig is built with an emphasis on function over form to ensure that it catches fish first-and-foremost above anything else.

For enhanced performance, the NuTech NuJig Pro Series Skirted Jig incorporates a special cam-head design that helps it resist snags and maintain a constant upright position. In addition, the NuTech NuJig Pro Series Skirted Jig is made with two solid rubber weedguards that fold around the point of the hook, unlike fiber weedguards that collapse directly on it. Also, the NuTech NuJig Pro Series Skirted Jig features high-quality skirting, an improved skirt collar, and a baitkeeper barb that will keep your favorite trailers locked in place. Finished with a super-sharp black Owner hook, the NuTech NuJig Pro Series Skirted Jig is built to put bass in the boat – plain-and-simple.
9 Colors
More From NuTech Jigs
Customer Reviews
Comments: These are simply the best jigs I've thrown. At first I was skeptical about the weedguards and just thought it was just a regular jig. Never had any issues and it hooks them in the top of the mouth every time. My Favorite color is black & blue. I've caught a lot of fish flipping these to cypress trees here in coastal South Carolina. If you are even considering buying these go ahead and get a few, you wont regret it.
From: Unknown: Georgetown SC 2/8/17
Comments: I purchased (2) 1/2 oz PB&J and Green Pumpkin Blue. I lost one on a dock I tried to get it back... The other I fished for about 2 weeks now and I got many bites, but the hook I think is too small.I think they should make another model with a better and bigger hook. I wasn't impressed. I would recommend the Dirty Jigs brand they use a better hook and for about the same cost.
From: Levi: Texas 1/12/17
Comments: It's a jig and they catch fish. I have the PB&J, black/blue & green pumpkin. They have all caught several fish & the hooks are good quality. The skirts have held up nicely after multiple fish including pickerel. Good purchase.
From: Paul: MN 8/11/16

Comments: Great Jig. Nice sharp hooks great quality hooks & skirts. The paint chips rather quickly when fishing near rocks. 4 out of 5 stars
From: Michael: KY 6/2/16

Comments: This is definitely my favorite jig I own. The head design keeps it standing right side up & the hookup ratio is great! Will be stocking up on more!
From: Chandler: Birmingham, AL 5/4/16

Comments: No jig in my box can compare to a Nutech! The hookups are great and it is impossible to get snagged. My favorite color is black and blue.
From: Will: Auburn, AL 4/7/16

Comments: This is a stellar jig. You want a jig that consistently lands on its head and doesn't fall on its side and this jig does it every time. I was skeptical at first with the two rubber weed guards but have never had a problem fishing it in cover or grass. Hookup ratio is excellent with these jig, Ive found I hook up much more often in the top of the mouth then with a classic jig design. This jig doesn't have rattles (which I prefer) but comes with the ability to equip them if you wish. My favorite colors are Green Pumpkin Blue and Watermelon Red.
From: Mitch: IN 3/30/16

Comments: Best Jigs I have ever used! Had a chance to talk to Bo and Chane and these guys are top notch. I had a strange payment issue with their site & they did everything they could to make sure my order came in on time regardless of payment clearance. Like past posts said these things are next to impossible to get caught up and almost always hook bass right in the top of the mouth! Missouri Craw and Green Pumpkin Blue are killers up here in Ontario. The NuJig, Crazyjig & SpinJig Spinner baits are must haves.
From: Shayne: Ontario, Canada 12/23/15

Comments: I flip a jig basically every time I hit the water, and these are my go-to jigs. Jighead always lands upright, hooks almost every bass in the top of the mouth. However, I once had a weed guard come off on a fish, but I think I just got a bad egg. Also, I try not to fish these jigs in heavier cover or else their bulkiness snags weeds, but I look past that. Overall, you can't beat these jigs for the price and dependability.
From: Owen: RI 8/18/15

Comments: NuTech Lures are the game changer of jig fishing for bass. The unique shape of the head and the great color selection will have you catching bass all day. This jig features a double weed guard which will protect the hook at all times so you can throw your jig in the tree and feel confident that your jig will always come back to you. The unique head shape allows this jig to fall so it is standing straight up when on the bottom of the lake. This jig swims like no other and catches fish like no other. Not to mention that they hook the fish in the top of the mouth every time.
From: Nicholas: Boston, MA 6/11/15

Comments: NuTech Lures are the best jigs I have fished in my life without a doubt in my mind. The jigs land straight up no matter what. The jig head is a one of a kind shape and is built and designed like no other jig or lure on the market. If you want a jig that can catch fish anywhere then this is the jig for you. This jig pulls through brush piles like it is nothing. This is the only jig I plan on fishing for many years to come.
From: Nicholas: Boston, MA

Comments: These jigs are by far the best jigs on the market & have a hook up ratio of know other. the way the jig imitates a craw when its got a gambler ugly otter on the back is amazing, i would eat it myself. i would highly recommend Missouri craw and crawdad brown for clear water
From: Chris: MO 4/5/15

Comments: I got four of these jigs & two of them came with a broken rubber band so I had to go buy replacement skirts. I've caught a couple fish on em and I've never got one hung up. The jig is good just wasn't happy with the broken skirts. Next time I'll just order the naked head and get some zman skirts.
From: Cooper: Oklahoma City, OK 3/19/15

Comments: I am an avid jig fisherman, have been for years. This jig will change how you feel about jig fishing. You can go ahead and put it where you previously wouldn't. I have lost a couple, but more my fault than the jigs. And the hook up ratio, well, very close to 100%, very close. The mechanics of the jig makes sure the hook is in the top of the mouth every time, after 100's of bass on this jig, I can't remember a single one that wasn't hooked at the top! Great product that actually delivers on what it says, no hype here, this is a work horse!
From: Lee: MS 1/12/15

Comments: This is a really good jig. It really does what its supposed to do. Using other jigs I would lose them pretty quickly. Although these do come through cover very well I have lost them in my community lake. I don't know it somehow the hook buried in the ledge or what but yes I have lost a few of them. But I would rather fish these than others simply because they do come through much better and they catch bass.
From: JC: CA 8/13/14

Comments: Hands down the best jig I have fished ( better than my customs in fact). I have tried to lose this jig every time I fish it and it comes through 100% of the time. Hook sets are always in the top of the mouth (even on 5-8 lb fish) and always secure. Best jig on the market period.
From: Len: Orlando, FL 7/14/14

Comments: I've fished jigs for almost 30 years and bar none this is the best jigs I have every used. The cam angles of the head allow the jig to land upright 99% of the time. The antennas make the jig turn upright in the fish's mouth resulting in a roof of the mouth hook set nearly every time. We fish ultra rocky western lakes that eat most jigs. I've gone from loosing 3-4 jigs per 10 hours to 1 loss in the last 50 hours! The hook strength and sharpness is top notch.
From: Doug: AZ 4/15/14
Comments: This jig does everything it is supposed to do, I have fished this jig in the worst cover anybody could think of and it comes right out of the water every time, the hook ups are amazing. Just about every bass i have hooked with this thing it has been right in the top of the mouth. I will put this jig up against any other jig on this website. These will be the only jigs i ever purchase.
From: Alex: Newport News, VA 4/7/14
Comments: This is the best jig on the market. Almost unsnaggable. Never missed a fish on these. Top notch. The physics are true. Get yourself some
From: Anthony: USA