Okuma Cedros Spinning Reels - $109.99 to $119.99
One of Okuma's most successful lines of spinning reels, the Okuma Cedros Spinning Reel offers high speed performance with its 6.2:1 gear ratio, as well as, crossover capabilities for use in saltwater, freshwater, and brackish water environments. Its rigid and narrow Aluminum Blade Body and Aluminum Sideplate offer a solid and compact base of operations - ensuring all components are in perfect alignment, and the Cedros also features Okuma's DFD: Dual Force Drag System. Completely sealed, the drag system provides compression on both the top and bottom of the spool for even pressure, superior heat dissipation, and the smoothest possible drag in a spinning reel.
Okumas HDGII: High Density Gearing II also offers the strength of stainless steel with the smoothness of brass gearing - equipping the Cedros with the power to target big fish in saltwater, and the smoothness to excel in freshwater finesse applications. The Cedros' patented EOS: Eliptical Oscillation System also ensures consistently even line lay, and its RESII: computer-balanced Rotor Equalizing System eliminates all spool wobble for consistently smooth casts and retrieves. A workhorse of a reel at a great price, the Okuma Cedros Spinning Reel offers blazing fast performance in salt and freshwater conditions.
Please Note: The 40-sized Cedros features a large Anodized, Blue Handle Knob (pictured below main image - last image to the right).
Additional Features:
-Precision Machine-cut Brass Pinion Gear
-CRC: Corrosion-resistant Coating Process
-HDGII: Corrosion-resistant, High-Density Gearing
-ALC: Rigid, Diecast Aluminum Frame and Side Plate
-EOS: Patented Eliptical Oscillation System
-Machined Aluminum, Two-Tone Anodized Ported Spool
-Rigid, Forged Aluminum Screw-In Handle Design
-Hydro Block Watertight Drag Seal
-Heavy-Duty, Solid Aluminum, Gold Anodized Bail Wire
-RESII: Computer-balanced Rotor Equalizing System
-Backed by Okuma's One-Year Warranty
Offering a blazing fast 6.2:1 gear ratio, the Okuma Cedros Spinning Reel is one of Okuma's most successful spinning reels, and it has the toughness to excel in both saltwater and freshwater conditions.
View Large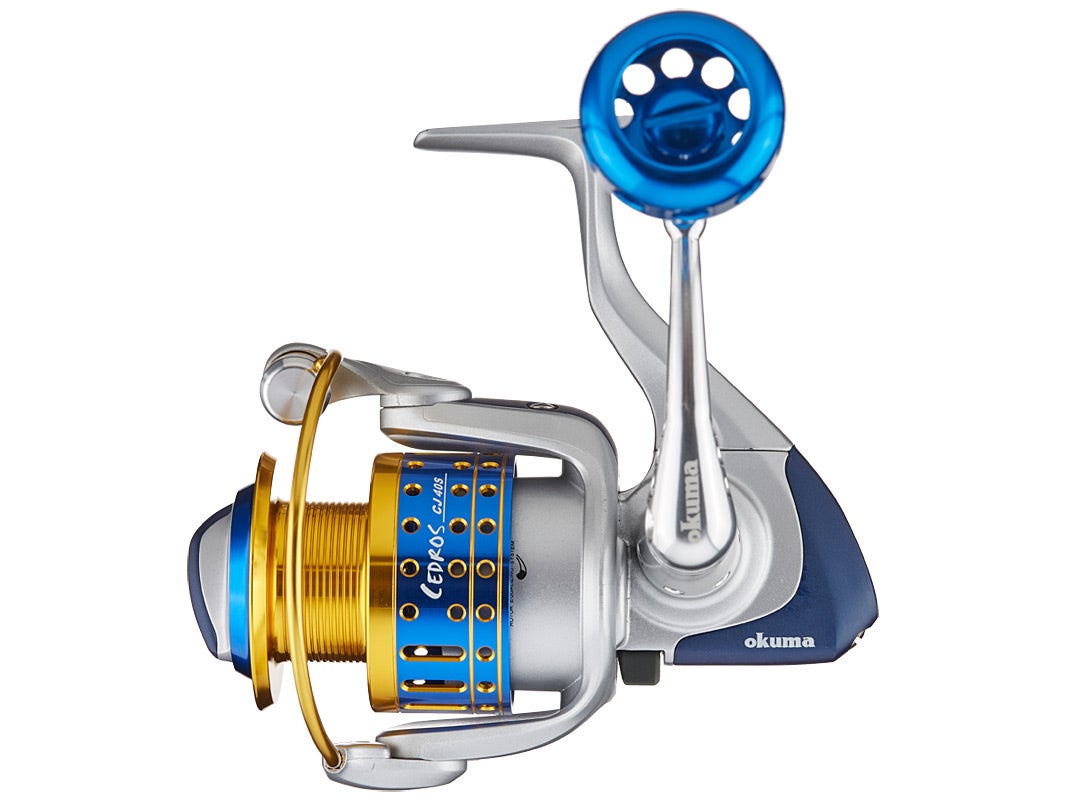 More Okuma Spinning Reels
Comments: I have a the 80 it handled a 50 pound wahoo. It is what use for most of my oil rig jigging. I think for the money it can not be beat.
From: Larry: Little Rock, AR 12/14/14

Comments: Needed a comfortable reasonably priced spinning set up with decent line capacity for reef and wreck fishing in the keys. ended up with the cedros 55 reel and the 7' med cedros jigging rod. I have it loaded with 40lb fins braid with 20lb flouro top shot. The combo is a tad on the heavy side, but not unbearable. I hooked into a 15 lb bonito tuna that truely tested my tackle. The combo handled the tuna with ease. I was really impressed with the smooth drag and the pulling power of the rod. The fight however, ended near the boat with a flash and blood cloud. Barracuda left me with a little better than half a tuna. This reel is awesome and would work well fishing for a variety of species.

From: Charlie: Austin, TX

Comments: Purchased the cj-30s a few months ago and its a pretty decent reel. Does not cast as well as i thought it would though. Overall, its okay, just dont let the looks fool you.

From: Meng: Milwaukee, WI

Comments: I own two CD40's and use them for bass fishing on 7 1/2 foot rods. The drag is so smooth that I never doubt that these reels have the power needed to land big fish. So far I've handled strippers up to 36 lbs.
These are powerful spinning reels, and powerful is not a word ordinarily used when refering to spinning gear.

From: L.J.: Sacramento, CA

Comments: GREAT REEL!!! I own the cj80s (the biggest size) great for inshore and big lake fishing...basically I LOVE IT!!!!!!

From: Drake: SC

***Note: If you have questions about this product or need assistance with an order please email your questions to info@tacklewarehouse.com