Okuma Helios 2013 LP Casting Reel - $199.99
The longer and harder you fish the more you notice the nuances of weight and balance in your equipment. Packing the full power of an aluminum frame, side plates, spool, and gear system, the Okuma Helios LP Casting Reel defies gravity. Weighing in at just 6.3 ounces, no corners were cut with graphite either. It delivers all the rigidity and muscle you need in your go-to reel - with none of the weight you don't. Also loaded with a wide array of advanced Okuma features, including a Zirconium Line Guide Insert and a Multi-disc Carbonite Drag System among others, oversized EVA grips, a carbon fiber handle and cast control accessed through the Spool Access Port complete the ergonomics of this tournament-bred competitor. Sleek and stylish to boot, the Okuma Helios LP Casting Reel delivers extreme performance.
The ultimate compliment to the Okuma Helios Mini Guide Casting Rods, the combinations begin at less than 10-ounces total, offering a balanced system that can be fished comfortably, all day and every day.
Features:
-ALC: Rigid diecast aluminum frame and side plates
-CRC: Corrosion Resistant Coating process
-Heavy duty, aluminum gearing and shafts
-A6061-T6 machined aluminum, anodized spool
-Multi-disc Carbonite drag system
-Micro-click drag star for precise drag settings
-8BB+1RB stainless steel bearing drive system
-Precision Japanese ABEC-5 spool bearings
-Quick-set anti-reverse roller bearing
-7-position Velocity Control System
-Ergonomic carbon fiber handle design keeps cranking closer to reel body
-Easy change left side plate access port
-Zirconium line guide inserts for use with braided line
-3-year Limited Warranty
Weighing in at just 6.3oz and delivering a blazing fast gear ratio of 7.3:1, the Okuma Helios LP Casting Reel also features an all-aluminum frame and gearing for power and rigidity you can count on.
Comments: Bought the 6:1 a few months ago and it stop engaging after I would cast it... For the price just buy a Lews Tournament Pro

From: Barkley: San Diego, CA

Comments: Not sure bout every reel but the two helios reels ive used the handle keeps breaking loose. both on hookset. upsetting prob gonna contact okuma tmw used legend xtreme 76 and 20lb flouro

From: Holiday: Richardson,TX

Comments: With $30 rebate reel came out to $120 online. Got one to use in brackish waters since all my other reels are for freshwater only. Reel is light and smooth. Drag is pretty smooth too. Only complaint are the big handles. But so far I like it as my backup reel and for the price cant be beat.

From: Anthony: S.F. Bayarea

Comments: I have always bought Shimano/Daiwa's in the past but with the $30 rebate on this reel, I decided to try one. And am not disappointed in any way. Reel is very smooth, casts very well, nice and light, good drag. Only long term will I see if it is a great reel. But in the short term is a very good reel.

From: Chris: Cookeville, Tn

Comments: Great reel, it has duel control under the side plate. Buy it u will like it.

From: Shannon: MO

Comments: @Johnson: Chicago.. I think you need to look again. There is both right hand and left hand. And I agree with Thor, MN. At this price range, it should have duel cast control.


Comments: It's really too bad they didn't make lefties. I would've bought one instead of my Chronarch 201E7.

From: Johnson: Chicago

Comments: For $200, it's nice and light. But in that price range, most everybody else offers more ball bearings and dual cast control. From the video and the spec sheet, this real does not...meaning it only has a centrifugal brake and no magnetic brake system. Just FYI for all you lookers out there. I will pass on this reel.

From: Thor, MN

Comments: looks like the komodo but different color schemes! Wouldn't mind ring of though... cant wait to get my hands on one!

From: Mater Yoshi: Being, China

***Note: If you have questions about this product or need assistance with an order please email your questions to info@tacklewarehouse.com
View Large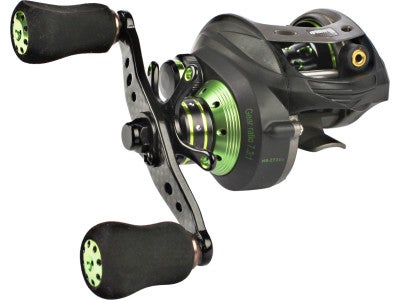 Place Your Order