Okuma Helios LP Casting Reel - $219.99
Features:
-ALC: Rigid Diecast Aluminum Frame and Handle Side Plate
-CRC: Corrosion Resistant Coating Process
-A6061-T6 Machined Aluminum, Anodized Spool
-Heavy Duty Aluminum Gears and Shafts
-Multi-Disc Carbonite Drag System
-Micro-Click Drag Star for precise drag settings
-Precision Japanese ABEC-5 Spool Bearings
-7-Position Velocity Control System
-Ergonomic Carbon Fiber Handle Design allows cranking closer to the body
-Easy Change Left Side Plate Access Port
-Zirconium Line Guide Inserts for use with braided lines
-Backed by 3-year Warranty
Delivering premium performance and rugged reliability, the stylish Okuma Helios LP Casting Reels feature a super smooth 10 bearing system and a host of the latest technologies from Okuma.
Comments: looks like the komodo but different color schemes! Wouldn't mind ring of though... cant wait to get my hands on one!

From: Mater Yoshi: Being, China

Comments: super smooth, first cast 4.56 largie! highly recommended

Comments: one year of heavy use and this reel is still great. i'm a shimano buy and bought this because i loved the finish and just to try another brand for a change, this reel gets heavy use along with my cores and alderbarans

From: Chris: Nashville, TN

Comments: Fished my new Helios for the first time last night and its great. Really light and smooth reeling. Had to get it set casting but after I did its extremely slick. Im a abu garcia guy but this reel really impressed me. Great reel, highly recommended.

From: Will: Tuscumbia, AL

Comments: Awesome reel and Awesome performance....nuff siad!

From: PFV: WI

Comments: Reel felt smooth out of the box. Once i started fishing it, it sounded like a grinder. i tried to "fish it out" but it just got worse. I took it apart and lubed/greased it up.. still doing it. I think a gear is stripped. Very light and looks amazing.. just not happy with performance. Sending to Okuma to be worked on. No $220 reel should have to be sent back after one use in my opinion..

From: JP: MD

Comments: Finally decided to make a review for this reel because I like it a lot. I haven't caught a ton of fish on it yet so I was waiting but this reel is super smooth and casting is a breeze. You have the dial on the left side, 1-10 and I usually have mine on 2 which casts smooth and far. There's plenty of line capacity, I currently have it spooled with 50lb braid and casts perfect. I purchased mine when it had a $30 MIR with it. Super light and awesome colors make this reel a buy

From: J: Wheaton, IL

Comments: 7:3:1 and LH retrieve are coming for the 2013 line

From: Jake: MA

Comments: purchased this reel because I purchased the Okuma serrano lsat year and loved it. Really smooth reel after you adjust it and everything. Looks awesome! As far as casting goes, this thing casts pretty far. It is also pretty light and feels good in palm of hand. Good solid reel!

From: Meng: WI

Comments: Played with one the other day and was very surprised on how well this reel felt. Light, smooth, great freespool, and drag felt good.

From: TadyMan: SoCal

Comments: after a long back order i finally got this baby in the mail and was it worth the wait? I sure think so! This reel feels like it may be the very best one i own. very smooth,light and strong. feels awesome in the palm of my hand. i may have to buy some more okuma stuff.

***Note: If you have questions about this product or need assistance with an order please email your questions to info@tacklewarehouse.com
View Large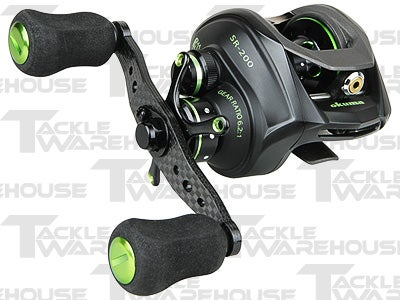 Place Your Order