Okuma Helios Spinning Reels - $139.99
Okuma ups the ante again with introduction of the high-end, reasonably-priced Okuma Helios Spinning Reel. Lightweight, extremely strong and corrosion-resistant thanks to its advanced C-40X carbon frame, sideplate and rotors, the unique long strand carbon fiber composition of C-40X carbon fiber allowed Okuma to reduce weight by 25%, while still maintaining exceptional strength. Precision AlumiLite alloy gearing in conjunction with a 10 HPB bearing system (9+1) also ensure smooth, powerful functioning, and an RESII: computer balanced Rotor Equalizing System eliminates all spool wobble. Okuma's Hydro Block technology even protects the Helios' heavy-duty Mult-Disc Carbonite drag system from water and debris, so you never have to worry about your drag giving out. Packed with Okuma's most advanced features, anglers would be hard pressed to find a reel with the performance and technology packed into the Okuma Helios Spinning Reel for under $150.
Features:
-Light weight C-40X carbon frame, sideplate and rotor
-Multi-disc Carbonite drag system
-Quick-Set anti-reverse roller bearing
-ALG: Precision AlumiLite alloy main gear and oscillating gears
-Machined aluminum, 2-tone anodized spool
-1-K woven carbon fiber drag knob and sideplate inserts
-Precision Elliptical Gearing system
-1-K woven carbon fiber handle design for reduced weight
-Light weight EVA handle knob
-Hydro Block watertight drag seal
-Durable 1-pcs solid aluminum, gun smoke anodized bail wire
-RESII: Computer balanced Rotor Equalizing System
-Backed by a 1-year limited warranty
Loaded with advanced features and reliability well beyond its price range, the high-end Okuma Helios Spinning Reel offers the tournament-caliber performance of reels twice the price.
View Large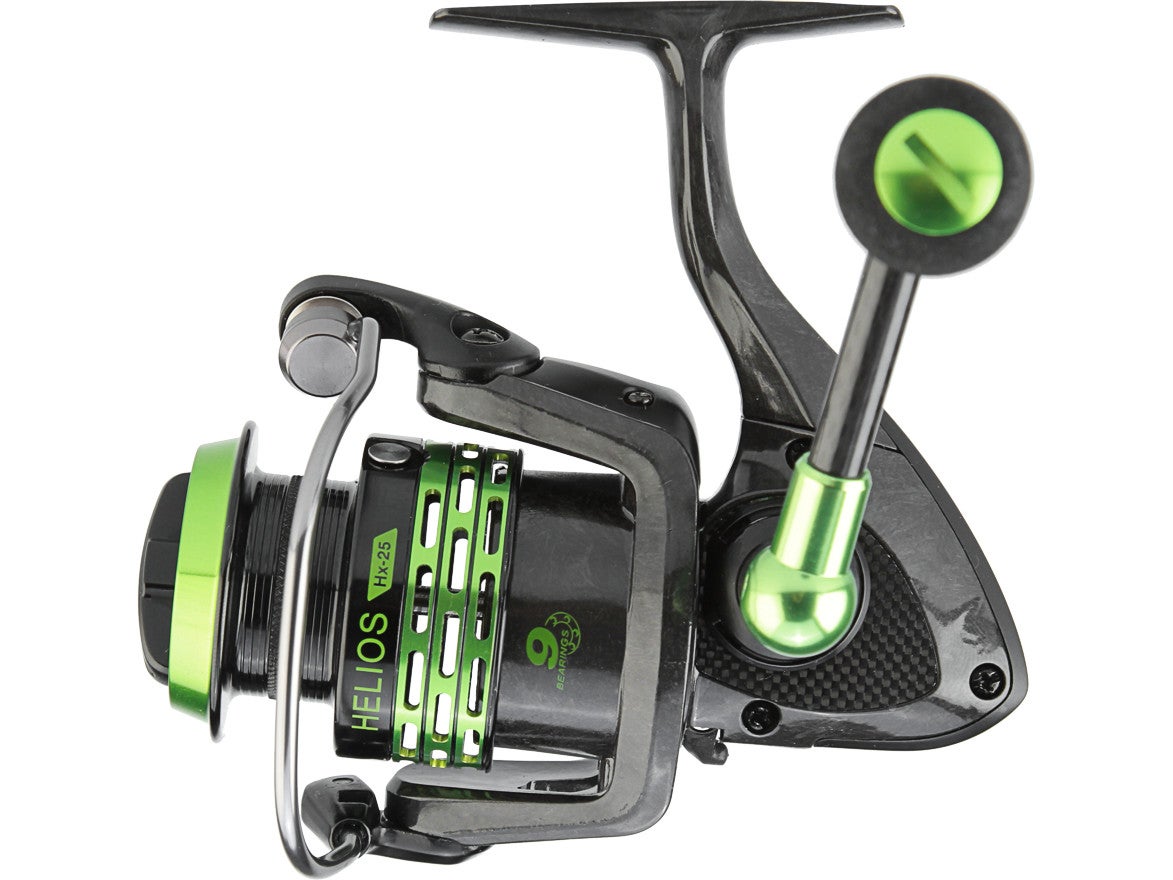 More Okuma Spinning Reels
Comments: Ive had my helios 35s for a month now and I am vert impressed. ive caught 6lb bass on topwaters and finesse to 20lb snook on live bait. its still just as smooth and light as a feather. I heard some older reviews that were a little negative but Im convinced that okuma has fixed any bugs that this reel may have had!
From: Matt: Jupiter, FL 6/28/15

Comments: I 100% agree w/ John from Colorado's review. Wobbly, almost unevee feel when retrieved. Handle was not stable, wobbled as well, made noise & had a "tick" to it. Drag is excellent, but would not spend 140.00 on this again. Better off spending another 60.00 for a CI4 or Ballistic, or save a few bucks & get a Trio.

From: Matt: St Pete, FL

Comments: This is my experience with this reel, take it as you may. May be long. I really wanted to like this reel but cannot recommend it being a good buy. Not as smooth as expected and is very noisy. The actual weight will vary from the advertised weight. For example my 25 weighed in at 7.2 oz, and a customer service rep's weighed in at 7.1 oz. Not that big a difference but if you are buying a 6.8 oz reel wouldn't you want a 6.8 oz reel? Have fished it numerous methods and find it best suited for bait dunking where you don't have to constantly reel. Using light line and tackle left the line severely twisted, and using heavier baits or anything that will put a little pressure on it makes the reel thump as if it were off balance or whatnot. The drag is the only good thing I can see in this reel besides the lightness and looks of it. Pulled in 3-7 lb wipers and lmb no problem.

From: John: CO

Comments: Just got the reel this week and already took it out for a day of fishing. Loved everything about the reel. Casting and reeling was very smooth and did not have any issues. I totally recommend this reel.

From: David: Livermore CA

Comments: On the Tackle Tour board, someone indicated that they bought the less expensive RTX 25s. He had a similiar, yet less severe problem.

From: Ed: NY

Comments: The rotor sticks when the bail is open and you try to crank the handle from the 12 o'clock position. You can manually close the bail and the rotor does not stick. When the anti-reverse is engaged, it jams completely-very, very hard to crank and get the bale to close. Now, when I fish, I close the bail manually, but that is not the issue. It should close without a problem. The fact that Okuma refused to send me a brand new reel after they failed to correct the problem is not a good sign. Either, they are being unreasonable, or all the reels are like that. I did not get an adequate or reasonable response from Okuma.

From: Ed: Astoria and Roscoe, NY

Comments: Bought the HX-30 and have been more than happy. Reel looks and peforms great. Most impressive is the light weight and performance of the drag system.

From: Danny: Modesto, CA

Comments: Okuma called and indicated that they have fixed the reel. They basically took it apart and put it back together. When I receive it, I'll update this post.

From: Ed: Astoria & Roscoe, NY

Comments: what about when you manually close the bail same issue or just when you try to crank it?

Comments: I recently purchased a Helios HX-25-s on eBay, a model not shown on TW's website. (It has a 6.0:1 retrieve.) It is a beautiful reel It is very smooth and very light. There is a problem. After opening the bail, the rotor often gets stuck at the point where it is supposed to trip the bail and make it close. The problem is much more severe when the anti-reverse setting is on. I sent the first one back to the vendor, Fisherman's Headquarters, who paid the return freight. (By the way, they couldn't be nicer.) They expedited a shipment of a replacement from Tackle Haven. The replacement had the same issues, despite Tackle Haven indicating that they had checked the reel before shipping. I sent the replacement back to Okuma. They are curious and concerned. I will receive a free hat for my trouble:) They say they can adjust it, but I don't understand how there can be a problem like this. Can there be a bad lot? On paper, it looks like a great deal. A light-weight, carbon-fiber reel with a mail-in, $30 Okuma rebate, seems like a no-brainer.

From: Ed: Astoria & Roscoe, NY

***Note: If you have questions about this product or need assistance with an order please email your questions to info@tacklewarehouse.com