Okuma RTX Spinning Reels - $99.99
The Okuma RTX Spinning Reel features Okuma's extremely lightweight C-40X carbon fiber frame, side plate and rotor. The unique long strand carbon fiber composition of Okuma's C-40X carbon fiber helps reduce the reel's weight by 25% and still allows it to maintain incredible power and corrosion resistance. Perfect for drop shot and finesse presentations, the RTX dishes out high level tournament caliber performance that anglers like 2011 Forrest Wood Cup winner, Scott Martin, rely on to fish at the highest levels of competition. ALG: Precision AlumiLite alloy gearing and an eight stainless steel bearing system (7+1) also ensure consistently fluid functioning, while the RESII: computer balanced Rotor Equalizing System eliminates all spool wobble. Aggressively priced and aggressively styled, the Okuma RTX Spinning Reel delivers a one-two combo of performance and pricepoint that knocks out the competition.
Features:
-Extremely light weight C-40X carbon frame, sideplate and rotor
-Multi-disc, Japanese oiled felt drag system
-Quick-Set anti-reverse roller bearing
-ALG: Precision AlumiLite alloy main gear and oscillating gears
-Machined aluminum, 2-tone anodized spool
-Precision Elliptical Gearing system
-Rigid, forged aluminum handle design with EVA handle knob
-Hydro Block watertight drag seal
-Durable 1-pcs solid aluminum, gun smoke anodized bail wire
-RESII: Computer balanced Rotor Equalizing System
-Backed by a 1-year limited warranty
The Okuma RTX Spinning Reel is a tournament-caliber reel perfect for a range of finesse techniques, and it comes in at a price that budget-conscious, serious anglers can appreciate.
View Large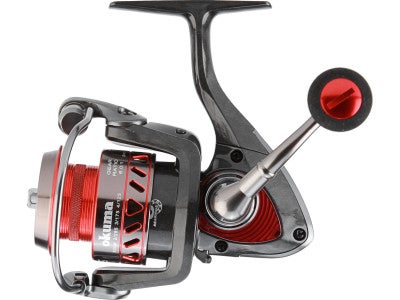 More Okuma Spinning Reels
Comments: There are Pros and Cons to this reel that need to be understood before purchasing. It is ridiculously light, has great drag, good speed 6.0:1, very ergonomic. Its super easy to finger flip with (flipping method I use for quickly covering water with a drop shot or finesse jighead) because its spool is long and it sits nice and close to the rod. The cons are also significant. The bail should not be closed with the reel handle, it should be closed manually. The action of the automatic bail is metal rubbing against plastic (just like Abu's design) to trigger the closure. You will tear up the bail components. Regardless it is a very rough close anyways. Reeling is also poor, feels underpowered and is not smooth. I would never recommend this to anyone that fishes reaction or moving baits with spinning gear, or want this as their work horse. I would recommend this reel to anyone for purpose of vertical fishing in a finesse circumstance. It makes for a sick drop shot reel paired with a high end medium light drop shot rod. I would say that this is a high performance but not long lasting reel that is a great value at around 80 dollars.

Comments: I have the 35S. It is an awesome reel. Super smooth, casts great, looks sweet, really light weight. I definitely plan on buying more RTX reels. The 25S and 30S are 6.6 ounces. You can't buy another reel that light for $99.99.

From: Ben: MI

Comments: Recently bought the 25S. Copy of the Stradic CI4. Very light weight, smooth drag and gears feel very smooth. This spool size is smaller than the 2500 CI4 which makes the overall appearance smaller. Probably the reason the weight comes in at 6.6 oz. I'm told the 30S appears to be the same size but has a deeper spool and a higher rated drag, 13 lbs. The 25 S is rated 8 lb. drag. I'll wait until I can fish it hard to see how it holds up against the Shimano. Otherwise, at $99 plus a $20 rebate, this seems like an outstanding value.

From: Tom: Somers Point, NJ

***Note: If you have questions about this product or need assistance with an order please email your questions to info@tacklewarehouse.com