Okuma Trio High Speed Spinning Reel - $74.99 to $79.99
Okuma's top selling reel just got faster. Boasting a blazing fast 6.2:1 gear ratio, the Okuma Trio High Speed Spinning Reel also sports its own signature burnt-orange anodized accents. Featuring Okuma's exclusive Crossover Construction, the Trio High Speed has the strength of aluminum where needed and the weight savings of graphite where possible. By using stamped aluminum instead of the standard diecast aluminum, Okuma was able to make the reel stem much more rigid and take the stress off the two graphite sideplates, keeping the reel lightweight and all internal parts in perfect alignment. The rotor system also features the same Crossover technology with its stamped aluminum rotor arm and graphite rotor housing.
Featuring the full compliment of Okuma's advanced reel technology, the entire reel is also protected by Okuma's CRC (Corrosion Resistant Coating) process for maximum durability in freshwater, inshore or saltwater. The Trio High Speed's DFD: Dual Force Drag System provides pressure on both the top and bottom of the spool for a whole new level of drag performance, and the RES II System (Rotor Equalizing System) incorporates a computer-balanced weight precisely placed in the rotor for precision balance, and the elimination of all spool wobble. An intelligently designed, agile and rugged performer, the Okuma Trio High Speed Spinning Reel offers the cutting-edge performance and incredible angler value that sets Okuma reels apart from the rest.
Additional Features:
-Multi-disc, Japanese-oiled Felt Drag Washers
-Quick-set Anti-Reverse Roller Bearing
-Precision Machine-cut Brass Pinion Gear
-HDGII: Corrosion Resistant High Density Gearing
-EOS: Patented Elliptical Oscillation System
-Hybrid Spool Design with Graphite Arbor and Aluminum Lip
-ADC: Aluminum Drag Chamber Precision Spool System
-Rigid, Forged Aluminum Handle Design
-Hydro Block Watertight Drag Seal
-Heavy Duty, Solid Aluminum, Anodized Bail Wire
-Backed by Okuma's 1-Year Limited Warranty
Boasting a lightning fast 6.2:1 gear ratio, the Okuma Trio High Speed Spinning Reel delivers the same performance that made the original Trio - Okuma's top seller - just faster.
View Large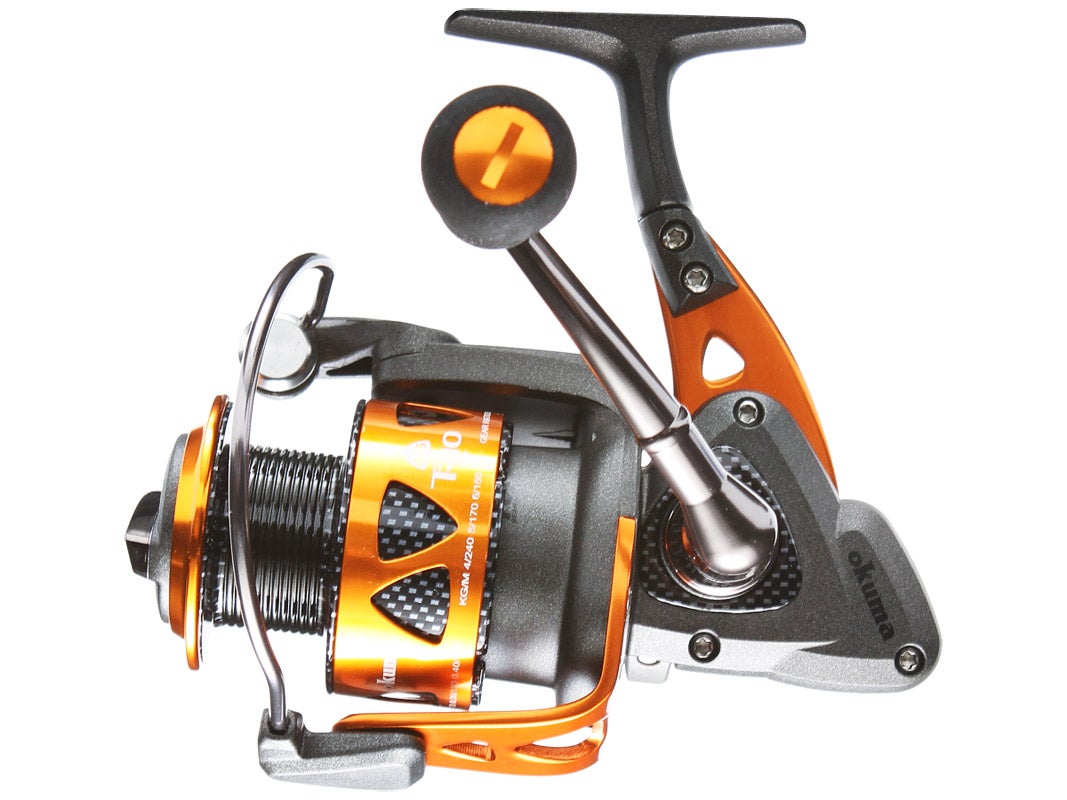 More Okuma Spinning Reels
Comments: It is heavy and the line gets wrapped in it. For the money, buy Shimano. At least the design is cool
From: Thierry: Montreal, Canada 1/3/15

Comments: I don't know why people are giving this reel a bad rating. I have had no issues and I like it so much better than my Quantum Escalade reel. I have the trios30 and its definitely worth the money.

From: Greg
Comments: Smooth and quiet, long casting with 15# Ohero line. I mounted mine on a Dawia Arias 7' rod and combined the two weigh less than 13 oz. Great reel for the price! I use mine strictly in Salt water and can work soft baits all day without getting cramps in my hands.

From: Bob: Land O Lakes, FL U.S.A.

Comments: Decent reel for the price. Looks awesome too! Only real issue I've had is keeping the play in the handle to a minimum. I have to constantly keep tightening it. Otherwise, no complaints. Great for fishing plastics. Paired it with a 7' Med St. Croix Mojo Bass rod and it's been pulling 'em in with no problems. Overall, I'm very happy with this reel.

From: Mike: IL

Comments: Really nice reel, cast great and reels smooth. Not to mention a sharp looking reel. Looks good on a carrot stix and its a good combo for dropshotting or finesse fishing. Good job Okuma.

From: Will: AL

Comments: great reel nice,smooth,and looooong casts. if youre having problems like the guy on bottom then just clean it.

From: Peter: Houston

Comments: I had the Trio 40 6.2 ratio and from the first day I used it, there was an issue casting. The reel never laid the line on the spool smoothly, it would somehow lay over itself and cause hang-ups during casting 10lb Power Pro. Also, I am shocked that you guys have had luck getting the thing wet (especially with salt water) and the thing still works. I fish in all conditions, even in pouring rain. After fishing in rain, the next day the reel would be completely locked up. One day I couldnÕt even reel a lure in hardly at all it was so locked up. I had to cut off my hook (I use weightless weed-less hooked SenkoÕs around me) and reel the reel hard and fast for maybe 5 minutes before it became smooth again. Some days the reel would be smooth, some days it would be rough, and even if it started off smooth, by the end of the day it would be rough and hard to start reeling in. I exchanged it at my local Dicks Sporting Goods for a Penn Fierce 4000 and I can cast almost twice as far with half the effort and the first crank after a cast is smooth and it puts a smile on my face every time I fish. With that Okuma Trio, I never knew what to expect and always got stressed out from the thing hanging up on casts and not reeling in smoothly.

From: Potomac Fisher: Gaithersburg, MD

Comments: bought 2 of these reels one for bass and one for walleye and they are fast and are light and do cast a mile but the best thing i say about this reel is that it looks good. i give this reel a *** ratting

Comments: Bought this reel after trying one out in a box store. I fish no less than 30 hrs a week. (I'm a guide) and gotta tell you this reel is fantastic! Casts like a bullet, strong yet light, smooth as silk retrieve, but as with others I , agree the crank handle has an unnerving amount of play! Almost returned mine! We"ll see if the play gets worse. Overall AWSOME reel!

From: Thom: Front Royal, VA

Comments: I give this reel a horrible rating. I should have learned after the 3 reg trios I went threw last year b4 trading it in for a shimano. But I read good reviews of how the speed is good reel (far from truth). Again I had brought bck 3 diff ones to store thinkin it was just a default reel....1st one a spring broke in bail. 2nd one spoolwas rubbing an scratchin reel an far from smooth, 3rd time the reel just locked up completly 1st time using it. That's when I said enough is enough an again went bck to a shimano. Save ur $ and time and DO NOT purchase this reel!!! There r wayyy better reels for same price, I suggest a shimano sahara. Cost right around same price and is the smoothest reel I've come across at the 65-90$ price range. Smackin steelies in oswego NY

From: Matt: Oswego, NY

Comments: I gave this reel a fairly bad rating but all in all it is a good reel. I think mine just happens to have that play in handle. The drag is good and it has served me well. As for the bail it seems better now. I may have gotten dirt in it.

From: Pat: San Jose

Comments: I actually purchased this reel for steelhead fishing and couldn't be happier. The high speed retrieve is fantastic for bringing back floats that have been fished far down stream. Can feel the gearing, but that's to be expected with the aggressive gear ratio. Great casting, outstanding drag and really good balance on longer steelhead rods.

From: Dave: Portland, OR

Comments: This reel is what i call a simply average reel for it's price. The gosh darn handle play is extreme no matter how hard you tighten the screw. I almost returned it but couldn't go without it for some planned trips. Bail is touchy too for returning to it's posision. A faulty reel but ok if you get used to it.

From: Pat: San Jose

Comments: great buy i pulled a 20 lbs. largemouth in it had no problem hauling it in not hard to reel beter than most stellas (i have them all)

From: Justin: Tucson, AZ

Comments: not happy with product. the reel is very rough. you would expect a smooth reel with 9 ball bearings the real has a nice look an a good handle. you want like it dont buy it the worst reel i have ever bought not worht the money it cost.

From: Jason: Bryson City, NC
***Note: If you have questions about this product or need assistance with an order please email your questions to info@tacklewarehouse.com