Okuma Trio Spinning Reel - $74.99
The Okuma Trio Spinning Reel combines the best features and attributes of aluminum construction and lightweight graphite materials to create a distinctive new concept in reel design. The solid one-piece stamped aluminum reel stem and rotor arm are paired with a lightweight graphite rotor housing and side plates, while the drag system is housed in an Aluminum Drag Chamber for added stability. Okuma's exclusive Crossover Construction provides the strength of aluminum where needed and the weight savings of graphite where possible. The blending of materials, graphite fibers contrasting with the aluminum, also lends to the reel's dynamic styling.
The entire Trio Spinning Reel is also protected with Okuma's CRC (Corrosion Resistant Coating) Process for improved functioning and durability, and Okuma's patented EOS (Elliptical Oscillation System) with its elliptical shaped oscillation gears, provides exceptional line lay and improved smoothness. The Trio also benefits from Okuma's RES II System (Rotor Equalizing System), which incorporates a computer-balanced weight precisely placed in the rotor for precision balance, and the elimination of all spool wobble. An affordable, lightweight spinning reel that doesn't sacrifice any torque strength, the Okuma Trio Spinning Reel benefits from the full force of Okuma's experience in spinning reel manufacturing.
Additional Features:

*Multi-disc, Japanese-oiled felt drag washers
*DFD: Dual Force Drag system
*Hydro Block water tight drag seal
*Quick-set anti-reverse roller bearing
*HDGII: Corrosion resistant, high density gearing
*Hybrid spool design with graphite arbor and aluminum lip
*Rigid, forged aluminum handle design
*Heavy duty, solid aluminum, anodized bail wire
*Backed by Okuma's 1-year warranty

Reel Specs
Trio-20
Bearings: 9BB+1RB
Line Cap: 4/190, 6/110, 8/90
Trio-30
Bearings: 9BB+1RB
Line Cap: 6/200, 8/160, 10/110
View Large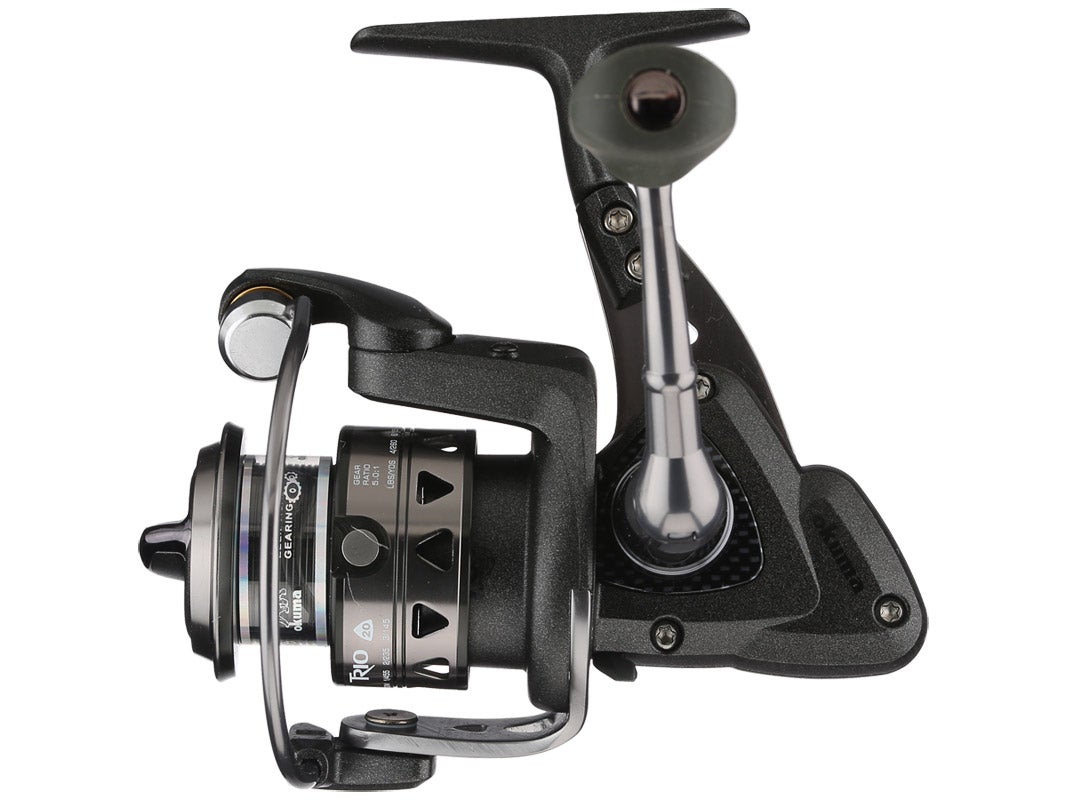 More Okuma Spinning Reels
Comments: I'd recommend these reels to anyone but not quite like the smoothness of the way more expensive reels out there. Mine finally wore out and anti-reverse stopped working & drag seemed to loose it's range even with loosening it after every trip. I used this real heavily over 3 years so I'd say it's a good one for the price. I caught many fish with it but alas, all fishing gear has it's lifespan.
From: Pat: San Jose, CA 11/16/15
Comments: i love this reel. This has a smooth drag and absolutely no slop in the gears. I have a size 30, use 6 lb mono paired with a Reflexions rod. If you want a great product for little compared to the Shimanos of this world buy Okuma.

From: Kyle: Southern MI

Comments: Built like a tank. have the Trio 30 and fish with 8lb test regularly. Have pulled 5 pound bass, 4 pound pickerel, 7 pound catfish and 10 pound pike out with ease. Drag is butter smooth, no flex in the frame and never any issues with line twist. Solid feeling reel, quiet and looks good. For the price, it's a terrific reel. It has a slightly slower gear ratio, but that's good for me because I need to slow down when I fish plastics anyhow.

From: Heronimo: Boston, MA

Comments: The way these are designed the longer you use them, the sloppier they will get. The oscillation is a "locomotive" type that rides on the graphite body, I opened up my 30 after a year of use and all the oil and grease inside was full of black graphite from where the spool shaft rides. Also, looking at the two trios I own and the trio in stores the anodizing is very different. The 30 (the oldest) has the best finish and as time goes on it seems it is getting worse and worse on the new reels I see. Don't get me wrong these are good reels for the money and will last a couple years but ounce they are worn out they are just plain worn out.

Comments: This is a very good reel. Ive used it for stripers @ Castaic and DVL. Smooth drags. I have braided lines on both of my Trio.

From: Joe: Cali, USA

Comments: I really like this particular Okuma reel. I've had the 20 version for over a year and it still works perfect. I've caught a couple of 6 pound bass with it and several smaller ones and the reel handled them all easily.

From: Pat: San Jose

Comments: Great Reel,very smooth drag I use it with 6 Lb mono for pitching or dragging jigs for walleyes works great!

From: Tony: Minnesota, USA
Comments: Inexpensive with good specs - at least per the price/specs ratio. Spooled up on a 15# Tuf Line and took on my first ever Red Tail Catfish [16.5kg - 36lbs]. Drag is smooth. Made some adjustments on the handle/bail when when the two clashed - simply take out the handle and move one notch or two:)

From: Victor: Singapore
***Note: If you have questions about this product or need assistance with an order please email your questions to info@tacklewarehouse.com