Optimum Double Diamond Swimbait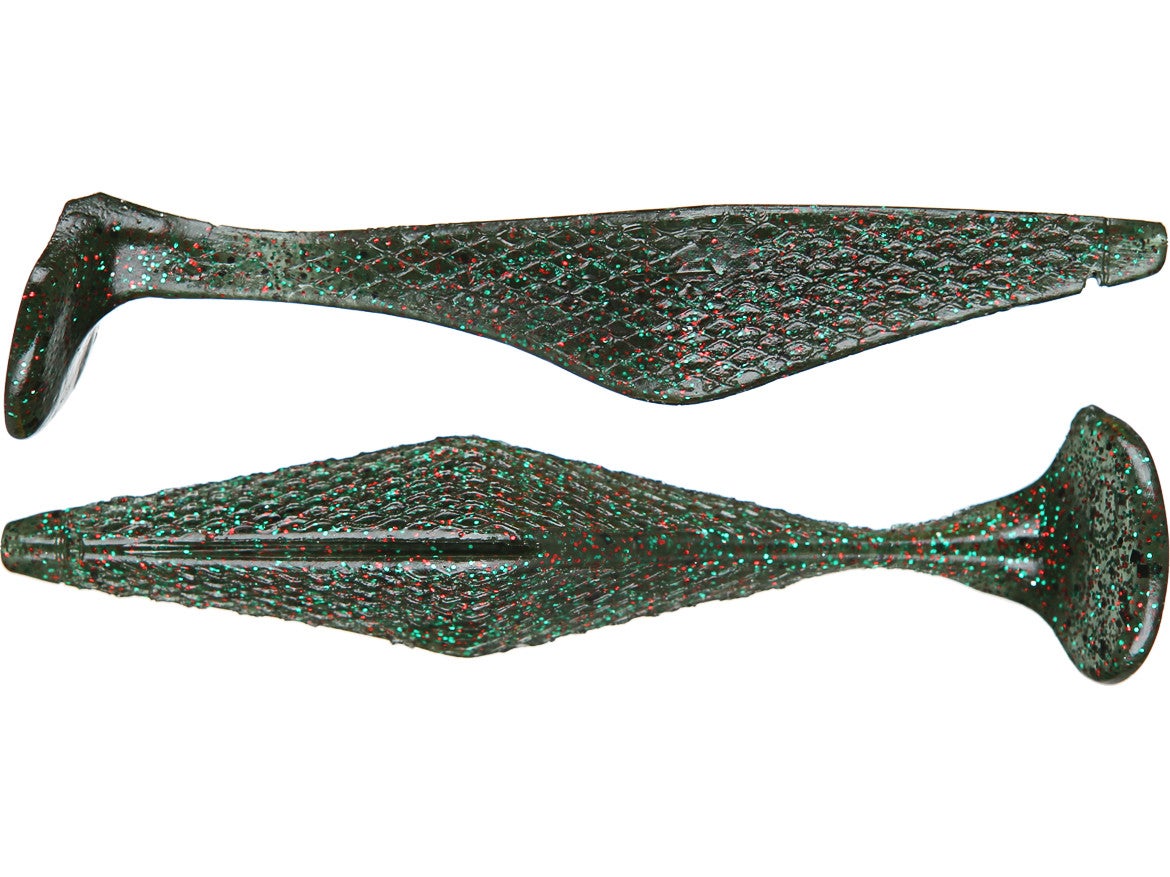 Unique design and outstanding performance are the earmarks of Optimum Bait Company's Double Diamond Swimmer. Optimum Bait Company worked on the Double Diamond Swimmer for over two years, and this is Optimum Bait Companies first exclusively cad (computer aided design) bait. Most Swimbait manufacturers have mainly focused on appearance when designing baits, but The Double Diamond Swimmer's(patent pending) design is performance-driven.
The Double Diamond Swimmer has three distinct actions. It tracks in a tight zig-zag pattern, swims with its entire body quivering and churns water with a monsterous tail kick. The Double Diamond features a slot allowing it to be Texas Rigged with either a Weighted or unweighted offset wide gap hook. Another effective way to fish the Double Diamond is on a jighead. The Double Diamond Swimmer features a guideline at the head of the bait to trim down the bait to the proper circumference for fishing on a jighead.
Optimum Pro Staffers have been using the smaller 3.75 inch version of the Double Diamond Swimmer for a swim jig trailer with great results.
Click here to see some video on Optimum baits with Mark Tyler at ICAST '08.
| | |
| --- | --- |
| Length | Quantity |
| 3.75" | 3 |
| 5.25" | 2 |
10 Colors
More From Optimum Swimbaits
Customer Reviews
Comments: These baits are phenomenal when throwing them on non and vibrating swim jigs. Colors are awesome too. I also will right this thing up on an Owner Beast Hook and throw it in the grass. There really isn't a way you can't fish them.

From: Christian: Sebastopol, CA

Comments: Absolutely killer for a swimjig/chatterbait trailer. Action is unlike any other bait and the colors are even better.

From: Will: MN

Comments: A great bait to use as a trailer, with the A-rigs or just as a swim or soft jerkbait. I have had luck using them on the Umbrella rigs mostly. Just a good all around bait.

From: Johnny: San Marcos Tx.

Comments: I have been using the Double Diamond as a swim jig trailer since they came out. Now that the umbrella craze is going I have found these are also the perfect bait to use for that.

From: Doug: Hamilton, OH

Comments: Great swimbait and chatterbait trailers. Got three top fives including a win in the last three tournaments using these baits.

From: James: PA

Comments: I've had some luck with these baits 3.75". Though if your looking to try them, I'd suggest buying multiple packs of them (only come with 3). They break so easily, the heads are just too small and break primarily while rigging. The action is a little stiff, but the weightless diving seems to entice.

From: Joe: Massachusetts, USA