Optimum Furbit Frog 3.25"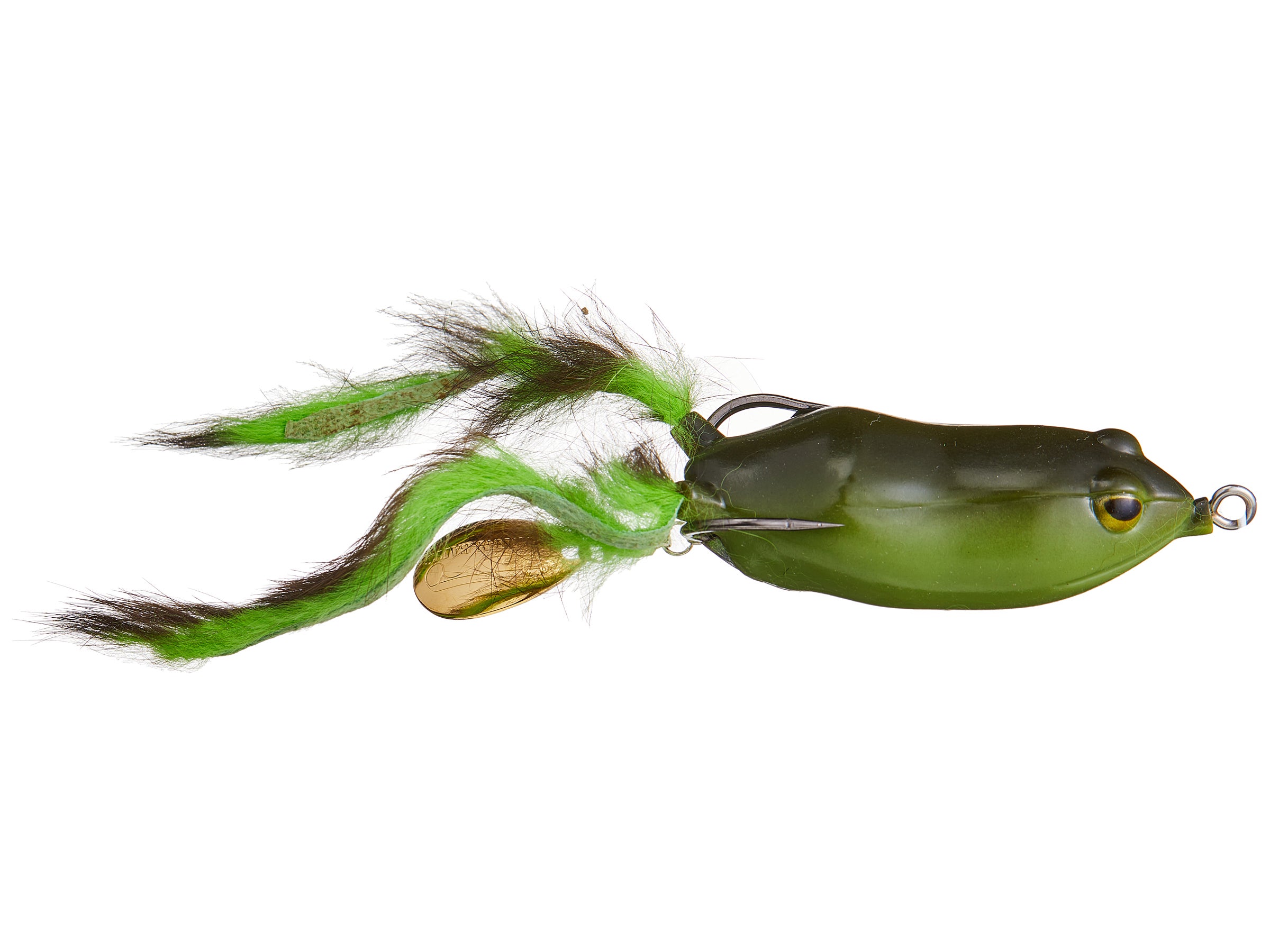 In a watery world of look-alike hollow rubber frogs "Furbit the Frog" is a refreshingly individual amphibian. Many other hollow rubber frogs you see out there today look a lot like each other, and perhaps Furbit does too. Until you get to its legs! It's two legs are soft supple strips of rabbit fur. Furbit's legs ripple and flutter in a manner that synthetic rubber or plastic legs never will.
The long soft thin rabbit fur legs flutter and shutter, wriggling in an S-like movement of the two tails. When you move the Furbit in short stops and starts, the hairs on the legs pull out and in like a breathing action. Nothing artificial comes close.
Furbit has a molded-in belly weight and weighs 5/8 oz. The Furbit also has a ball bearing swivel and colorado spinner blade attached beneath it. The blade adds flash, vibration and best of all causes the Furbit the frog's entire body to tremble.
| | | |
| --- | --- | --- |
| Optimum | Length | Weight |
| Furbit Frogs | 3.25" | 5/8oz |
10 Colors
More From Optimum Frogs
Customer Reviews
Comments:
From:
Comments: Interesting bait. Fur tail legs & blade make this frog different. Not so much a walking frog but the legs move nicely in the water and the blade beat reinforce the attraction. The plastic is soft & durable, hooks are quality. If you are searching for a big, well built, original & attractive frog, don't hesitate to try this baby.
**Update 1/31/17**
Sorry to do that but I have to update my precendent review, I encountered several quality issues with 3 of this frogs. The belly weight popped out the body, in some case even without a strike. I tried to repair it with Mend it glue or superglue but it doesn't work well. I won't buy it anymore which is sad because I really liked this frog.
From: Ben: France 2/8/16
Comments: In my opinion it's the best frog on the market. Rarely miss a hook up and can work it with ease.

From: Nate: MA

Comments: One of the softest frogs on the market makes for a better hooked fish ratio for me!. Rabbit hair legs are fluid and life like with the slightest twitch, yet very durable and soak up bait spray to give you the extra attraction you may need.The Furbit also has a Belly Blade, Colorado blade on the regular Frog, and Willow blade on the Poppin Furbit, this really helps with open water froggin,Night time, or anytime small baitfish are in your fishing area.A Must Have in your Frog Arsenal!

From: Doug: Lakeside, CA

Comments: Three standout features for this bait are the super soft durable body, fur legs, and the blade which draws those finicky fish out of the cover. Holds up great after hours and hours of fishing in heavy slop and mats.

From: David
Comments: Great frog. Has caught Murray cod in the middle of winter when fish are shut down and not biting. If you take the blade off it will walk better than most other frogs. Best fish to date was 18 pound do not think twice about this frog. It will tease fish out of the heavy slop and timber.

From: Darrell: Cessnock, NSW, Australia

Comments: THe one really nice thing about this frog is after hours and hours of throwing it, the hooks do not seem to bury into the body and damage the frog. For the price, it also has durability. I like it. Also, when you simply twitch it or pull it the blade rotates in the water nicely. I highly recommend. In fact, get two.

From: Pskirner: Cleveland, Ohio