Outkast Tackle Finesse Jig - $3.49

The Outkast Tackle Finesse Jig is finally here. Outkast took the same great head from their Money Jig, flattened the eye, added a thinner weedguard, and equipped it with a super sharp, premium Gamakatsu hook. Available in several colors, pair the Outkast Finesse Jig with your favorite trailer and it's "game over" for finicky fish.
The 3/16oz comes with a thinner/shorter skirt, and a light wire Gamakatsu hook for those ultra finesse situations. The 5/16oz (pictured) comes with a 54-strand finesse skirt and a heavy wire Gamakatsu hook.
View Large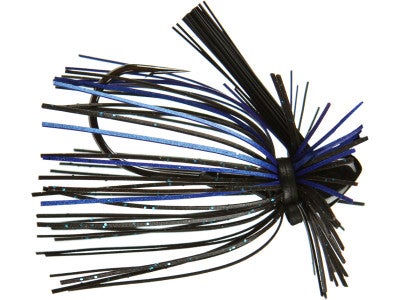 More Outkast Jigs
Comments: Single best finease jig ever made. Throw it on a 6ft 6in med action spinning rod and this thing skips for miles. Super sharp and strong hook, Ive landed 99% of the fish Ive hooked on this jig.
From: Max: Tyngsborough, MA 11/30/14

Comments: This jig skips like a dream for dock fishing! Awesome bait to fish on pressured boat docks!

From: Jordan: TN

Comments: Every thing about this jig is right, hook is the perfect size and skirt flare is right on ,keeper barbs is cool to. I will be getting more of these .

From: DMAC: VA

***Note: If you have questions about this product or need assistance with an order please email your questions to info@tacklewarehouse.com