PRO's Soft Bait Glue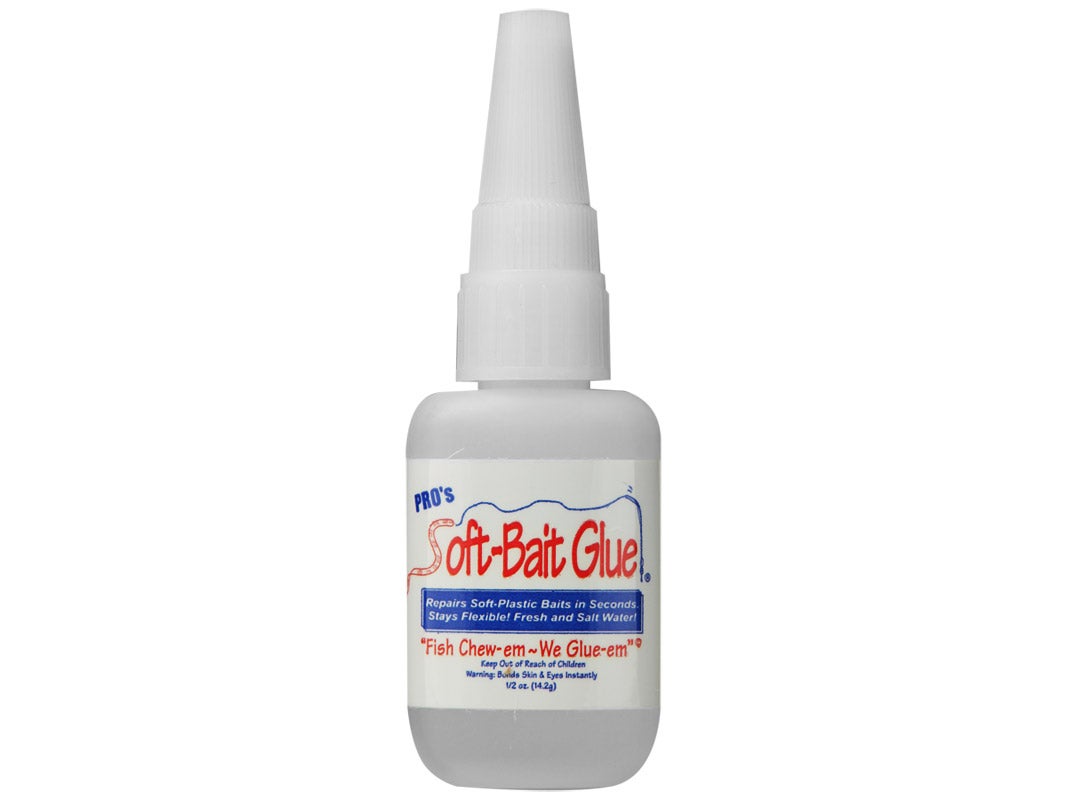 1/2 oz Bottle
Let's face it, no one, single adhesive does it all, but PRO's Soft Bait Fishing Glue shines above the rest for almost any task - whether fishing, boating, rod repair/building, or lure designing.
PRO's Soft Bait Fishing Glue instantly bonds bullet weights, tungsten weights and steel to all plastics - wet or dry - within 10 seconds so you don't have to wait until tomorrow for them to dry if you're on fish. It dries clear, stays flexible and odor-free, and won't dry up on you, so that means it is 100% more economical than over-the-counter glue. It's not Super Glue that's for sure.
Pro angler, lure designer and trophy bass hunter, Bill Siemantel, has used PRO's Soft Bait Fishing Glue for over 8 years in designing lures for himself and SPRO Corp.
PRO's Soft Bait Fishing Glue is made in the USA by American anglers, and it wasn't developed to hook anglers into purchasing a product that doesn't work. They stand behind their product.
Try using PRO's Kicker Accelerator for a stronger, faster drying hold when you need a serious bond.
Here are some additional uses for PRO's Soft Bait Fishing Glue: Soft plastic baits, bonding SPRO swimbaits (soft plastic tails and fins to hard plastic bodies), knots - braid, mono, fluorocarbon - (stays flexible & won't weaken any line). Fiberglass, windshield spiders, carpeting, transducer brackets, pvc, abs, cork, rubber/neoprene, lexan, delrin, boat seats, GPS bases, tail light lenses, canvas threads, sunglasses, and the list goes on. You don't have to worry about them coming apart either once they've cured.
More From PRO's Soft Bait Glue
Customer Reviews
Comments: This glue is NOT the same as "Super Glue". Super GLue is an anerobic adhesive, cures in the ABSENCE OF AIR only. It will not cure and bond in the open air... like on a fishing knot... or hole in a soft lure, etc. This glue should be better for most fishing applications, although I've yet to try it myself.
From: Dave: North Carolina 12/24/16
Comments: Get mend it. I was under the impression that this was similar to mend it where it would actually melt/bond plastic instead of just gluing it. the only difference between this and normal super glue is it's a little softer when it dries. Not to mention the tip diameter is too large. Often times when you go to glue something more than needed will pour out. not worth $9
From: Brian: Mission Viejo

Comments: Great stuff! Works great for glueing on jig trailers, swimbaits and other soft plastics. I lost a bottle of this stuff and found it 6 months later. I was expecting it to be dried up, but it was still good. It is well worth the money.
From: Ben: MS

Comments: Spectacular! Ever buy a tiny tube of super glue and get maybe 2 uses out of it because it solidifies. Not this stuff. Used the entire bottle for fishing and household uses for over 3 years. Used it until bottle was dry.
From: Mike: Parma, Ohio