Paycheck Baits Repo Man Late Payment - $16.99
The Paycheck Baits Repo Man Late Payment is the little brother of the popular Repo Man. Slightly smaller at just under 4-inches, it's still easy to start up, and still delivers that same, familiar side-to-side walk-the-dog action that has been catching fish and catching checks on the pro circuits and club level for years. Constructed from a special formulation of harder and more resonant plastic, it also features two distinctly different sound chambers, one with glass rattles and the other with tungsten to produce a unique sound that calls fish up to the surface.
Extremely detailed as well with deep holographic eyes and realistic coloring, its perfect for those times when you need slightly less commotion or when fish aren't biting bigger lures. Available in several proven color combinations, the Paycheck Baits Repo Man Late Payment also features three super sharp premium treble hooks, including a feathered trailer hook - instead of the two you would normally find on a lure this size. This bait's so good - it's barely legal.
| | | | |
| --- | --- | --- | --- |
| Paycheck | Length | Weight | Class |
| Repo Man Late Payment | 3.85" | 1/2oz | Topwater |
Comments: i have caught so many quality smallmouth and good largemouth with this lure its not even funny.but i will say this bait is over priced,with that price tag youd expect the paint to hold up better than it does and moisture seems to get into this bait and will cause the knockers to stick ocasionally if it sits to long without use.just shake it before use to free em up.
From: Shaun: Cincinnati, OH
Comments: Really nice bait, works well but way over priced. has pretty much the same action as a 6 dollar super spook junior.

From: Jeremy: Punxsutawney, PA

Comments: Mine got moisture inside of it which makes the glass rattles stick together and also stick to the inside of the head. This makes the glass rattles pointless which was one of the selling points of the lure is the faint noises it can make at rest too. I've only had it out at DVL once but it was a bad day for fishing... wasn't the lures fault I couldn't catch anything on it. Will keep trying despite the odd moisture problem. It seems like it would have been a nice lure otherwise. I hear they are working good which is why I bought it.

From: TackleJunkie: Riverside, CA

***Note: If you have questions about this product or need assistance with an order please email your questions to info@tacklewarehouse.com
View Large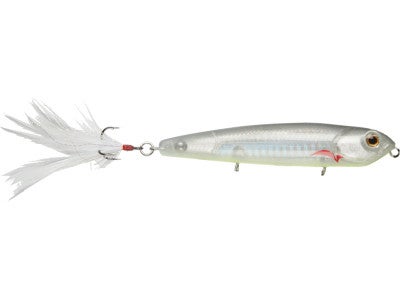 2 Available Colors
More Paycheck Topwater Baits