Pepper Custom Baits Casting Jigs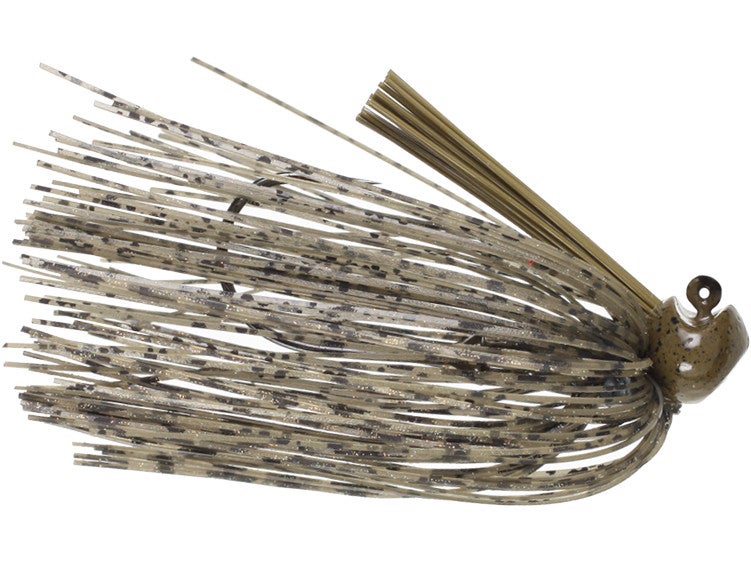 Featuring a football head design with a recessed line eye and an incredibly durable paint job, the Pepper Custom Baits Casting Jig is designed to be worked through all types of structure. Equipped with a light Gamakatsu Hook and a lighter weed guard, the Pepper Casting Jig generates quality hook sets even on long casts and in deep water. The thick silicone skirt fastened to the jig head with metal wire for additional durability, also delivers a tantalizing profile and action as the jig moves under water. Available in a variety of sizes and color combinations, the Pepper Custom Baits Casting Jigs provide anglers with a durable, custom-quality jig at a great price.
7 Colors
More From Pepper Jigs
Customer Reviews
Comments: My favorite jig. I toss it into rock and wood & rarely get hung up. I try other jigs but keep going back to this jig in Global Warming color because I know it works!
From: Danny: OR 4/8/16

Comments: Great jigs! Great hook up ratio w the light weed guard & sharp gamakatsu hook,caught 3 fish using this the first time out. Definitely picking up more!
From: Fong: CA 3/1/15

Comments: LOVE THIS JIG! it has a perfect light wire hook and a nice skirt , the global warning color has caught me fish everywhere I go and has even put some cash in my pocket
From: Forrest: Greenbow, AL 11/1/14

Comments: Best 1/2 jig EVER!! Fish it for smallies, blacks, and everything in between!

From: Last Kast 2010: Durango Colorado
Comments: Great jig, Sticky Green, Hooked up a nice 3 lb. smalliefirst trip out with this jig

From: Jason: Lake Havasu, AZ