Pepper Custom Baits Double Willow Spinnerbait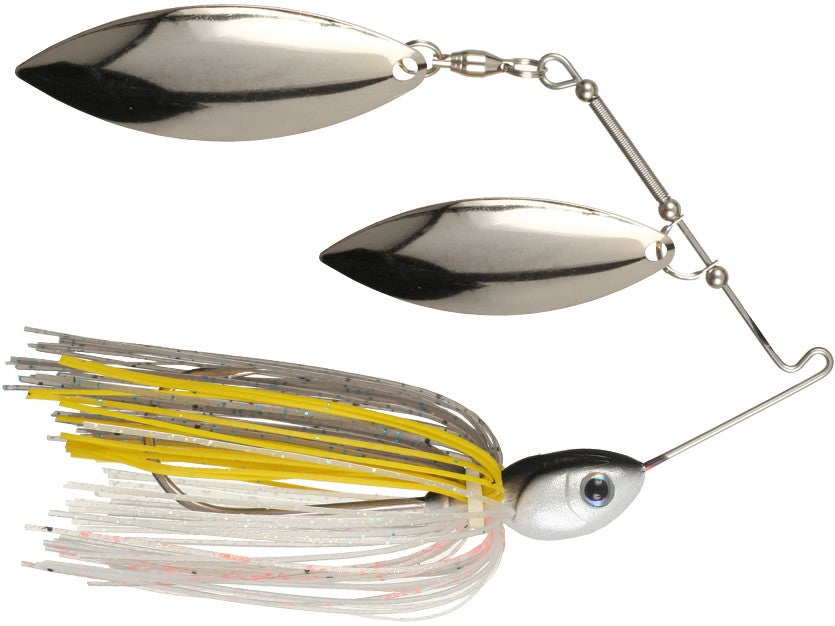 Featuring premium Gamakatsu Hooks and solid stainless steel wire construction, the Pepper Double Willow Spinnerbait is perfect for clear water presentations. The two willow blades deliver maximum flash with limited vibration, while the silicone skirt provides additional fish attracting action. Additionally, the head of the Pepper Double Willow Spinnerbait features a hard chip resistant coating with life-like detailing - even including 3D eyes. Available in a variety of bass attracting colors, the Pepper Double Willow Spinnerbait has the premium features and performance serious anglers need on the water.
7 Colors
More From Pepper Spinnerbaits
Customer Reviews
Comments: Great spinner bait love the bluegill like pattern sharp hook but it kinda swims to one side once I try to burn it pretty fast but as med/fast retrieve or slower it perfect will buy more
From: Gama: San Diego, CA 6/30/15

Comments: This spinnerbait is fantastic. I caught 10-15 fish on this each ranging between 2-3 lbs and it held up perfuctly. Minor defectd to the paint but overall very strong. The Hawks Secret paired with a Big Hammer Saras Shad swimbait absolutely destroys them.
From: John: CA 5/25/15

Comments: This might be the best spinnerbait on the market. The hook is fantastic and sharp and stays that way, the blades run balanced and true, and it's a nice, compact bait that casts very well. Overall my favorite spinnerbait. Great skirt colors too.
From: Tyler: Grand Junction, CO 3/18/14
Comments: This is the best spinner bait ever made period!never had an issue with the blades or skirt. this bait will hammer the monsters. i have caught multiple 5 pounders and even a couple 7+ pounders (lunkers in my area of the usa) all on hawks secret. you have to try the pepper open water assassin spinners to.

From: Matt: northwest CT USA

Comments: by far the best spinner bait for the price killed monsters 5 lbs + all year on hawks secret cant wait to hammer em next season on the new sexy shad color

From: Matt: northwest CT USA

Comments: Impressive spinnerbait. Bought this in 3 colors (hawks secret, gilley, sexy shad) I like the way it comes the vegetation. Also you can fish this spinnerbait at various speeds and not have to worry about it rising too much in the water. Incredibly sharp hook as well. Will deffinately purchase more for tournaments.

From: Craig: Upstate New York

Comments: First day using a baitcaster, overall not too impressed with that. Aside from that I threw this out in the 3/8 Hawks Secret config during first nightfall. About five casts in I feel like a brick wall hit my lure. A decent 4.5-5lb bass takes off and starts taking line. We don't get big bass in NJ so this is a very good fish to me. My view of this spinnerbait is good since it produced the first time I used it and it produced well. One thing I might say is that the metal bent during the fight, not the hook, but I easily bent it back.

From: John: NJ

Comments: Awesome SB as far as ability to draw strikes, very productive, incredible hook too, sharpest I've had on a SB. Caught about 60-70 bass and pike on one bait, then lost it. It had very minor wear to the paint. Used my backup in same size and pattern, but after four fish the top blade was knocked off. Not sure what to expect now durability wise, maybe it needs a better split ring. Regardless I'll be ordering a dozen. They just produced better than all my other common brand SBs.

From: Zman: PA

Comments: Great price, and tough. Wrap the skirt with thin wire or braid, and you have a forever-spinnerbait. I put 18 fish on one old pepper blade today (that had already caught 10-15 fish), and the only signs of abuse are a few missing skirt strands and an eye gone.

From: Meatwad: Gettin Money

Comments: The PERFECT spinnerbait. the price is what made me buy it, the oustanding quality will make me buy more. This is the best spinnerbait out there, it uses quality swivels and a wickedsharp and strong hook. the head and skirts come in great colors.My fav part of this spinnerbait is the wire though, it is the perfect length, most spinnerbaits have unecessarly long wire which leads to short strikes, but not this one! Best spinnerbait out there even when price is not a factor.

Comments: Hawks Secret should have stayed a secret, I am glad it didn't though this bait is ridiculous. Recently went through 3 in Arizona caught around 30 fish on each until they were unusable. All around a great bait!

From: Spencer: San Diego, CA

Comments: Looks good out of the box. watch out for the paint some get on the tips of the hook, feel dull but once you scratch off the coat of paint its a razor sharp hook.

From: Daniel: Slopez

Comments: This is a quality bait with great components. Very durable wire. Please add Green Glimmer Shad to this model !!! I had to order Elite series to get that color and like the larger blades of this model.

From: Doug: Longview, WA

Comments: Pick a color and make your day. This is a straight up spinnerbait.

From: Joe: Tucson, AZ
Comments: by far my favorite spinnerbait. this bait has the it factor. the hook is unbelievable i have one with 50 plus fish on it and it still is rediculassly sharp. try em

From: Ryan: Auburn, CA