Persuader Imaged Blade Spinnerbait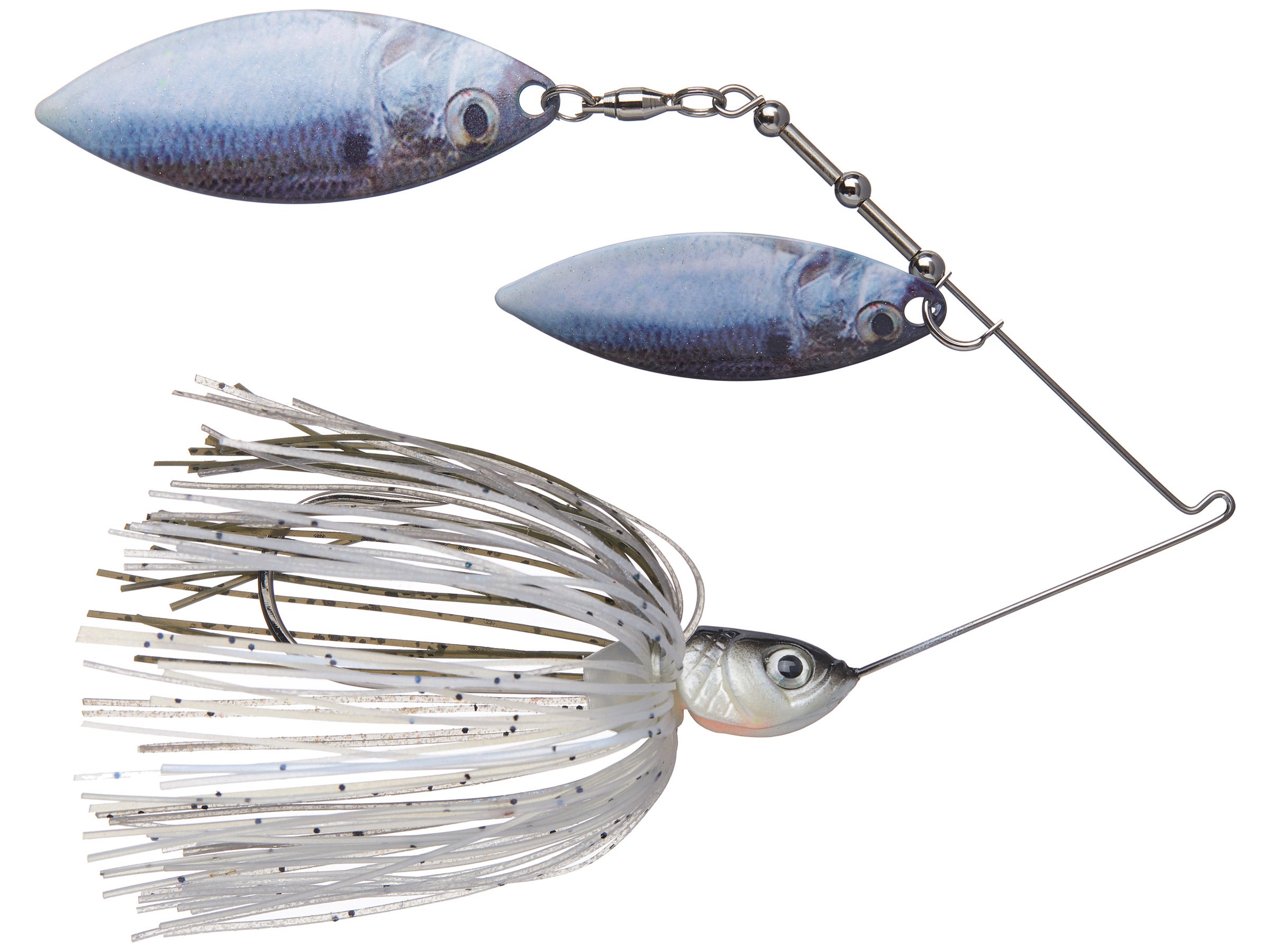 Featuring actual photos of various game fish on both blades of the bait, the Persuader Imaged Blade Spinnerbait adds a whole new level of realism to spinnerbait fishing. Custom Bio-Flex Silicone Pro-Tie Skirts are also designed to perfectly match blade and head colors, and each head is uniquely sculpted to help ensure the bait runs true right out of the package and to help eliminate lure listing in the water. Available in several game fish patterns, the Persuader Imaged Blade Spinnerbait is also equipped with a super sharp Mustad Ultra Point Hook for fast and easy hook sets.
1 Colors
More From Persuader Spinnerbaits
Customer Reviews
Comments: I used these for the first time in 2012 catching multiple Largemouth & Pike in Ohio and New York. Although I was told by my Canada fishing trip companions "we don't fish with those up here" I had great success catching smallmouths and several good pike. I have had the best success with the 3/8 oz. shiner.
From: Jim: Lucasville, OH 11/29/15

Comments: I caught an 8lb LMB on this spinnerbait this afternoon. Happy Father's Day to me!
From: Joe: Yucaipa 6/21/15

Comments: When i first saw this spinnerbait i was blown away with the imaging graphics and i had to have them and with the FULL PRICE it's so worth it. I bought the Bass, Bluegill, Crappie and the Perch in both weights (3/8 & 1/2), i have to say my most producer out of the 4 of them was the 3/8 Perch. The Smallies were eating it up like candy, so much that i landed my PB of a Smallie that weighed 5lb 12oz at Osoyoos Lake (Canadian side)and even had the photo posted on the Persuader's website (go check it out)
From: Robert: South Okanagan, BC Canada 11/10/14

Comments: I did very well with the shad,shiner & bluegill in crystal clear quarries & farm ponds...buy altering the cadence and "killing it" buy structure...including my biggest spinnerbait bass 6+...love them...great idea and use of photo imageing.
From: James: Lockport, IL 3/18/14
Comments: I bought 1 to try and used it for the first time on a recent trip and the water was like glass with about 8 ft visibility for 3 days. I will echo previous reviews about the blade swivels, top one broke off after 2 days and about 30 spots and largemouths - thought the bass puked out shad, but it was my blade falling to the depths. I had to switch to Strike King painted blades and did not catch as many. I will definitely buy more during discount periods. Not sure I'd pay full price.

From: Mickey: Olathe, KS

Comments: Shad color with a Rainbow Shad Keitech Swing Impact FAT trailer worked for me.

From: Brian: Los Gatos, CA

Comments: best spinnerbait there is hands down bass straight up murder this thing bluegill color is the best thanks persuader for such an awesome product

From: Zach: PA

Comments: i use this in clear water and in the spring/fall and it killes the bass/pike/musky/walleye in all the colors you need to do a bit of ajusting but after youve done tthat hold on to your rod

From: Shawn: Ontario, Canada

Comments: Great spinner bait. I've caught bass on both the bass and shad colors.

From: Joe: IL