Pflueger Patriarch Casting Reels - $199.99
The next generation Pflueger Patriarch Casting Reels feature sleek, new blue and gunmetal styling combined with the top-of-the-line features and technologies. Its eleven shielded stainless steel bearing system (10+1) keeps functioning impossibly smooth, while the rigid aluminum frame provides the strength and durability to ensure correct gear alignment. Also equipped with Pflueger's Ultimate Brake System, the UBS combines both centrifugal and magnetic brakes for a limitless range of cast control. The centrifugal brakes control the first half of the cast when the spool rotation is the fastest, and as the spool slows, the magnetic brakes engage to control the last half of the cast. A smooth Carbon Fiber Drag system also provides consistent drag pressure throughout its entire drag range to tame the hardest fighting bass. Available in both ultra high speed 7.1:1 and 7.9:1 gear ratios, the Pflueger Patriarch Casting Reels offer premium performance and proven durability befitting of the Pflueger name.
Features:
-Rigid Aluminum Frame
-C45 Carbon Infused Sideplates
-Bent Carbon Fiber Handle|
-EVA Handle Knobs
-C-Lock System - Non-Detachable Cam-Locking Sideplate - allows quick brake adjustments without losing the sideplate
-Double Anodized, Ported, Machined Aircraft-grade Aluminum Spool
-Ultimate Brake System - combines centrifugal and magnetic brakes for limitless range of cast control
-Smooth Carbon Fiber Drag System
-Titanium Line Guide
-Aircraft-grade Aluminum Main Gear and Main Shaft
New for 2013, the Pflueger Patriarch Casting Reels feature all-new styling combined with the top-of-the-line features and technologies from Pflueger.
View Large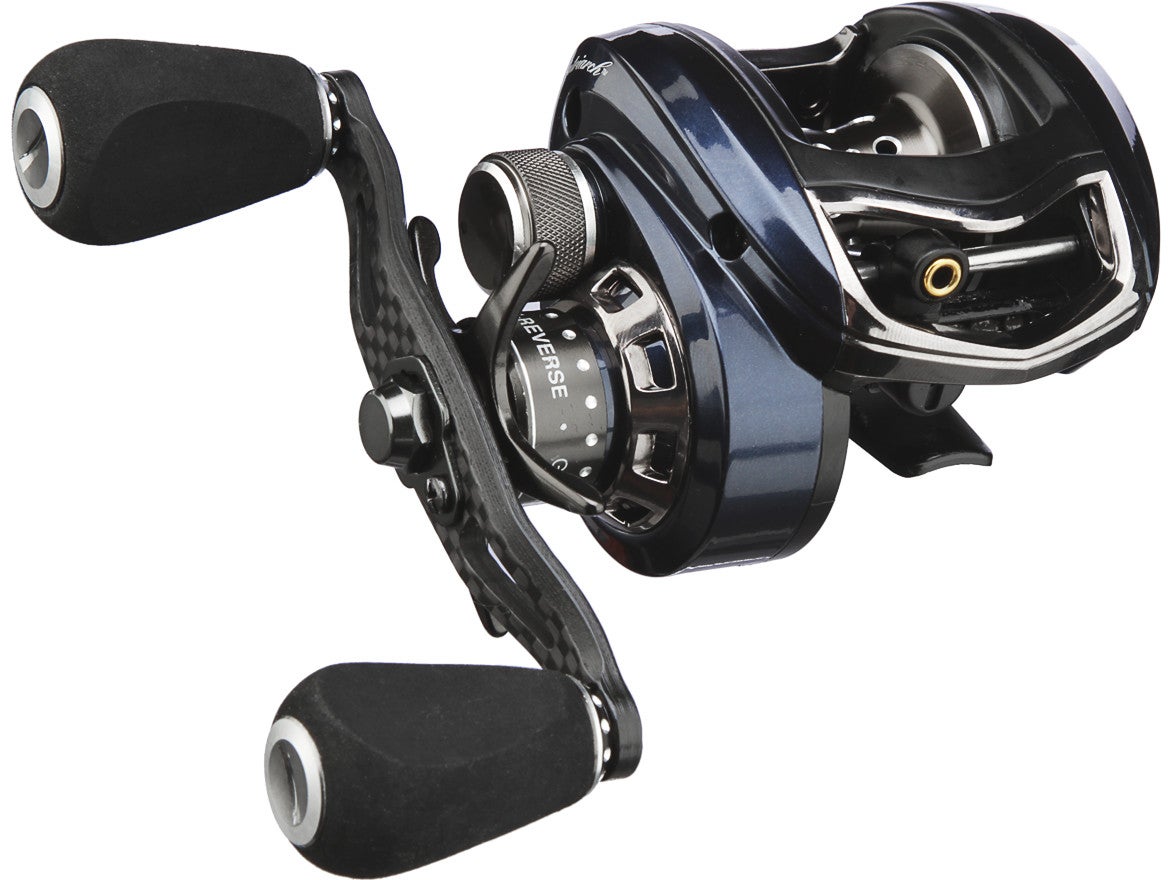 More Pflueger Reels Casting
Comments: absolutely awesome reels! I have an older chrome colored patriarch that I've owned for about 5 years and I've put it through all the tests. It's still silky smooth and casts a country mile! I got the new blue patriarch last year and it's even better!! Better drag power and bigger spool makes it an unbeatable reel in my opinion! I will own more patriarchs! I own lews and shimano reels as well and they're nice for sure but they don't compare to my patriarchs! They're the best reels in my arsenal hands down!!
From: Kevin: TN 8/25/15

Comments: Keeps getting better and better! I own several Pflueger reels, including three of the previous generation Patriarch and a current gen Supreme XT. The Patriarch is just a great all-around reel. It is super smooth, light, and beautiful to look at. The dual brakes ensure a foolproof cast, although I usually just use the centrifugal brakes. If you are like me, the Supreme XT would be almost as good for $50 less, although it is a little heavier and has one less bearing. I feel that Pflueger doesn't get the attention they deserve because they don't advertise much and don't have high profile angler endorsements. They are every bit as good as similarly priced Lew's and Revos (they share a lot of parts), so if you want something unique, get a Patriarch! When the new Patriarch XT becomes available in left-hand, I'm gonna get one of those too!
From: Blaine: Wahiawa, Hawaii 12/15/14

Comments: I am in love with my patriarch! One of the best reels out therein my opinion. It casts great,handles big fish like nothing, and is super adjustable so u can fish anyway that u would like. I have mine pared up with a 7'3 mh Duckett ghost and this set up rocks!
From: Caden: MI 12/4/14

Comments: Pflueger Patriarch is the best reel $$$ can buy. I have had pricier Daiwa's that get all the attention and my Pflueger Patriarch still casts further, cranks smoother and almost never backlashes (even with light lures). This reel is extremely underrated for its versatility. Plus, Pflueger has the best customer service. It's a no brainer...buy it, you will love it!
From: Tom: IL 3/27/14
Comments: UNBELIEVABLE...I DON'T KNOW how this is 199.99$ usd retail but it's just TOP NOTCH...and I've used all the top reels...
From: Tanner: The River, MA 3/25/14
Comments: i actually got one of these (a rare lefty)used for an unbelievable deal, and I can honestly say that I would be fine with having all my reels replaced with these. the drag is very strong. its very small and fits in your hand nicely. it looks amazing. and the thing casts farther than any other reel I own, including the Calais, chronarch, curado, and any of my BPS johnny morris reels. I love flipping with it, and can cast a frog or Sammy across the dang lake! highly, highly recommend!

From: John: San Diego

***Note: If you have questions about this product or need assistance with an order please email your questions to info@tacklewarehouse.com