Pflueger Supreme Casting Reels - $99.99
The Pflueger Supreme Casting Reel lives up to Pflueger's reputation of rugged dependability and smooth functioning. Offering a winning blend of performance and pricepoint, the Supreme is available in a range of gear ratios to handle everything from throwing crankbaits to dragging tubes to burning spinnerbaits. Its lightweight, rigid aluminum frame keeps all moving parts in perfect alignment, and its HG Hybrid Graphite Sideplates help reduces weight, while remaining incredibly durable. It also features Pflueger's MBS: Magnetic Braking System, which contains five brakes to deliver long accurate casts with a variety of lures and help eliminate backlashes. Loaded with advanced technologies and features, the Pflueger Supreme Casting Reel has what it takes to put fish in the boat and you on the leader board.
Features:
-8 Double Shielded Stainless Steel Ball Bearings
-Instant Anti-Reverse Bearing
-HG Hybrid Graphite Sideplates
-Rigid Aluminum Frame
-C-Lock System - Non-Detachable Cam Locking Sideplate - allows quick brake adjustments without losing the sideplate
-Double Anodized, Ported, Machined Aircraft-grade Aluminum Spool
-MBS - Adjustable Magnetic Cast Control
-Ceramic Line Guide
-Precision Cut Brass Gears
-Aluminum Handle with Soft Touch Knobs
Living up to Plueger's reputation for rugged dependability and smooth functioning, the Pflueger Supreme Casting Reel does it all for a reasonable price that won't break the bank.
View Large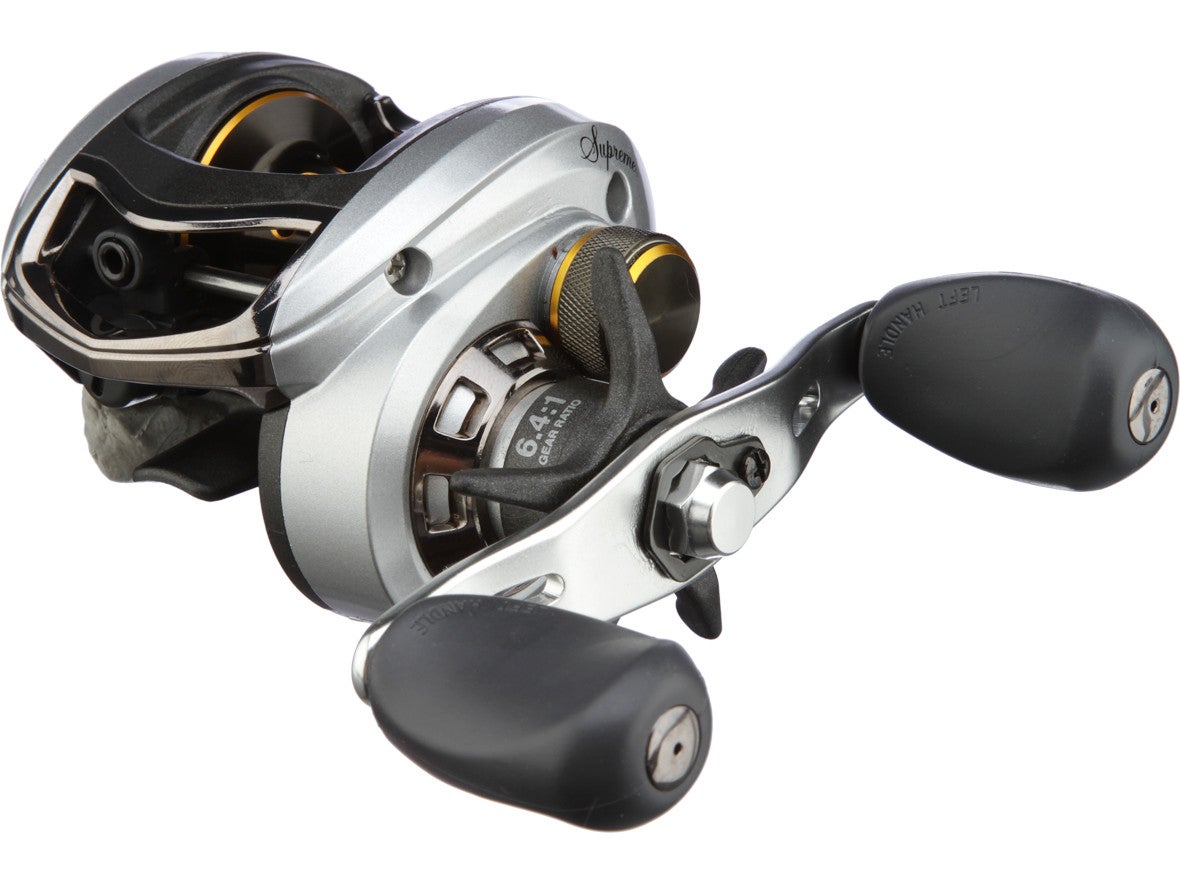 More Pflueger Reels Casting
Comments: I have not looked inside the newer generations, but I had a first gen flueger president & was able to flip the Teflon bushings inside the brake around & it gave me more braking power, as it seemed they were prone to limited braking. Just a suggestion to take a look and see if this is a possibility in these newer ones.
From: Ryan: 1/27/16

Comments: This is an amazing reel for the price. I can cast any bait very far with it. One downside is that the braking system doesn't work that well. But all in all this is a very good reel and I would recommend it to anyone.
From: Tyler: GA 6/26/15

Comments: Very good reel for the price. I'm usually an Abu Garcia fan for reels but this reel definitely is worth the money. It can cast any bait a mile and half. It works for well for casting light plastics also.
From: Jacob: NE 2/19/15

Comments: Just got reel in today along with a rod, set it all up with 30 pound braid & took a few cast out in the snow & this thing cast easily & very far distance with very little effort now I just gotta wait & see it holds up to some bass this spring!
From: Josh: CT 2/18/15

Comments: I've had this reel for almost a year now and have not had any serious problems with it yet. it is very smooth on the cast and retrieve. I can cast weightless plastics much further than I need to. Also very strong for a low profile reel at this price point. well worth it. However, the braking system could be a little better.
From: Ryan: DE 6/12/14

Comments: seems pretty smooth, breaks don't work that well and on their web site it says the drag is 20 pounds but right out of the box it is no where near 20 pounds maybe when they oiled it got in the drag and it just slips right now but i don't think its even 10 pounds.
From: Ben: New York, NY 6/3/14

***Note: If you have questions about this product or need assistance with an order please email your questions to info@tacklewarehouse.com