Phenix Pro-Series Spinnerbait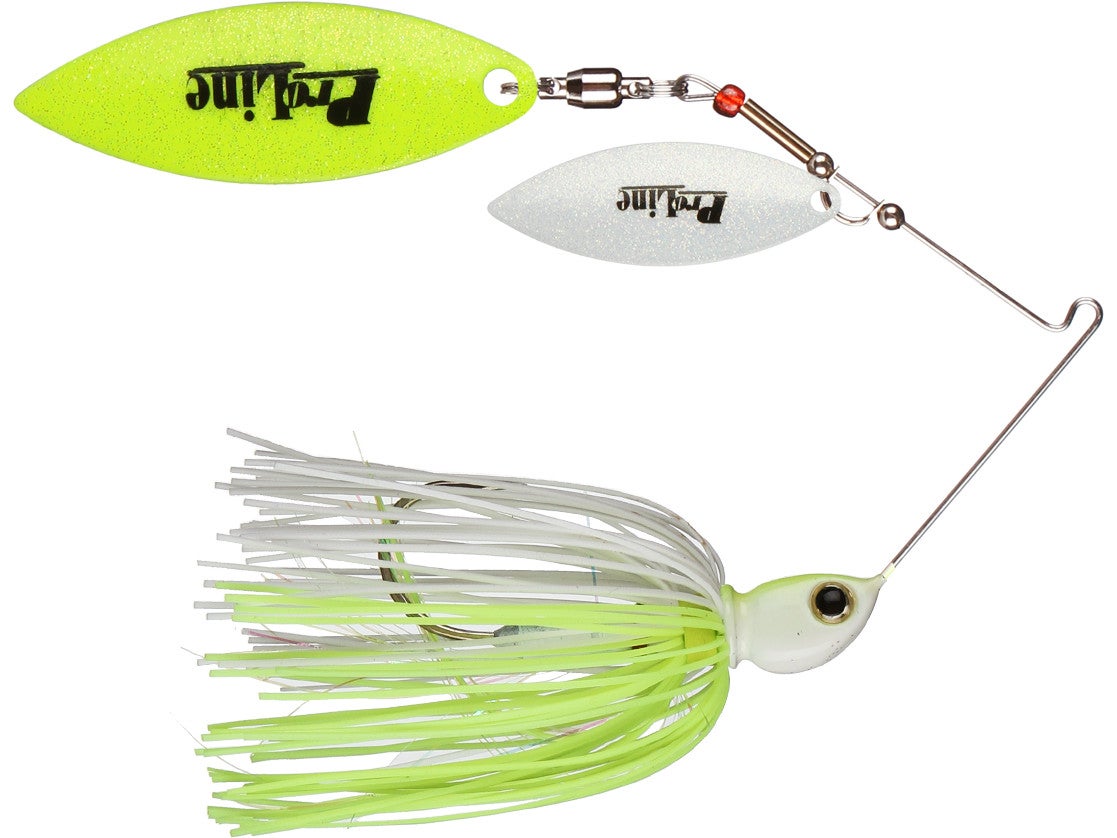 Designed by professional bass angler Tim Klinger, the Phenix Signature Series Tim Klinger Spinnerbait features a compact, bite-size profile, and perfect blade combinations for a variety of fishing scenarios. Accounting for countless numbers of fish from coast-to-coast, its hand-painted, chip-resistant head complete with 3D eyes and a 40-strand skirt with Flashabou accents only adds to its deadly fish catching ability. Available in several colors and blade combinations, each Phenix Signature Series Tim Klinger Spinnerbait is also equipped with an exclusive, super sharp Gamakatsu Curved Shank Hook for solid hook sets and fewer missed fish.
"Cast the spinnerbait and retrieve at a steady rate, stopping and starting the bait periodically. Use a sensitive medium action rod, and be aware of the vibration of the blades as you retrieve it. Fish the bait with a fast burn retrieve in the warmer summer months. Slow roll it along the bottom with a bouncing motion in the colder winter months." - Tim Klinger, multiple FLW Tour event winner.
3 Colors
More From Phenix Spinnerbaits
Customer Reviews
Comments: Best spinner baits on the planet hands down!!! Super durable arm design and strong hooks that don't fail under pressure. Multiple color options and blade tandems to choose from. Can't say enough about these spinnerbaits. Love my #PhenixBaits and will be purchasing more very soon!!!!!!
From: Wimberly: Hinesville, GA 1/16/17
Comments: Phenixbaits Colorado bladed spinnerbaits produce the perfect combination of thump and flash for those sparsely vegetated areas. This occasionally difficult to find blade combination puts 'em in the boat!!!
From: Moe: Cerritos, Ca 1/16/17
Comments: This pro-series spinner bait is by far the best spinner bait on the market.Holds up great . Even after catching bass on it all day.
From: Stephen Tauriello: Nevada 1/15/17
Comments: Awesome bait!! With this great skirt material, it almost creates a secondary action!! The blades create a great flash, and the hook on this thing stays sharp!!
From: Andrew Yang: SoCal 1/15/17
Comments: Easy to fish, best hook up ratio, and dynamite colors. Only spinner bait in my box. #Phenix baits
From: MICHAEL: Burke, Virginia 1/14/17
Comments: These spinner baits are absolutely awesome!! They put off a lot of vibration and the skirts actually stay on. These are definitely my go to spinnerbait now and I will be stocking up on them #PhenixBaits
From: James: Texas 1/14/17
Comments: Outstanding quality! Phenix makes those hard to find Colorado bladed spinnerbaits that really perform and thump especially in sparsely weeded environments. Hands down one of the best spinnerbaits on the market!!!
From: Moe 1/13/17
Comments: As a fisherman from the northeast area of the country. We do a lot of powerfishing and moving. #phenixbaits has done an amazing job with this spinnerbait in being able to throw and go. This bait resist a lot of hang ups as I like to throw it in medium cover. Great wire for a lot of vibration. Hammered blades give off a huge amount of flash. One thing that really stand out to me is the durability of the head paint. I have thrown this bait in stick up, lay downs, some pretty nearly grass and it still hold tough. I am very happy with the design and performance of these spinnerbaits. Order some today!!!!
From: Anthony Swan: Osceola, PA 1/13/17
Comments: Nothing better than a classic white 1/2 spinner...and Phenix makes the best in my opinion. Hold up really well and have great flash! #PhenixBaits
From: William House: Davie, FL 1/13/17
Comments: A quality American made spinnerbait that's tough. Strong wire that holds it's shape and the bait runs true on the retrieve. Awesome flash and vibration. #PhenixBaits
From: Ben: Alabama 1/13/17
Comments: Great spinnerbait!! Runs true, very sharp hook and love the colors!! A++++ Get you some and keep a tight grip on your rod!
From: BobGoblin: Louisiana 11/12/16
Comments: Fished this blade for the first time yesterday. I always dug the old school pro line blades. This one is pretty much the same. Blade held up well till my lame backseater, who is always hung up, got hung up again and lost it. He is currently ordering me at least one new one and going to start enjoying fishing from the shore.

From: Deaf Jeff: Stone County