Picasso Finesse School E Rig Bait Ball - $15.99

Please Note: Baits and Jigheads not included.
Designed with the collaboration of our pro staff on the Bass Master Elite Series and FLW Tour. The Picasso School E Rig Finesse Bait Ball incorporates 3" piano-grade wires along with four #3 willow blades plated in 24k Gold or Nickel for the ultimate flash and vibration. In addition to targeting suspended fish, this compact finesse rig can also be used in place of a standard spinnerbait. Perfect for throwing around docks, blow downs and other structure, it's a great choice when added casting accuracy is needed, and it also excels in highly pressured waters and tough fishing conditions. New sliding sleeve feature allows for easy change-out of damaged snap swivels.

Featuring only American-made premium components, including a lightweight impact resistant plastic head with an upgraded 75lb recessed nose swivel to prevent line twist to assure it runs true, and prevent the fish from leveraging itself off when hooked.
Use the Picasso School E Rig Finesse Bait Ball with the Picasso Smart Mouth Gamakatsu Jig Heads, Picasso Smart Mouth Mustad Jig Heads, and Picasso Dummy Heads for the ultimate in umbrella rig performance.
Hand Crafted in the USA
| | |
| --- | --- |
| Picasso | Wire Length |
| Finesse School E Rig Bait Ball | 3" |
View Large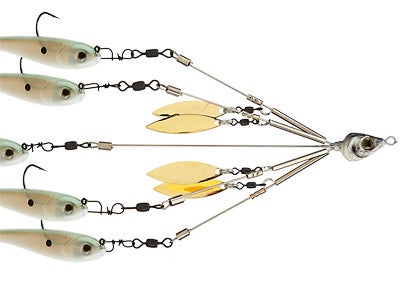 More Picasso Terminal Tackle
Comments: this bait has helped boat over 20 double digit bass in my boat. My customers love throwing it bc it produces big fish! It's not like a typical rig because it's nice and compact so even the beginner can cast it with ease. It works great around docks, bridges, dams! It even works in timber with weedless swim baits this way you won't loose em
From: Cody: Lake Fork, TX 4/13/14
Comments: I can highly recommend the Picasso Finesse School E Rig Bait Ball. This is a super compact rig with a ton of flash that looks exactly like a tight little break away school of bait fish. This is a great rig for fishing around docks or tight spaces. This rig has been a big producer for us in tournaments helping us finish in the top five in every event in the Salt Water Bass Series in 2013 and helping us win Angler of the Year. It has also already helped us win the second event in 2014. Our go to set up, is to rig them with 3 inch Big Hammer Swimbaits on 3/16th to 3/8ths ounce heads and to fish them around docks and over submerged grass beds in 5 to 25 feet of water. Spotted Bay Bass, Calico Bass and Sand Bass love this rig as do halibut. Oh and they catch freshwater bass too. Even though this is a small compact rig, they are very durable and even hold up in saltwater.
From: Bryan: Goleta, CA 2/27/14
Comments: I thought the wires were too short to create a bait ball appearance, but it works really well. Caught my kicker fish in my last tournament with it using Keitech Fat Impact on the middle and regular swing impacts on the exterior.

From: Matt: Broken Arrow, OK

Comments: Bought several of these late last year, caught a lot of quality fish on these. Love the nose swivel, makes a huge difference in how it runs. Lost my last one this weekend. Came on to buy more and they are sold out?

From: Mike: Guntersville, AL

***Note: If you have questions about this product or need assistance with an order please email your questions to info@tacklewarehouse.com