Picasso Tandem Thunder Spinnerbait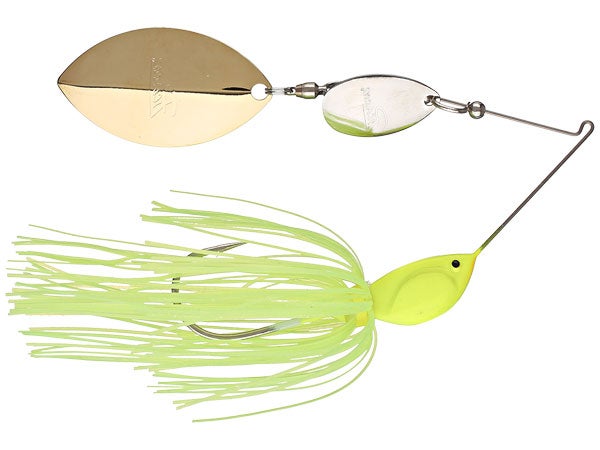 The Picasso Tandem Thunder Spinnerbait provides a good balance of flash and vibration that allows the bait to track very true. The rear turtle shell-shaped blade loads the rod just enough to stay in touch with the bait without too much torque. This provides no lateral roll on even the fastest retrieves, and also allows the blade to spin on the fall. It also uses Picasso's .032 diameter stainless wire to create a unique elliptical movement of the upper arm on retrieve. This flexible light wire allows the bait to "collapse" during strikes to insure proper hook set. Picasso also uses a grommet center skirt to insure the skirt will not pull down and continue to provide the ultimate in action. The long shank Mustad Ultra Point Hook penetrates fast and increases the hook-up percentage, eliminating the need for a trailer hook. It also provides the ideal barb size for keeping the fish on. The custom cup blades provide excellent vibration to stay in touch with the bait by loading the rod so that strikes are detected early for proper hook set. Also equipped with premium sampo swivels, the Picasso Tandem Thunder Spinnerbait is available in a variety of colors.
Made in the USA
4 Colors
More From Picasso Spinnerbaits
Customer Reviews
No customer reviews have been added yet! Be the first to write something about this product.