Pinnacle Optimus LTE Casting Reel - $159.99
The new Pinnacle Optimus LTE Casting Reel was designed to be a go-to reel you can count on to perform flawlessly, regardless of the situation or conditions. Built around the tournament-proven, lightweight Optimus X-Bone metal frame and metal side covers, Pinnacle also added a REF2 Carbon fiber handle with contoured EVA grips to reduce its weight, while maintaining durability and reliability. A 10 double-shielded stainless steel ball bearing system also ensures consistently smooth functioning, while a precision Duralumin drive gear and robust drag provide plenty of fish fighting power. A Tandem Cast Control delivers the versatility of both magnetic and centrifugal brake systems to help you adjust to any fishing application or weather conditions, and an exclusive Pinnacle QuickFlip Button also allows you to engage the reel instantly without turning the handle for lightning fast hooksets. Available in a range of gear ratios, the Pinnacle Optimus LTE Casting Reel has everything you need to be successful on the water.
"Confidence is what separates the pros from everyday anglers. Part of that is knowing that your gear will perform as needed. All of Pinnacle's Tournament Class Optimus reels are built on the X-Frame concept, so I know they'll stand up to the pressure." – Britt Myers, B.A.S.S. Elite Series Angler
-X-Bone Metal Frame Construction with Metal Side Covers
-9 Double-shielded Stainless Steel Ball Bearing, Plus Roller Bearing
-Super Light Concave REF2 Carbon Fiber Handle
-Tandem Cast Control
-Precision Duralumin Drive Gear
-Audible Star Drag and Cast Control
-Multi-Stack Carbon Drag Washers
-Exclusive QuickFlip Button
Designed to be your go-to reel for any bass fishing application, the Pinnacle Optimus LTE Casting Reel is loaded with a host of features, including an exclusive QuickFlip button, which allows you to engage the reel without even turning the handle.
View Large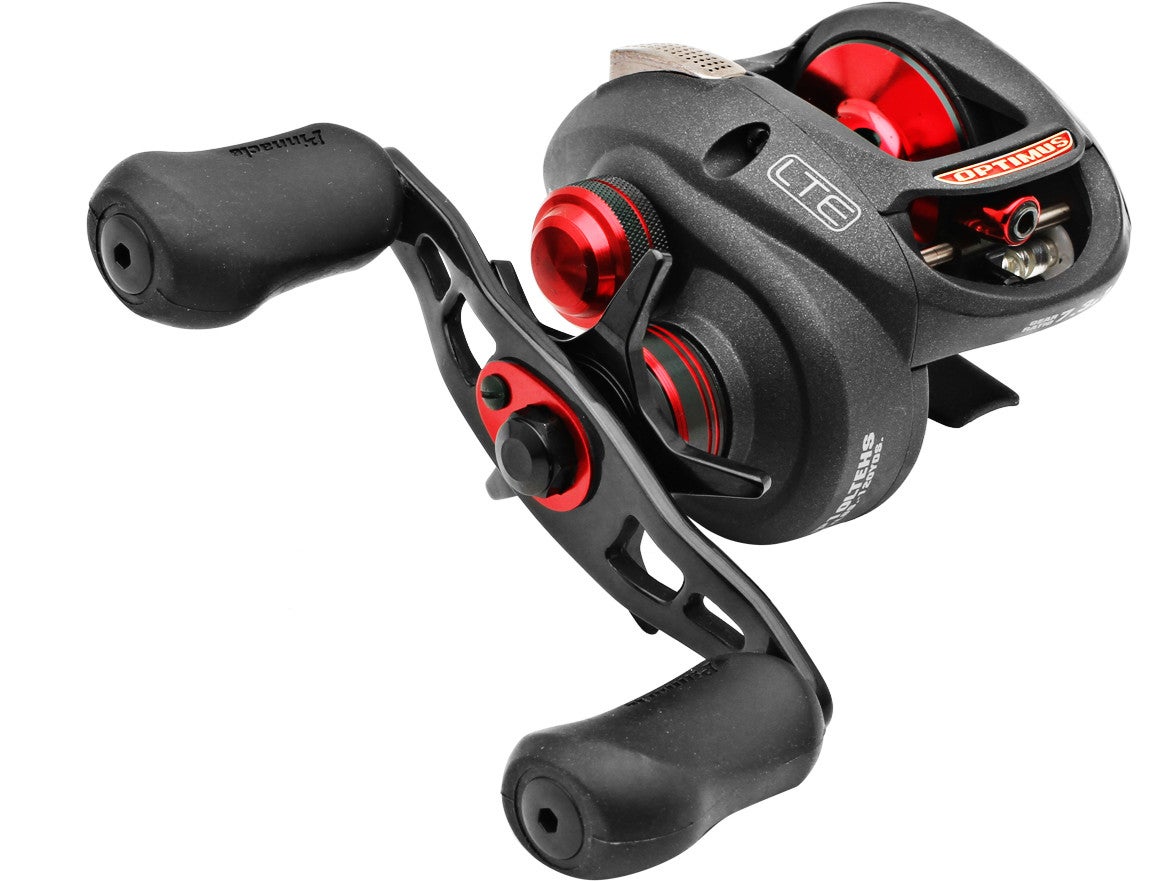 Place Your Order
More Pinnacle Casting Reels
Comments: Needed a good solid reel for flipping and i have found it !! flipping button is amazing for fast one handed pitch and quickly setting the hook, instant engagement button is a great feature. So smooth on the retrieve and already caught plenty of 5 pounders and that seem to get smoother. Drag is tough, no slippage and smooth as ice ! Just an awesome reel compared to my Revo and curados

From: Paul: Oklahoma city, OK, USA

Comments: I messed with this reel at the expo during the 2013 Bassmaster Classic and was very impressed. Best comparison is to a Lew's Tournament Pro in look & feel, except it is 7.4 oz vs 6.7 oz, so more in the class of the 'Team' Lew's or Curado E weight-wise... It felt very solid with the metal side plates, so the middle-of-the-road weight wasn't an issue for me - especially for flipping and other techniques that put a lot of strain on the frame, and there are much heavier reels out there... It was super smooth, like the Lew's, & both (as well as many others - BPS, Abu, etc) are made in S. Korea. I was impressed with the QuickFlip Button & with both centrifugal & magnetic brakes it would seem to hit the nail on the head for a good flipping reel, or most any purpose for that matter... Nice contoured grips too. Just seems like a lot of reel for the price. I don't need a reel but if I did this would be high on the list for sure.

From: MidwestBassGuy: Gardner, KS

***Note: If you have questions about this product or need assistance with an order please email your questions to info@tacklewarehouse.com