Pinnacle Optimus XT Spinning Reel - $134.99
Do you want raw power with super-tuned performance? You'll find it with the Pinnacle Optimus XT Spinning Reel. This top-of-the-line reel holds nothing back. It's the only spinning reel on the market whose body, rotor, spool and handle - almost the entire exterior - are crafted from advanced RCF2 Reinforced Carbon Fiber, the wonder-material that's stronger and more rigid than aircraft aluminum. There isn't a bass alive that can overpower this reel! And to make sure you get the best performance available in a spinning reel, Pinnacle individually hand-tunes each reel before it leaves their facility. For optimized operation right out of the box. Get the hand tuned advantage. Get the powerful new Pinnacle Optimus XT Spinning Reel today.
"You've got to have confidence in your gear. The Optimus Hand Tuned is the toughest, smoothest spinning reel I've ever fished, and I wouldn't hesitate to put it up against any bass, anytime, in any water." - Dave Wolak, B.A.S.S. Elite Series Angler
Features:
-Hand Tuned for Ultimate Performance
-RCF2 (Reinforced Carbon Fiber) Graphite body and rotor
-Lightweight Precision-Machined Ported Spool
-Waterproof Multi-Stack Drag
-Unlimited Anti-Reverse
-FatWire Bail
-Balanced Rotor
-Titanium-Coated ResistTwist Line Roller
-Lightweight Carbon Fiber Handle Arm
-Ergonomic Lightweight Hard-Density EVA Handle Knobs
Crafted from advanced RCF2 Reinforced Carbon Fiber, which is stronger and more rigid than aircraft-grade aluminum, the Pinnacle Optimus XT Spinning Reel offers powerful, top-of-the-line performance.
View Large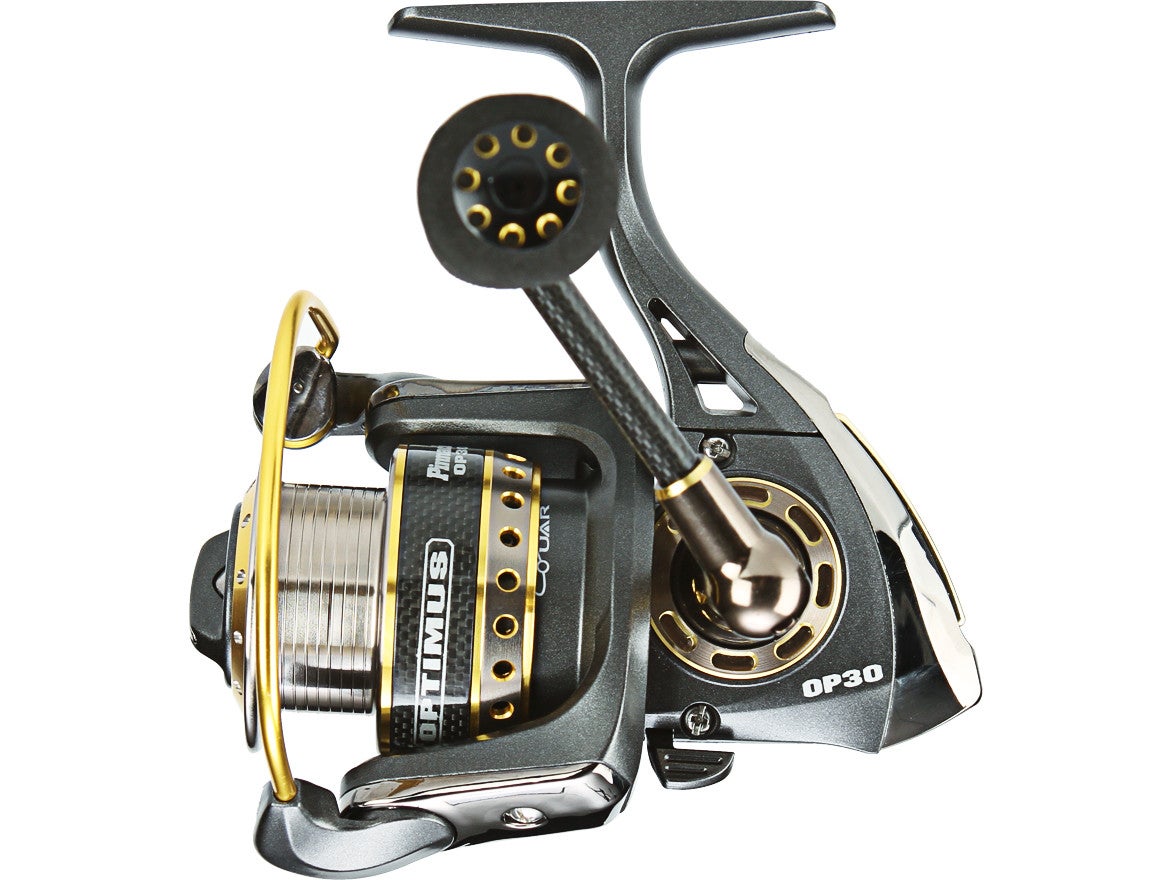 Place Your Order
More Pinnacle Spinning Reels
Perfect for a wide range of finesse techniques, the Pinnacle Producer XT Spinning Reel is built to last and loaded with a Pinnacle's advanced features.
Comments: I own both the OP30 / OP40 and I am really pleased with the light weight and performance of both reels. Both reels are smooth at casting and reeling in. I haven't had any problems with my reels but Pinnacle offers a great warranty program and your able to purchase extra spools so that you can have different line sizes to change from. I recommend these reels to both the professional and the weekender.

From: Norman: Rosamond, Ca

Comments: First off the size listed isnt correct, the OP30 will only hold 100yds. or 8lb. says so right on the rotor. secondly for being pinnacles "top of the line" reel the quality of construction was sorely lacking. chips in the finish and rough machinging marks. maybe i expected too much out of a reel in this price point but i wont waste anymore of my money on a pinnacle product. i returned it.

From: Jason: WI

***Note: If you have questions about this product or need assistance with an order please email your questions to info@tacklewarehouse.com