Pinnacle Optimus Xi HS Hand-Tuned Casting Reel - $249.99
Top anglers looking to squeeze every last drop of performance out of their gear will appreciate the top-of-the-line Pinnacle Optimus XiHS Hand Tuned Casting Reel. Pinnacle individually hand tunes each reel, putting it through a rigorous 8-step manual program, covering every major system inside and out, to ensure it comes pre-calibrated for optimum casting, braking, retrieving and drag performance. Of course, it doesn't hurt to start with the best materials and craftsmanship available, including Pinnacle's rugged X-Bone frame, all-Duralumin spool and drive train, quality double-shielded bearings, and super-tough carbon fiber handle and star drag. The Pinnacle Optimus XiHS Hand Tuned Casting Reel. Optimum performance right out of the box.
"This reel is ripped! There's not an ounce of fat on it. We fed it lots of carbon fiber and Duralumin, and the results speak for themselves. So smooth, so incredibly light and strong—it's a dream to fish. Can you tell I'm pumped?" - John Crews, B.A.S.S. Elite Series Angler
Features:
-Hand Tuned for Ultimate Performance
-X-Bone Metal Frame Construction with Metal Side Covers
-Lightweight Duralumin Spool, Drive Gear, Worm Gear, Drive Shaft
-Concave REF2 Carbon Fiber Handle with Ergonomic EVA Grips
-Ultra-High Speed 7.3:1 Gear Ratio
-Unlimited Anti-Reverse
-Tandem Cast Control (Magnetic & Centrifugal)
-REF2 Carbon Fiber Star Wheel
-8-Disk Carbon Fiber Drag Washers
-Exclusive QuickFlip Button
-Precision-Click Cast Control Knob
Individually hand-tuned to ensure optimal performance right out-of-the-box, the Pinnacle Optimus XiHS Hand-Tuned Casting Reel delivers rugged, top-of-the-line performance and blazing fast speed.
View Large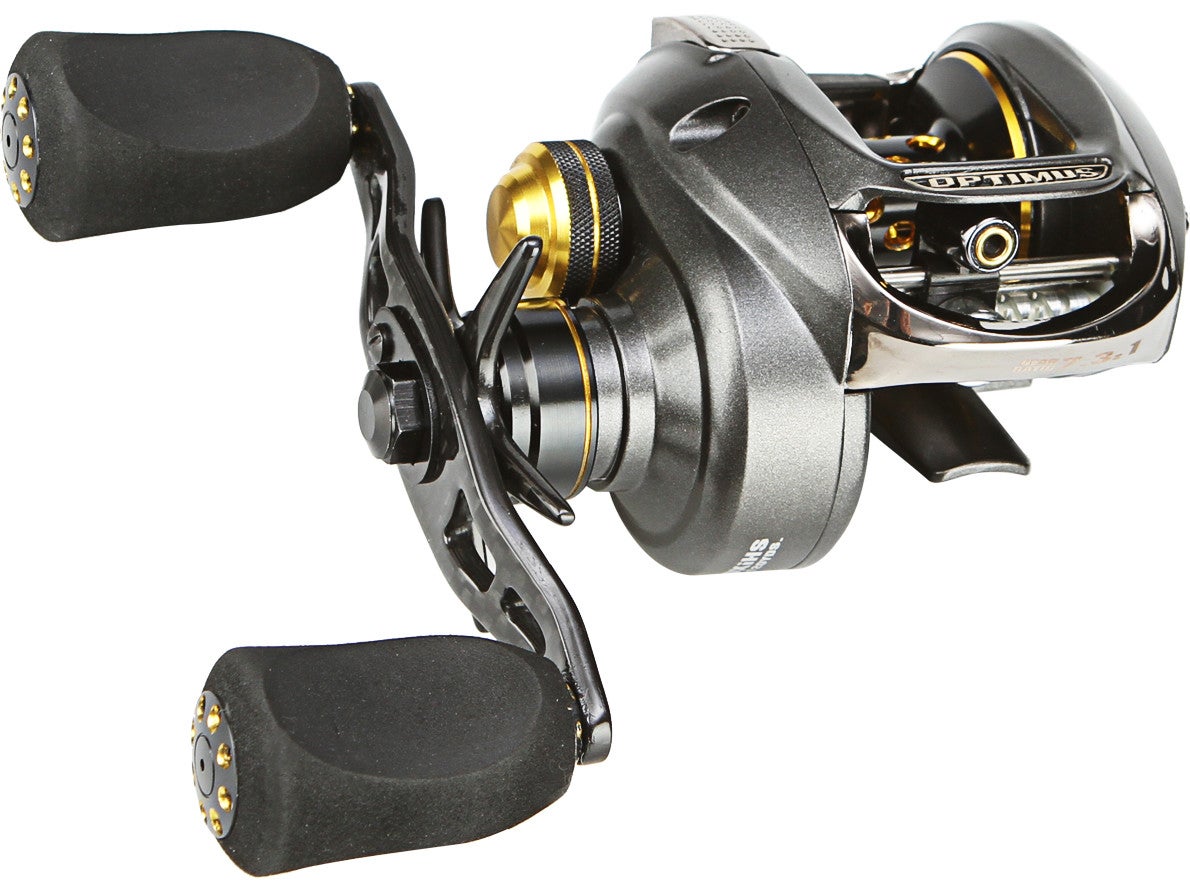 Place Your Order
More Pinnacle Casting Reels
Comments: I own several Lews reels that are much smoother, cast further and easier to handle. Do not buy into the "Hand-Tuned" hype, as with any reel you must adjust them to fit the line, lure weight and conditions.
From: Ed: Bastrop, TX 12/16/14

Comments: This reel is top of the line. It's light weight, smooth as silk on the retrieve and casts even small baits for days. Do yourself a favor and get 1....or 4.

From: Matt: Guthrie, OK

Comments: This is a great reel. Would put it up against the new Chronarchs any day. In fact, it is tighter... in a good way. Everything works flawless. It's smooth and functionally perfect. I like the click drag and big brake knob. The handles are a little weird at first, but other than that, the reel is a winner.

From: HW: Birmingham, AL

Comments: wanted to try it out cuz of seeing John Crews set up in Table Rock. Pitched out all the money and i now do not regret buying it one penny less. One of the most lowest handling baitcasters out there, feels solid and Cast beautifully and man ole man! it is smooth in retrieve and Drag power ! never sticky. Awesome, i love it My new goto reel.

From: Jona: Austin, TX

Comments: Absolutely the incredible reel i have ever used. Flipping button is an ingenious feature giving me instant quick hooksets with one hand. Super strong drag and its smooth. Casting light lures and distance is just awesome. Thanks Pinnacle for making one of the best reels !!!

From: Russ: Lake Falcon,TX

***Note: If you have questions about this product or need assistance with an order please email your questions to info@tacklewarehouse.com