Plano Elite 3607 Spinnerbait Organizer - $11.49

Secure up to 18 Spinnerbaits with the Plano FTO Elite Spinnerbait Organizer 3607-04. Delivering a patented solution for organizing and keeping your spinnerbaits free from unnecessary damage, the Plano FTO 3607-04 Spinnerbait Organizer helps you spend more time fishing and less time untangling your baits.
Fits in 3600-series Footprint
Dimensions: 10.75" x 7.25" x 1.75"
Comments: Not sure how the lid could crush your bait. This box is a very nice way to store your baits in a compact manner. The bulky hanger box works fine too but this one is more efficient.
From: Nate: USA 9/9/14

Comments: This thing is no good. First I don't like storing the wire in a bent position. Keep the spinnerbait in there long enough and the wire is not going to spring back to its normal position. 2nd, the lid crushes the spinnerbait down when closed. Total nonsense. I ordered the deep plano box so you can just hang then in there. Much better system and you don't have worry about damaging your spinnerbait. I'm going to keep and store my chatterbaits in it instead. Not perfect for that either but I just don't feel like sending it back so I'm going to make some use out of it.
From: Ray: USA 4/17/14
***Note: If you have questions about this product or need assistance with an order please email your questions to info@tacklewarehouse.com
View Large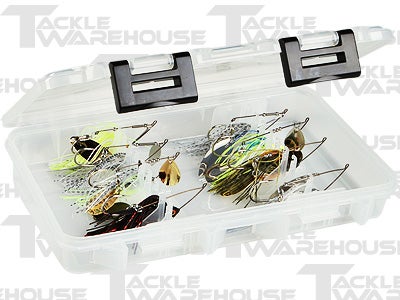 More Plano Elite Organizers, Speedbags & Wallets