Power Pro Spectra Braided Line Yellow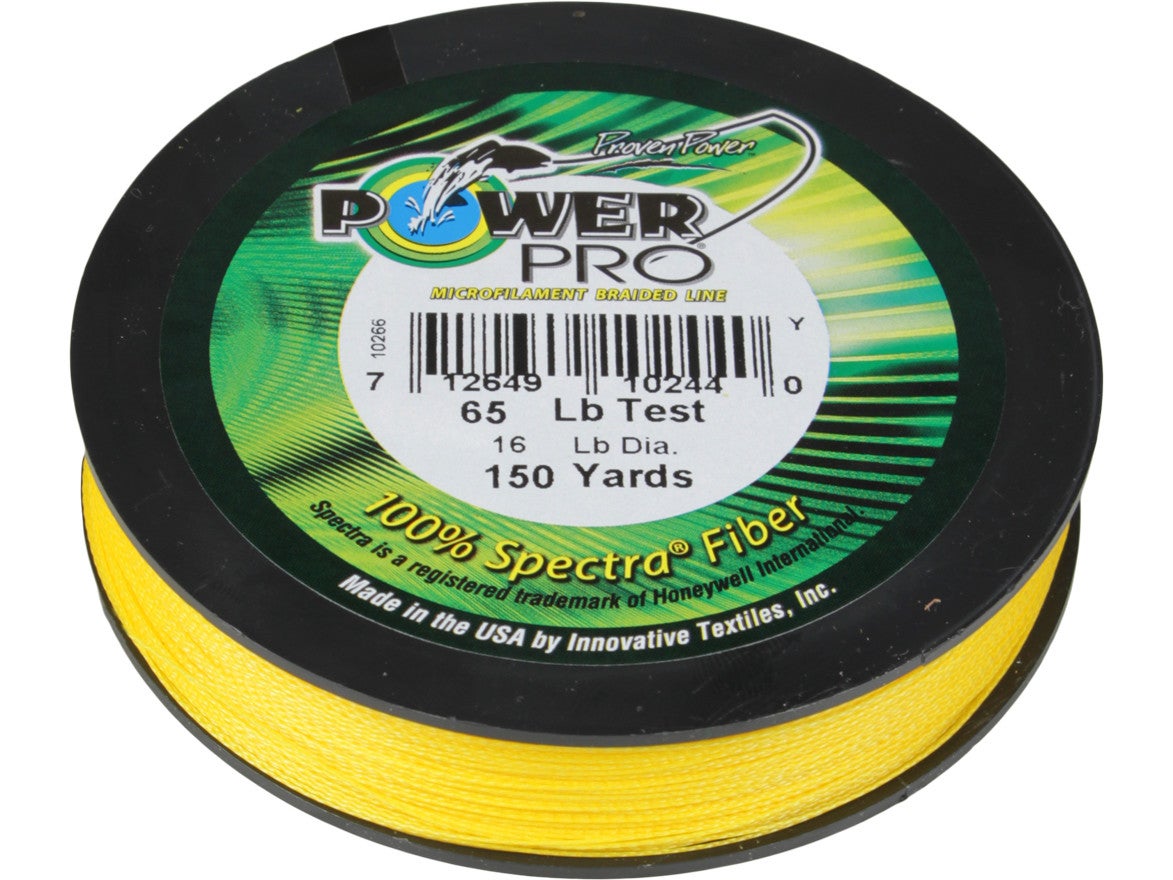 PowerPro Spectra Braided Line in Yellow is designed for applications where a high visibility line is necessary. It is typical for anglers to use a short fluorocarbon leader with Hi-Viz lines, especially in clear waters. The angler is able to accomplish the goal of having a line that is invisible to fish that are close to the bait or lure by adding fluorocarbon. PowerPro Spectra Yellow Braided Line applications range from Bobber fishing the rivers of the Great North West to Fly-lining sardines and anchovies along the California coast, and fishing the lakes and rivers of our Nation's central regions for bass, walleye and catfish to targeting Fluke and Stripers in the North East, even pelagic fisherman looking for better spread management on the troll to inshore fisherman targeting Snook, redfish and trout. High visibility lines can be used in all applications.
Featuring Power Pro's proprietary Enhanced Body Technology (EBT), Power Pro Spectra Braided Line in Yellow is the roundest, smoothest, easiest to use Superline on the market. Unequalled sensitivity and hook setting power let you feel the smallest strike and set the hook with confidence. Abrasion resistant for fishing all types of structure, it is smooth and slick for superior casting performance. Perfect for conventional or spinning reels, its superior strength-to-size ratio also enables you to fish with lighter and more compact reels.
-Braided from 100% Spectra fiber - a registered trademark of Honeywell International
-Spool directly from the box
-Built-in cutter
-Package protects the remaining line
-Arbor tape included
-Color of cartridge matches line color
| | | | | | | | |
| --- | --- | --- | --- | --- | --- | --- | --- |
| Line Diameter | 10lb | 15lb | 20lb | 30lb | 40lb | 50lb | 60lb |
| Inches | .005 | .007 | .009 | .011 | .013 | .014 | .016 |
| Millimeters | .15 | .19 | .23 | .28 | .32 | .36 | .41 |
| Equiv. Mono Diameter | 2lb | 4lb | 6lb | 8lb | 10lb | 12lb | 16lb |
Place Your Order
More From Power Pro Fishing Line
Customer Reviews
Comments: I use 15lb yellow power pro on ALL of my spinning reels with a 10lb flouro leader (double uni or alberto knot)...never had a leader knot fail....I simply got tired of replacing alot of flouro on my spinning reels when line twist occurred (even being mindful of how to avoid them)...saved so much money using the braid/flouro...get some!
From: Adam: Harrisburg, NC 11/27/16
Comments: I use the 10lb or 15lb Power Pro Super 8 Slick Yellow for my Finesse Bass fishing. With a FC Sniper 7lb leader.For my Basic Bass fishing I use the 15lb Super 8 Slick with a 8-12lb fluoro leader. I use the 15lb tied direct for Top Water fishing. For pitching-Flipping and Frogging I use the 30lb Super 8 Slick. No problems. Great Braid.
From: Fran: Columbus, NJ 5/23/15

Comments: Awesome line if you don't mind re-tieng after hooking every other fish. I have been using this line for about a year and it is extremely sensitive. My complaint would be that I fish Texas rigged soft plastics almost always. The line frays due to the bullet weight riding up and down the line near the knot. I thought a fluorocarbon leader would cure this problem...then I tied my spinnerbait to this line and it also frayed near the knot, must be stress on the line or the bass striking the line is causing it to fray... not sure about that.
From: Steve: Star, NC 8/4/14

Comments: SUCKS!!!!!!!!! bought it sunday and it all got knoted up not backlashed but knoted up on monday wow one full day of fishing. my money is completely on stren sonic braid.

From: Wil: FL

Comments: I've used power pro yellow and green braid for several years. For the money, Power Pro stands up to all the other braids that I have fished.You'll get some wind knots, but if you are observant these won't give you much trouble. good product on spinning as well as baitcasting.

From: Banks: Kimberly, AL