Power Pro Super Slick Braided Line Aqua Green - $19.99 to $199.99
Designed to blend into freshwater vegetation, Power Pro Super 8 Slick Line in Aqua Green is ideal for flipping and punching, throwing a frog, or even ripping a crankbait through grass. Anytime you're fishing in or around vegetation, this is your go-to color.
Power Pro Super 8 Slick Braided Line features an 8-strand Spectra fiber construction, which is specially braided under high tension to create a uniform surface that feels as smooth as silk. The super smooth surface reduces friction and line noise, allowing you to make longer casts with stealth and silence. Designed for anglers who demand high performance, PowerPro's EBT (Enhanced Body Technology) process also helps create a stronger, thinner, smoother and quieter line.
| | | | | | | | |
| --- | --- | --- | --- | --- | --- | --- | --- |
| Line Diameter | 10lb | 15lb | 20lb | 30lb | 40lb | 50lb | 65lb |
| Inches | .006 | .007 | .009 | .011 | .013 | .014 | .016 |
| Millimeters | .16 | .19 | .23 | .28 | .32 | .36 | .41 |
| Equiv. Mono Diameter | 2lb | 4lb | 6lb | 8lb | 10lb | 12lb | 16lb |
Comments: After some extended use of regular PowerPro 20lb and also Sufix 832 I have have to admit this stuff comes off the spool much better. I suspect that the texture of 832 & regular PowerPro is what makes the line "grab" itself when coming off the spool resulting in shorter casts compared to Super Slick. I find that anything above 30 lb has resulted in shorter distance even with this stuff. The ten and 15 are so small in diameter that they do bite into the spool more if your a real stickler about maximum distance the 20 & 30 lb are the way to go and still give you muscle if you wanna snip the flouro leader and moderate hydrilla. The coarse texture of the non slick version certainly cuts the hyacynths much quicker and easier. I prefer the sensitivity and lack of stretch and SuperSlick offers some really impressive castability for my baitcasters. It just makes for a more versatile setup...snip the leader and go topwater, makes flukes come alive or fish bottom with a fluoro leader. Great li
ne definitely the best in all around braid.

From: CJ: Harvey, La. U.S.

Comments: By far the worst braid I have ever used.Its not round, it separates ,windknots and after some use retains water which results in shorter cast. Spiderwire Invisa-braid on my spinning reels and Sufix 832 on my baitcasters.Take note power pro.

From: Jay: Valrico, FL

Comments: this line is great and was created for musky fishing so if you by this line it should be 50lb+ or your not gonna get what its worth, it works best with big spool capacitys because it does tend to jump off the reel, but other than that great streanght and knots are good too

Comments: I put 15lb on my spinning rod and found that it comes unweaved very easy and it is by far the worst braid Ive ever had about windknots. It cast further and better but for the price it makes you sick to throw out a windknot right after you spooled it onto your reel

Comments: I ran the 10lb on my spinning gear, 30lb 65lb and 80lb on my casting. My main problem with this braid is it unravels very easily, when you tying a knot or picking out an overrun. I'ts weaved together with very small strands of spectra fiber, when I straighten the braid back out you can see where I backlashed and that bothers me. It was also rather frustrating to cast in the wind, especially with the higher pound test lines.

From: Brett: Orange County

Comments: I really like this stuff. Havent had any issues with knot failure unless I yanked on a snag for a while and in my opinion that was the braid burning through the flouro. Very soft to the touch and that helps with sensitivity. I use the 20# with no problems. It does catch the wind so if your working finesse keep the line in front of you.

From: Adam: NorCal

Comments: Gotta make sure those knots are tight, no slippage. I love a braid that doesn't remember. I love a braid that is silky to the touch. Shes nice and thin, but can't stretch. I have two reels spooled with Sufix performance, and two with this. Can't tell much of a difference between the two. I wish TW would stock the marine blue color. I wanna see what it looks like in the water

From: Mark: Spokane, WA

Comments: line breakage at knot. broke 3 times on hook sets, and twice on hang ups with not too hard of a pull. put it in the rod box and used reel with regular PPRO and no more issues. used a polymar knot too. usually with any braid you straighten hooks or have to cut your line. it was the 30lbs i used.

From: Chad: League City, TX

Comments: this is the best braid ive ever used, cast a mile and strong for the size

From: Daniel: Bridgewater, VA

***Note: If you have questions about this product or need assistance with an order please email your questions to info@tacklewarehouse.com
View Large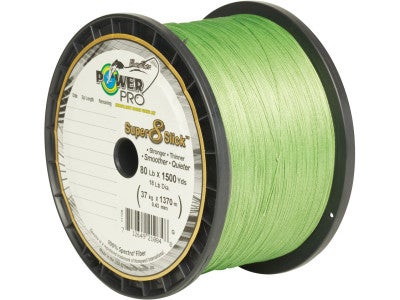 Place Your Order
More Power Pro Spectra Fishing Line