Power Pro Super 8 Slick Braided Line Timber Brown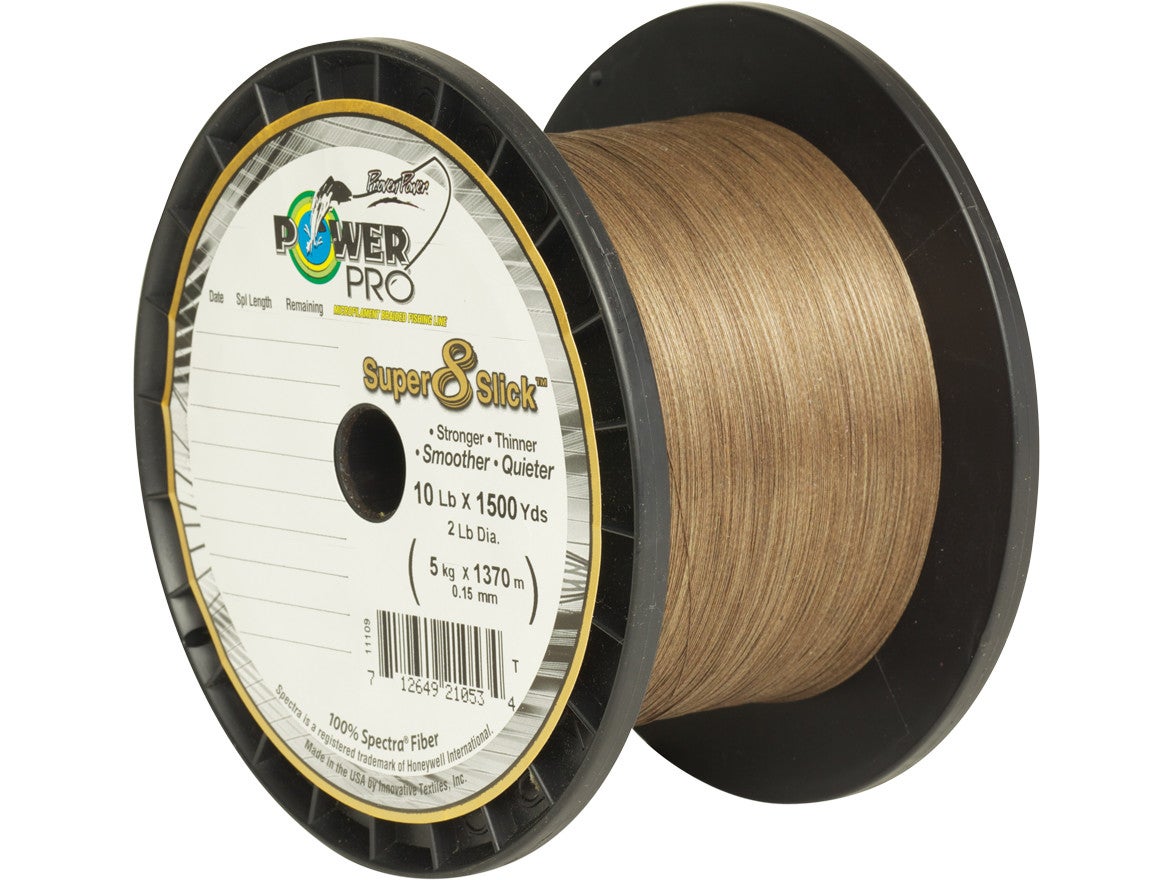 The ideal color for fishing flooded timber, stumps, wood and brush piles, Power Pro Super 8 Slick Line in Timber Brown is also an excellent choice for fishing muddy or stained water in or around rivers, inlets and deltas.
Power Pro Super 8 Slick Braided Line features an 8-strand Spectra fiber construction, which is specially braided under high tension to create a uniform surface that feels as smooth as silk. The super smooth surface reduces friction and line noise, allowing you to make longer casts with stealth and silence. Designed for anglers who demand high performance, PowerPro's EBT (Enhanced Body Technology) process also helps create a stronger, thinner, smoother and quieter line.
| | | | | | | | |
| --- | --- | --- | --- | --- | --- | --- | --- |
| Line Diameter | 10lb | 15lb | 20lb | 30lb | 40lb | 50lb | 65lb |
| Inches | .006 | .007 | .009 | .011 | .013 | .014 | .016 |
| Millimeters | .16 | .19 | .23 | .28 | .32 | .36 | .41 |
| Equiv. Mono Diameter | 2lb | 4lb | 6lb | 8lb | 10lb | 12lb | 16lb |
Place Your Order
More From Power Pro Fishing Line
Customer Reviews
Comments: Bought this line in 30lbs because I've heard good things plus the old spiderwire was really frayed can say enough good things about it hooked a tire by accident didn't even phase it, i even mamaged to land it!
From: J: CO 7/13/16

Comments: This stuff is nice. I feel like it generally increases all of the advantages of braids & lessens the disadvantages. Just plain awesome, as far as I'm concerned.
From: Brad: Gate City, VA 8/2/15

Comments: purchased the 20 and 65 pound super slick. I found the 20 pound line fraying on my first time using it. I lost multiple lures and fish. Very disappointed with it. However the 65 pound has proven itself worthy of a good review. No Frey issues and the long life I've gotten out of it is has saved me money. Caught my personal best musky, 52 inches with year old line.
From: Bill: Fishers, IN 1/3/15

Comments: Been using 30lb slick and regular since it came out. Bass fishing 50 to 70 times every year. Never a break off. Usually clear water so I add a little leader sometimes when fishing slow. The Albright knot acts as a slip sinker stop. No leader if fishing fast. Excellent under docks and pontoons. Useing it on spinning and baitcaster. Cuts through pads when fish wrap line around stems. Smooth, soft,long lasting line as previously mentioned. Excellent hookset. Have found it unwise to use an undersized reel or a poor quality pole or hook as the line is the least likely to fail. Have not tried the lighter lines.
From: Don: Olivet, MI 9/7/14

Comments: I have used Super 8 Slick for about 1.5 years now, and there are many good and bad things about it. The cast ability and the line smoothness is extremely good. But as other people say, it frays really easily. I use 15lb test on my 2500 size spinning reel, and 20lb test on my 3000 size reels. It frays easily, but you just have to take care of it and check it and re spool it every so often. But overall, it's great line!!!
From: Lautaro: Naples, FL
Comments: this line is great took the 30 pound to the ocean and caugh at least 78 calico on a secret bait not only that but I take this and fish for spotted bay bass at the bay and largemouth at lakes and this holds up great

From: CA
Comments: I put the 15 pound line on my son's brand new bait casting rod and reel. After about 3 hours of use his line broke while casting. We then inspected the line and found several frays. We've inspected the guides on the rod and they are perfect. I fish 50-75 times per year and have been fishing for 45 years. I will never buy this line again. We fish through some weeds in freshwater, but our other lines hold up much better than this super 8 slick. The only thing good I can say about this line is that it is smooth to cast and is silent when reeling-in. My advice, don't spend your money on this product.

From: Dave: Spooner, Wisconsin, USA

Comments: Read some of the reviews and I've fished the slick braid in 10, 20, and 30. Used the 20 and 30 punching grass with no problems, no break offs, had one knot slip due to trying to tie too fast so not the lines problem. Line works really well on mico guides, comes thru the guides a lot nicer then the regular power pro does. I still use the original but as for flipping, punching grass, and uses on mirco guides, I will be using the super slick. And traditional guides the original. Both excellent products.

From: Will: Long Beach, CA

Comments: Spooled it up, went out for 2 days and lost 2 lures and a couple hooks and weights. I had 3 breaks in those first 2 days out. I'm an eagle scout and I tie one great knot but seriously all the breaks were in the middle of the line, no kinks just straight break offs. I was using the 40lb line. Definitely will be buying new line, this was unfortunate.

From: Zachariah: Columbus, Ohio

Comments: Ive been using the 40lb super slick and its held up well. But if your going to fish in rocky bottoms, i would inspect breakage in the line often. Ive lost a few lures mid cast, mid fight because of the abrasion from rocky bottoms. But overall, it is very quiet compared to the regular power pro line and softer.

From: John: WI

Comments: Have to say im a little dissapointed in the new Power Pro. Ive been using Power Pro for years now and never had a problem till now. I find that the 10-20LB tests tend to break off relatively easy, i broke off 5 times in a few hours fishing on my cast. I checked my guides, they were al good. Only buy 30LB and up, anything is a waster of time!

From: Danny: Ontario, Canada

Comments: For the life of me I cant figure out why anyone would get a different kind of braid.

From: AL
Comments: Awesome line. Just like the original but softer,smoother and much more quiet.

From: MN
Comments: This is excellent line for the money. While its not Samurai, itll still work. For the price you cant beat it. I like the brown for muddy rivers.

From: Daniel: NC