Power Pro Zero Impact Braided Line Aqua Green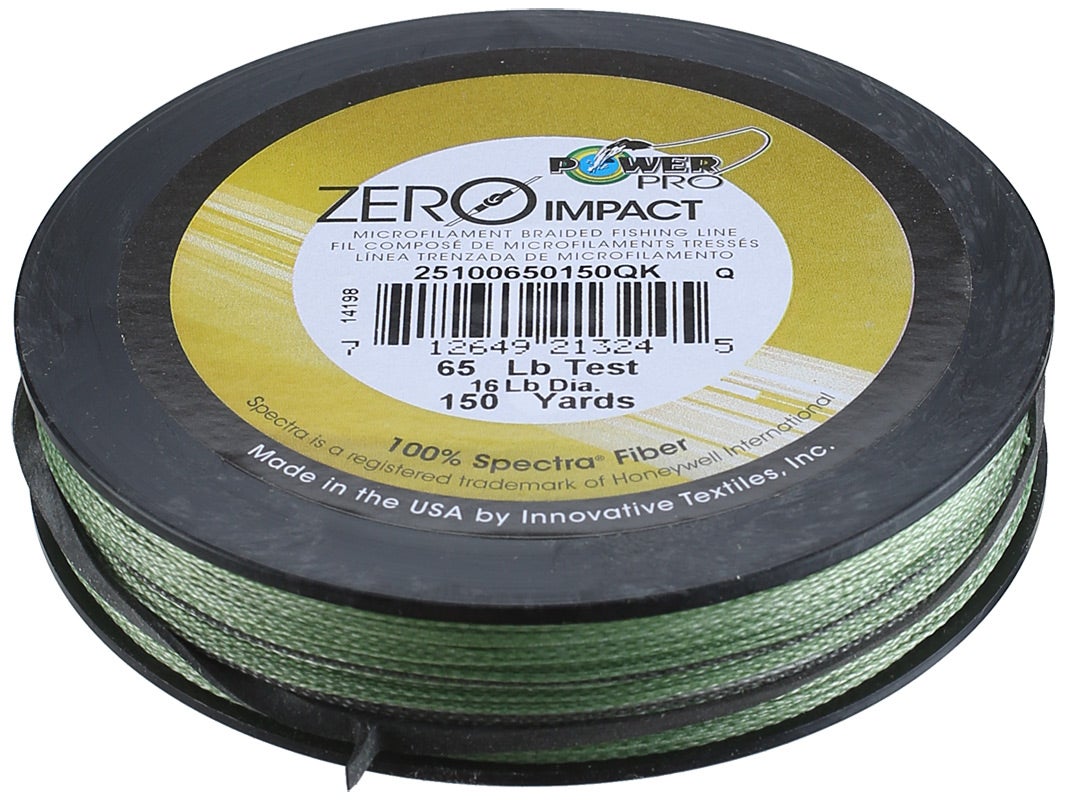 2013 ICAST Best In Show – Fishing Line

What sets Power Pro Zero Impact Braided Line apart from other braided lines? A black, 32-inch section of line known as the "termination zone," which occurs every 20-feet. This portion of the Power Pro Zero Impact Braided Line is 50% stronger in comparison to the rest of the line and made specifically for tying knots. Even the best-tied knots will reduce the strength of your line – sometimes by as much as 30%. Power Pro Zero Impact Braided Line is the first line to tackle this predicament with its revolutionary termination zone design. One of the key advantages of Power Pro Zero Impact Braided Line (beside its incredible strength) is that it gives anglers the confidence to button down the drag, set the hook hard, and horse fish out of deep cover. Perfect for more power-based applications, like flipping, punching, ripping crankbaits, and frogging, the Power Pro Zero Impact Braided Line is the next generation in braided line technology.
Place Your Order
More From Power Pro Fishing Line
Customer Reviews
Comments: This line is really nice for flipping & pitching, not sure why the bad reviews on the birds nest? Birds nests are human error i.e. The reel not tuned right. Line is super strong and easy to flip with. Only bad is that as heavy of cover I flip I have to retie a lot and having to use up 20 feet to get the the next termination zone means lots of line being used. Just tie it regular don't spend to much time worrying about the black piece. 80lb and 65lb
From: Brandon: AZ 2/4/16

Comments: Bought this stuff elsewhere, agree with John, the stuff is terrible, no wonder it's on sale here, even at that still a huger waste of money unless you enjoy bird nests.
From: Gary: Constantia, NY 11/21/15
Comments: Have Power Pro on every reel I have. The concept Shimano came up with to provide added knot strength on the same diameter line is brilliant. Had a small birdnest once or twice the first day out with it but thats to be expected with new braid before it gets broken in. love this line as well as the original moss braid. highly recommend.

From: Brandon: Va Beach, VA

Comments: I have always been a fan of Power Pro braids. I used their original, and then moved up to the Super Slick 8. So I was excited to try out this new line. I was really upset when I finally got the chance. I spent more time fixing the twists and birds nests then actually fishing. On every throw to every other throw the line was twisting up with some of the worst birds nests I have ever encountered. I will never use this line again. I have never had this problem with original braid or Super Slick. I would say use the Super Slick 8. Don't waste your time with this stuff.

From: John: Ensenada, BC, Mexico