Power Team Lures JP Hammer Shad - $5.59
When Power Team Lures decided to add a drop shot bait to their lineup, they paired up with the mind of JP DeRose from the World Fishing Network, and created a bait that literally mesmerizes bass with its action. At 3.6" long, the profile of this amazing bait puts it at the top of the menu for both largemouth and smallmouth bass. Combined with its perfected, effortless action and neutral buoyancy, the JP Hammer Shad makes it unbelievably easy for drop shotters of all skill levels to catch more bass. If there's bass in the area you are fishing, you're going to catch them on this bait…as a matter of fact, it would be hard not to. Even wary and negative bass can only take so much of the Hammer Shad quivering in front of them before they inhale it…it's just instinctual to them. The Power Team Lures JP Hammer Shad is also irresistible rigged on a Scrounger Head and fished like a swim bait, or dragged across the bottom on a football head, or even Carolina rigged.
| | |
| --- | --- |
| Length | Quantity |
| 3.6" | 12 |
Comments: GREAT BAIT! the swim action on these drives bass crazy! Definitely worth giving a try.

From: Matt: Castaic CA

Comments: An amazing bait for a multitude of techniques. You can be sure to dropshot or shaky head your way to bass limits

From: Sonny: Wareham, MA

Comments: ridiculously good bait on a drop shot. These caught fish when nothing else would, even a roboworm. I fish from shore, so when I use roboworms on a drop shot, it tends to drop the tail a lot and the action isn't good. With these, the tail floats so the bait sticks out from the line with the tail on plane with the head, and I can just twitch it. I can't wait to use it for more stuff in the summer! (Ex. Jerkbait, T-rig, shaky head, etc.) Awesome lure.

From: Cullen: Ashburn, VA

Comments: This is definitely the most versatile bat I have ever fished! I have been hammering crappie, walleye, smallies and largemouth on it and have caught fish drop shotting, on a football head, scrounger head, weightless and even on a Carolina rig. Super durable as well... It doesn't get any better!

From: Mike: New York State

Comments: this bait is amazing for drop shotting for smallmouth. I caught 2 good sized smallmouth in like 10 minutes of fishing with this bait. I used it in spicy goby and actually later that day I caught a 3 1/2 pound smallie, those little guys don't play around they put up a really hard fight

From: Jared: KY

Comments: This Bait on a jig rig is just killer for Spotted bay bass! Just killer!

Comments: Sick drop shot bait. Really cool action

From: meat wad: dropping

***Note: If you have questions about this product or need assistance with an order please email your questions to info@tacklewarehouse.com
View Large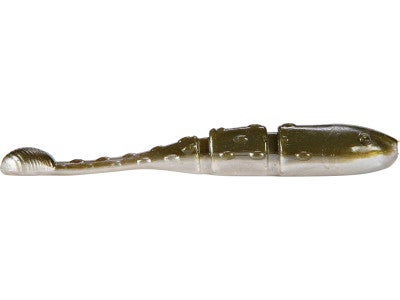 14 Available Colors
More Power Team Lures Softbaits