Power Team Lures Sick Stick 7pk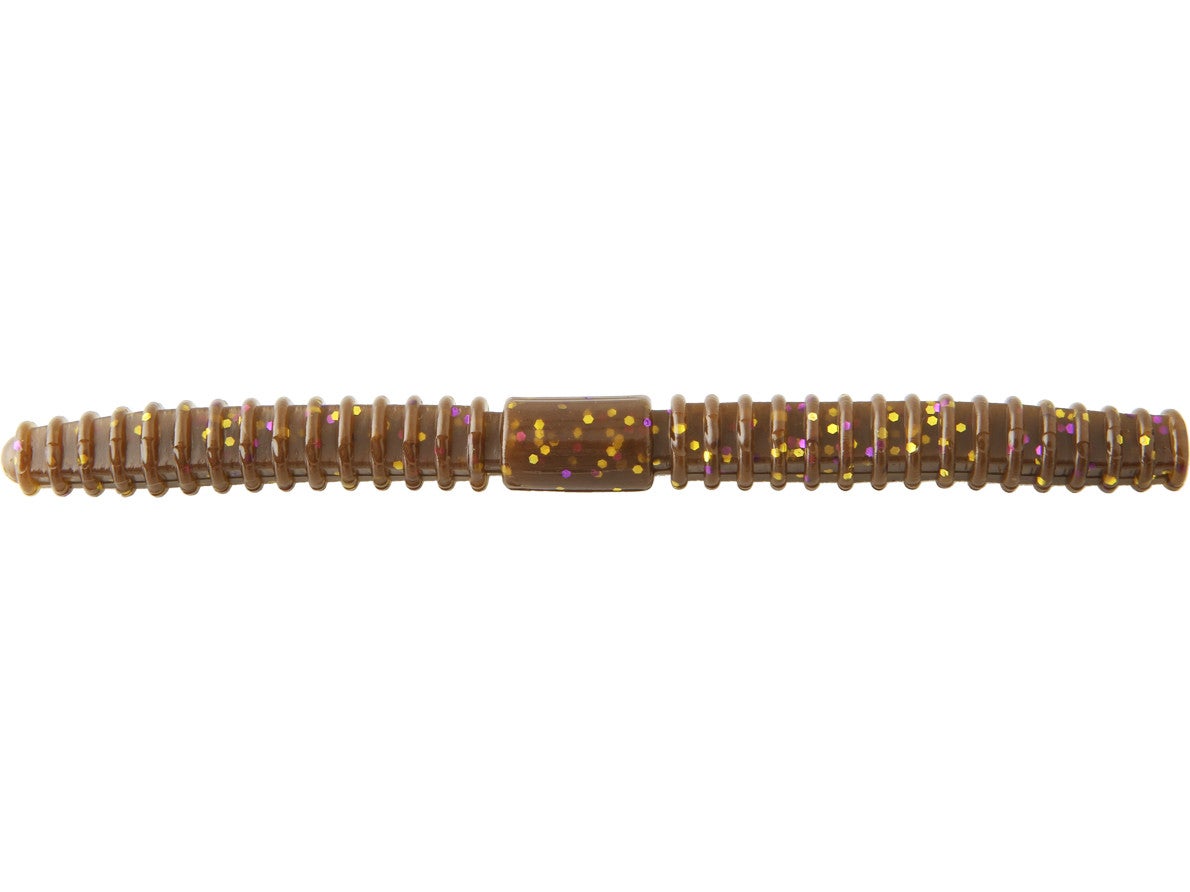 To consistently be successful on the water, anglers must always adjust their presentation to best suit the mood of the bass they're fishing. The Power Team 5" Sick Stick was specifically designed to be fished with a weighted wacky head to give anglers complete control of the amount of action needed to trigger strikes no matter what mood the bass are in. This neutrally buoyant stick bait is comprised of a square core encased in round rings, which adds more flash and visual stimulation along with a controllable shimmy as the bait drops. When the bass are in a negative mood, rig the Sick Stick on a 1/16-3/32 oz weighted wacky head for a slow fall with a tight subtle wobble. For more aggressive bass, rig it on a 1/8-3/16 oz weighted wacky head for a wider "rock and roll" wobble and a faster fall. This bait is also deadly on a shakey head, Texas rigged or Carolina rigged. The Power Team Sick Stick is a must for anglers of all skill levels.
6 Colors
More From Power Team Worms
Customer Reviews
Comments: Like many others, these have replaced Senkos for me. Dark Shadow is my color choice day or night.
From: Christoffer: Rutland, VT 5/12/15

Comments: Dark Shadow is one of my go to colors. The picture doesn't describe the color well. It has a dark melon back with a clear belly. Best for clear water applications. This one is a winner, make sure you hook them correctly.

From: Jeff: Franklin, MA

Comments: his bait has totally replaced the Senko and Yum Dinger for me, much better action whether it's texas rigged weightless, with a 1/16 or 1/8 oz weight, or on a flick it head. I almost always dye the tail Chartreuse when I'm using Green Pumpkin Blue Swirl so when it wags back and forth it gives a nice flash and really looks like a bluegill. My favorite colors are Green Pumkin Blue Swirl, Diner Bell, Smoke Black Purple Gold Flake, and Black Blue Flake.

From: Jake: SC

Comments: Been using PTL Lures for a while now. Caught 10 bass In one day using the sick stick Texas rigged w/3/16 tungsten weight Grn pumkin light blue swirl. Love it. More durable than senkos too.

From: Dale: USA

Comments: Got a couple packs of these and all I can say is "Senko? Whats That?". LOL However on a Serious Note I used to love Senkos but always wished they had more action and were more durable. Well Sick Sticks have that. Their low salt content and soft plastic give them a "sick" action and great durability. However you might say "Well as good as Senkos work why would I change?", and I've got your response. I fished one day at a farm pond after getting my first two packs of Sick Sticks just to give them a try before I took them on the tournament trail. This day was one of those days all us fisherman dream about. Now I didn't try a senko this giving day for comparison purposes to be able to tell you which one catches more fish but I can say this "If I would have had Senkos instead of Sick Sticks the 1-3lbers I was catching would have cleaned my bags out in no time and the 6lber and 11lber I caught on my last sick stick would have never been possible. So the Moral of this story is; We all battle with limited storage space weather its in your Boat, Tackle Bag, Or Pocket so why not fill that space with a product that not only works great, but will also keep you casting until that Monster Hits. Good Luck On the Water

From: Derik: Hurt, VA