Pro Fishing Research Top 10 Bass Lures DVD - $19.95
Pro Fishing Research Top 10 Bass Lures In most sports, we have a coach to look to for advice, but have you ever heard of a Bass Coach? Pro Fishing Research has pooled together a team of coaches to inform you about some of their favorite baits along with techniques on how to use them. This DVD features pros Mike McClelland, Jeff Kriet, Randy Howell, Ken Cook and Jimmy Houston informing you of what situations these 10 specific lures were designed for and how to properly use them. They also inform the viewer on how they select colors for certain water conditions or feeding patterns and even how to match the right rod, reel and line to optimize the bait you plan on throwing. In receiving this much advice from their assembly of pros you are almost guaranteed to catch more fish and most anglers are likely to pick up on some useful information or tips that might even apply to some other baits not mentioned in the video.
Comments:This is by far the best instructional DVD that I have seen. The pros do a great job of showing you exactly how to work the lures and when and where to do it. I like the unbiased approach they take.
From:Gene: Frisco, TX
***Note: If you have questions about this product or need assistance with an order please email your questions to info@tacklewarehouse.com
View Large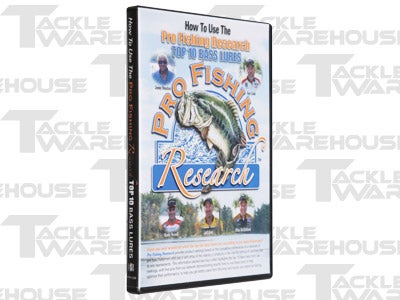 Place Your Order
More Pro Fishing Research DVDs