Pro Patterns "Exposed" Season 1 DVD's - $14.95
Season 1 of the Exposed DVD series is packed full of industry insight from the world's foremost professional anglers. Shorten your learning curve and soak up the invaluable tips and tricks that have been acquired through countless hours spent on the water. Loaded full of exclusive footage, the Exposed DVD Series covers everything from pre-fishing techniques to tournament strategy and a wide variety of fishing applications. Completely unscripted and unrehearsed, the Exposed DVD Series offers an inside peek at the real side of the most successful personalities in the competitive bass fishing.
Season 1, Volume 1- In Volume 1 of the first season of Exposed you will get a look at how anglers like Tim Horton, Brian Snowden, Pete Ponds, and Boyd Duckett attack Wheeler Lake and the Harris Chain of Lakes.

Season 1, Volume 2 – In Volume 2 of the first season of Exposed you get an inside look at how professional anglers Jason Quinn, Matt Reed, Terry Scroggins, Ben Parker, Zell Rowland, Jami Fralick fish Pickwick Lake and St. Johns River.

Season 1, Volume 3 –Volume 3 of the first season of Exposed Series dives into fishing strategies and tips as outlined by professional anglers Jeff Kriet, Mike McClelland, Derek Remitz, Shaw Grigsby, and Paul Aias as they explore the Toledo Bend Reservoir and West Point Lake.

Season 1, Volume 4 – Volume 4 of the first season of Exposed includes an in-depth overview of Lake Murray and Arkansas River by Aaron Martens, Gerald Swindle, Matter Herren, Kevin Short, Peter Thliveros, and Mark Menendez.
Comments: Let's say that I am hopeful season two has more to offer....

From: Charlie

***Note: If you have questions about this product or need assistance with an order please email your questions to info@tacklewarehouse.com
Color:
Volume 1
View Large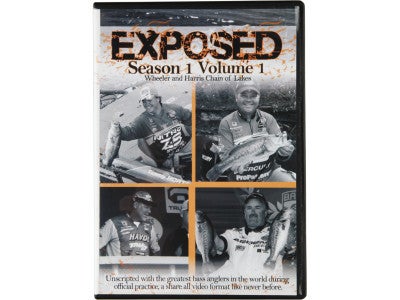 4 Available Colors
More Pro Patterns DVD's