Punisher Lures CastGlo Blacklights - $39.99 to $199.99
Brighten low-light fishing conditions with the Punisher Lures CastGlo Blacklights. Built with 48 super-bright LED's, the Punisher Lures CastGlo Blacklights generate 170-degrees of lighting coverage and are the ideal accessory for night fishing. Made from a high-impact plastic, the Punisher Lures CastGlo Blacklights are designed with two rows of lights, each consisting of 24 bulbs. The bottom row maintains a constant UV blue coloring, while the upper row is easily switched between UV blue and brilliant green. The bright-blue UV color is great for locating line or general lighting purposes, and the green color is perfect for illuminating the shoreline and is less apparent to fish.
The backsides of the Punisher Lures CastGlo Blacklights have two high-quality, waterproof rocker switches and an 8-bulb LED task light. The right switch controls the functions of the lights in the front, while the left switch turns the task light on-and-off. The task light on the back of the Punisher Lures CastGlo Blacklights is great for tying knots and illuminating the deck. To keep the unit securely in place, it is equipped with adjustable suction cups that are completely sealed and are both waterproof and rustproof.
Plug-ins: A 1/ 4" Mono jack powers the Punisher Lures CastGlo Blacklights. The Punisher Lures CastGlo Blacklight with Adapter Plugs comes with two female Adapter Plugs that can be wired and mounted almost anywhere on your boat. The female Adapter Plugs have a protective cover that slides over the input to prevent water, insects, and debris from entering.

Includes:

-Punisher Lures CastGlo Blacklight
-Hard plastic carrying case|
-Two female adapter plug-ins (only comes with Punisher CastGlo Blacklights with Adapter Plug-ins)

**The Punisher Lures CastGlo Blackight (PBL-03C) does not come with any female adapter plugs. It comes with the light and the case, which gives you the freedom to mount it however you would like, or save some cash if you already have a mono jack input on your boat.
Comments: Excellent product!!! No problems with my case, the owner can be contacted through the punisher lures website, stands behind their products, and will respond to questions! I am looking forward to more innovative products coming through punisher lures!

From: Scott: Tompkinsville, KY USA

Comments: I am not at all impressed with the "free" case I received with this light. There are 1/8 inch to 1/4 inch gaps on the side and does not close properly. It either came warped or the UPS man jumped on it a few times before he delivered it. Hopefully the case was just missed by quality control from the manufacturer and Tackle Warehouse can assist me in getting a replacement case. I have not used the light yet due to the install process, but the first generation lights were excellent.

From: Shane: Forsyth, MO

***Note: If you have questions about this product or need assistance with an order please email your questions to info@tacklewarehouse.com
View Large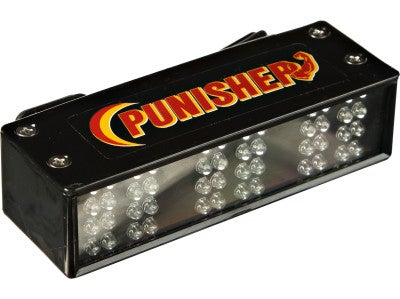 3 Available Colors
More Punisher Lures Accessories