Quantum Accurist Casting Reels - $99.99
Beneath the Quantum Accurist Casting Reel's new, cool black-and-white paint scheme is a low profile frame and gear side cover made of industry leading light and tough aluminum. The Accurist also makes casting an effortless black-and-white issue thanks to both an internal ACS centrifugal cast control and external magnetic settings, which provides an astounding ten external adjustments and six internal adjustments. This gives you all the precision you'll ever need regardless of wind gusts or the weight of your lure.
Furthering Accurirst's smooth casting qualities is a hard ceramic coating of titanium-nitride on the line guide. And when you're ready to retrieve, seven PT bearings will pull in line with a polished feel. Quantum's unique Flippin Switch can also be used to engage the gears instantly every time you take your thumb off the thumb bar, so that you're never out of hook-setting position when pitching a short string into heavy cover. And don't worry once you power home the hookset, the PT ceramic drag system is there to handle the heat with plenty of lockdown power. New and improved, the Quantum Accurist Casting Reel is an advanced fishing machine - at a reasonable price.
Featuring a new, sleek black-and-white look, the Quantum Accurist Casting Reel also comes equipped with a host of Quantum's Performance Tuned features, including a Flippin Bar and dual cast control.
Comments: After about two days of use the bearings sounded horrible. Everything works fine but the bearings are VERY NOISY. This thing is not dependable go get a Lews speed spool or a Abu Garcia orra sx.
From: Hayden: CA 3/28/14
Comments: This reel is great for flipping and pitching very smooth and easy to use
From: Chris: Ohio 3/2/14
Comments: I am new to bass fishing and bait caster's. I picked one of these up because of the flipping switch to learn to flip. Extremely easy to set up and great distance. Also own a couple Lews reels. The 100 dollar speed spool and the new pro z. And this reel is as easy to set up and I am actually casting further with the quantum. And since I also picked up the tour mg. The same smoothness as this one but so much lighter and more distance. Would definitely buy more quantum products. And I would have to say Lews would be my second choice.
From: Joe: Eubank, KY
Comments: This reel is absolutely HORRIBLE for casting

From: Matt
Comments: I have Chronarch reals, Revo Winches, Quantum Smoke, Bass Pro Qualifiers and this real when SET UP PROPERLY will not disappoint you. I would not hesitate to purchase another one. Due yourself a favor and purchase one, and pay no mind to the bad reviews.

From: Bud: TX

Comments: I have the older model and really have come to love Quantum's reels. Smooth, handles the abuse I throw at them and continue to perform. I do have other brands, but I don't understand why people bash a product and say switch.....give it your review and why you don't like it. As for these, let's hope they are the same quality as the older model. Just remember to keep them lubed and oiled. ALL equipment will fail if you don't take care of it.

From: William: Long Beach Ca USA

Comments: Not what I expected from Quantum I've had it 4 months and it feels like its going to fall apart in my hands when I reel.

From: Tyler: Taylorville,IL

Comments: great reel got one a few years ago its all scratched up but it works like new im gonna buy another one i love the amount of line it holds

From: Quincy: Noxon,Montana United states

Comments: I still cant understand why people buy these reels. Quantum reels are garbage, the only reason they sell is because of KVD and other popular pros. I used to buy these reels and finally made the switch to shimano. If you want a quality reel buy a shimano, daiwa, abu, or a lews. Dont waste your money and time on these pieces of crap.

Comments: Before you chunk it in the trash send it to me.

From: Mike: Norman Park, GA

Comments: Picked up the 6:3:1 for squarebills - thing is junk. Looks great and I had high hopes for it - my reel came with faulty tension and centrifugal brakes. It is utterly a toy, the handles are a joke and vastly undersized. It is pretty heavy in the hand, which I guess can be expected for a cheap reel - casting is NOT smooth, I will be throwing this in the garbage promptly... hope I can save some of you some frustration and money.

From: Bud
Comments: $119.99?? KVD just said it was $99.99 in the ICast Video

Comments: Jonathan, it sounds to me like you haven't held one of these new reels in your hand. I got the new energy a couple weeks ago, and though it feels very light, it does not feel cheap. It reminds me of a 100 series smoke with a little different profile. It actually feels a little more sturdy than my exo as well, which i enjoy very much. I also strayed from quantum and purchased a curado. It's a pretty nice reel, but i still love all 20+ quantums i own. It's your money and your opinion, but if you're happy with quantum's performance, stick with these new reels. They're the real deal.

From: Dan: WV

Comments: i have always been a loyal quantum fan but as of this year i am leaving quantum and going garcia. the quantum products this year are very cheap looking and dont look like they deserve the PT label. plus they turned my beloved energy orange! i will be keeping my EXOs,tours and smokes but selling everything else. i will still buy EXOs if the price is right because they really are the best reels quantum has ever produced and i have tried them all. thank you quantum for 5 years of great products and fishing but the lousy looking products this year have cost you a loyal customer.

From: Jonathon: TN

Comments: left hand anytime soon looks great

From: Tony: Atlanta, GA

***Note: If you have questions about this product or need assistance with an order please email your questions to info@tacklewarehouse.com
View Large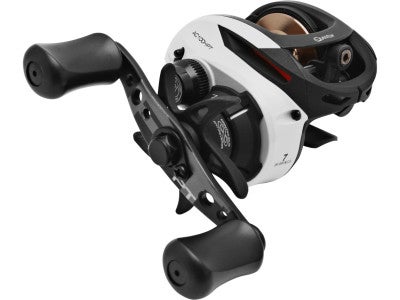 Place Your Order
More Quantum Reels Casting